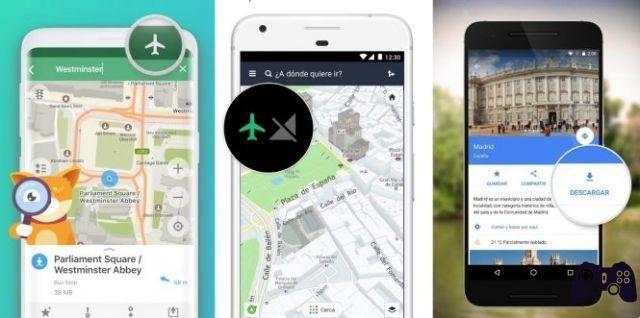 As usual with Android, we have a huge collection of different tools to install on our smartphone. Here we leave you with the seven best offline map apps. We have found many of these applications on Google Play for years and fortunately have been updated to date. Seven well-known apps that are definitely worth remembering, especially if we travel to areas not covered by signal.
GPS trackers for dogs and cats: 10 tips on how to choose the best device
Seven offline map apps to travel and never get lost even if you stay offline
Google Maps
Google Maps could not fail to be the first on the list. It comes pre-installed on all phones and is certainly one of the most complete. From the side menu you can choose an area, download it and thus consult it through the cache without having to be connected.
Download Maps - Navigation and transport
Maps.ME
Maps.ME is another Android classic. In this case we have an application with a more casual design but in this case we also have the details on the traffic and the main attractions. Their maps are based on OpenStretMaps, so the database will be sufficient for most.
MAPS.ME - Maps, navigation and offline guides
Here WeGo
Here the maps were among the first to be available offline. We have our own maps available of over one hundred countries and with very detailed routes. Initially recognized as Nokia Maps, it currently belongs to the group formed by Audi, BMW and Daimler.
HERE WeGo: city navigator
How to fake your location if your parents have installed a GPS tracker on your Android phone
Offline maps and navigation
With a name clearly aimed at improving its position within Google Play, this map application offers over two hundred countries, allows navigation, offline download and real-time traffic. A very well positioned application that was bought by Sygic in 2015.
Offline maps and navigation
TomTom GPS Navigator - Traffic and Speed ​​Cameras
Il famous GPS brand also offers its complete maps via mobile. With TomTom GO Mobile we will have access to routes, traffic and radar. In case we want to download the map, we can do it easily by choosing one of the areas and they can be saved in the microSD. Over 150 countries are available and the road map is very detailed and up to date.
TomTom GPS Navigator - Traffic and Speed ​​Cameras
Citymapper - Metro, Bus and Trains
CityMapper is an application focused on offering information on public transport. It also allows access to information offline, which is very useful not only when we travel, but also for example when we use the subway and there is no coverage.
Citymapper - Metro, Bus and Trains
OsmAnd - Offline Travel Maps and Navigation
The best offline map application is based on OpenStreetMaps. OsmAnd offers us an app with access to links to Wikipedia, information of all kinds, speed limits, traffic, routes, vector maps, points of interest, maps for cyclists or pedestrians and much more thanks to a extensive collection of plugins. A collaborative and free application that has a version of 8,99 euros for those who want to collaborate on its development.
OsmAnd - Offline Travel Maps and Navigation
Once you have installed one of these seven offline map applications to travel and not get lost even if you stay offline on your phone, you will never be able to get lost in the city or in the woods, because once you download the offline map, you will always know where you are.
How to improve the GPS signal of your Android smartphone
Further Reading:
How to use Google Maps offline
How to use Google Maps offline on Android and iOS
How to show the speed limit on Google Maps
The 10 best travel apps for Android
The 9 best car navigator apps