Is the load too heavy and Sam keeps falling into the river? Do not worry with this guide you will find tricks and tips to face Death Stranding at its best
Death Stranding was released on November 8 on PlayStation 4 and will also be released for PC next summer. This is an unusual game that makes travel and long journeys the heart of its gameplay. It is a title that is part of a genre that is not yet well defined, but which certainly has many management elements to be explored. So how is it possible to play better? Find out in our guide.
The travels of Sam Porter Bidges
The first game from the reborn Kojima Productions is out and has already met with praise from many. Death Stranding plunges us into a world where it is no longer a definitive concept. With Sam we will create connections to rebuild America after a terrible cataclysm. We will have to walk and travel over long natural landscapes. Making connections and exploring the plot of one of the most anticipated titles of the year. Death Stranding is full of surprises, and with this guide, we will show you some tips and tricks to start playing.
Organize the load - Death Stranding: tips and tricks to start playing
More fast travel is better than a slow one. The purpose in Death Stranding is to carry packages over great distances and they will initially carry on foot. Making Sam's load too heavy will make him more fatigued and his stamina will drop easily. That way we only make life more difficult. Better to make more trips but with a less overwhelming load.
Understanding the Backpack. Organizing the load on Sam's backpack is like a standalone minigame, as such it has its own rules. The load is divided into four sizes: small, medium, large and extra large. A dimension also corresponds to a weight. The little ones are the only ones Sam can attach to his suit. It is easy to identify the size of each item with its wording in the menu: S, M, L or XL next to the description.
At the moment it may seem boring to do every time, but to help us there is the system of automatic arrangement. Before starting, always press the triangle button. This will automatically arrange the heavier weights on the bass, moving the lighter ones to the best places. What we carry and where it is placed, will have its own impact on Sam's stability, on what will get damaged or fall more easily.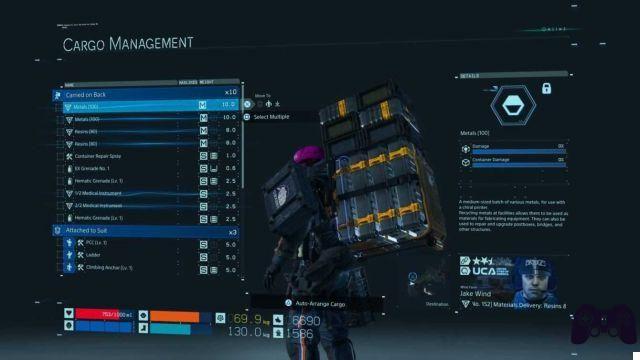 The tools that are right for us - Death Stranding: tips and tricks to start playing
Don't worry about using tools. Very often we will find items placed by other players, but not always. In the event that we do not encounter any "friendly" buildings, it will be time to use our resources. There is no wrong way to use them, if we need them they must be used. Each situation will be different, but our placed items may also help other players in need.
The importance of other players. Always to reiterate on the importance of travel light. Carrying too many objects and tools is not necessary. Often, in fact, the structures we will need have already been erected by other players, making it unnecessary to carry too many tools with you.
Leave and recycle used items. The total consumption of an instrument does not automatically remove it from our load. Thus occupying fundamental space in our journey. In case we find ourselves having to make room in our luggage, that's a good thing check if we have out of stock tools and delete them. It is possible to do this manually but also to recycle them to the terminals.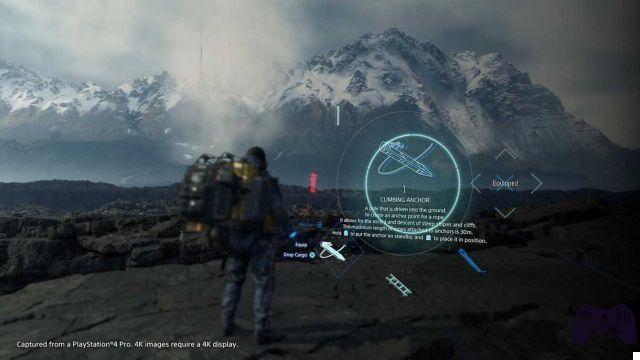 Go straight to the story, responsibly - Death Stranding: tips and tricks to start playing
For hardcore gamers it will be very difficult, but it is advisable not to focus too much on the side missions. This is because as you progress through the main story, it will be possible to unlock useful tools that will make the game more dynamic. The side missions are many and the prizes are not bad, but they are so many that they risk breaking the rhythm of the story.
Despite everything, carrying out the secondary missions will improve our level of connection rewarding us in various ways. Collecting more Like in fact, we will be able to unlock, for example, a new pair of glasses or even schemes to make tools and vehicles. At some point in the game it will be possible to play too Premium deliveries, which will reward us more generously. It's all based on how well we manage to balance our main duties with secondary ones.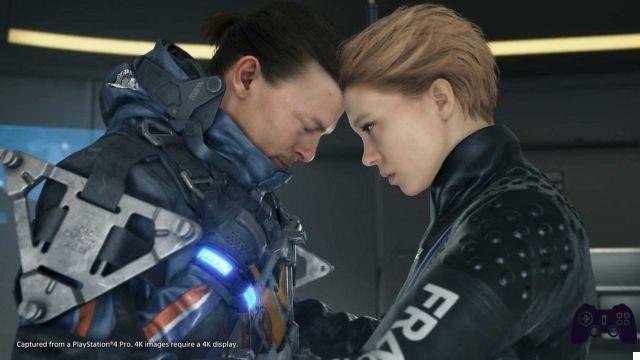 Asynchronous multiplayer - Death Stranding: tips and tricks to start playing
Make connections. Death Stranding is all about bonding and in gameplay this can be accomplished by stipulating contracts with other players. Creating a contract makes that person's structures more easily manifest in our world. This system is called Bridge Link and it is also an indirect way to play with your friends. Remember, however, you don't need contracts to make other players' structures appear, without contracts they will simply come from random players.
Leave a mark. In Death Stranding it is possible to leave signs to warn other players about the presence of dangers or collectibles. To leave a signal just press L1 and then triangle. All of this will be extremely useful especially for players in the early hours of the game.
Follow the trails. Returning to visit areas or walking on routes traveled by other players, we will encounter footprints. By following them and walking on them you will create real paths, converting the land into a passable and easier to walk area.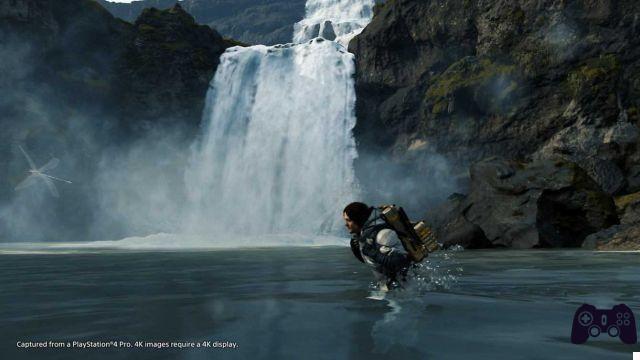 Dealing with invisible creatures - Death Stranding: tips and tricks to start playing
Fighting against BTs. At the start of the game our tools are very limited, making enemies very problematic. One solution is to bring the blood grenades in our travels. First you need to make the BTs (invisible creatures) visible with the scanner. As soon as we see their body shape we can hit them with the grenade, and eliminate them.
Do not be afraid. The clashes in Death Stranding are multiple and unexpected. The title initially teaches us to be afraid of BTs, but as we have seen they are creatures that can be faced well before the game tells us. Should they overwhelm us, we still have a way to respond. In the excited moment of the battle we will still be able to use our dear blood grenades. We find a safe place and look forward to it a whale appears(it's really a big black whale in the sky) and hit it with the grenade. The BTs will have taken a hard hit at this point and will no longer appear in the area for some time. This can be used to gain time, recover lost cargo and receive chiral crystals for taking out a giant BT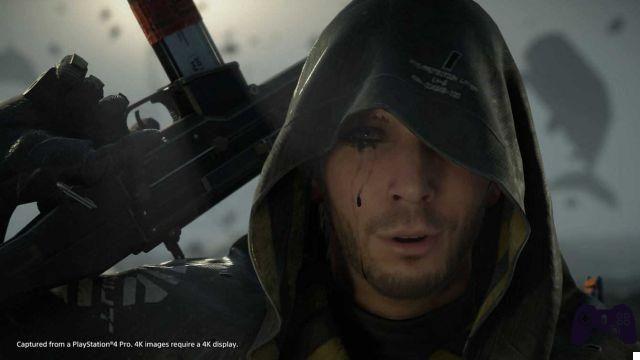 In conclusion
This is a huge game of options and different situations. Each player will end up having their own unique personal experience. With these tips and tricks for Death Stranding we hope to have given you some good tricks and advice to face the dangers of the strand with greater safety. We remind you that we also have a trophy guide! Death Stranding is available on PS4 while on PC will arrive in the summer of 2020.
That's all for this guide but don't forget to follow Holygamerz for more guides, news and reviews!