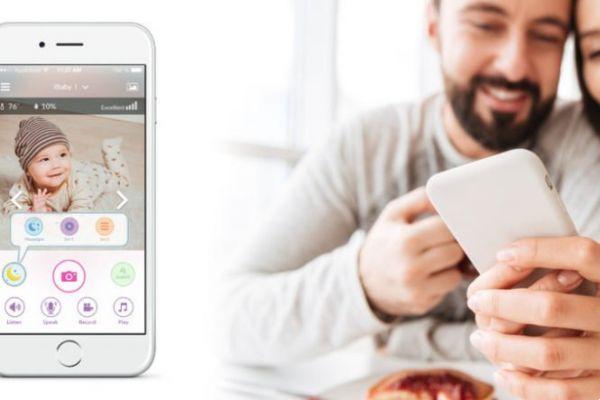 Best Baby Video Monitors That Stream To Your Phone (2018). Gone are the days when you had to peek into your baby's room to see how he was, risking waking him, or when you had to choose whether to leave him sleeping alone, or wake up to every little sound he made, as he slept in bed with you.
Long story short, there are now gods Baby Video Monitor connected, allowing you to stream to your phone wherever you are, and are getting better by the day, with two-way communication you can even sing him a lullaby if the baby starts crying. Take a look at the best Baby Video Monitors which broadcast in streaming to your phone (2018).
Best Baby Video Monitors That Stream To Your Phone (2018)
Cocoon Cam Plus (120€)
Cocoon offers all the prerequisites of a nice Baby Video Monitor suitable for the digital nomad: 1080p movies, a nice app for iOS or Android and audio alerts for when the baby cries loudly, but its greatest added value is ... its way of to breathe.
Yes, the Cocoon camera was developed to detect when your baby is sleeping and breathing rhythmically, so that you can fall asleep peacefully on your own. The creators have yet to offer statistics and graphs about your baby's sleep habits, but according to the latest news, there wouldn't be a lot of time to develop such software.
iBaby Care M7 (170€)
This complete system is more expensive than the Cocoon offering, however it has 5 GHz Wi-Fi support for uninterrupted streaming, two-way communication, and air quality monitor. Footage can go up to 1080p, which is more than enough, and the iBay Care M7 system can diversify your lullaby by singing with white noise or bedtime stories. There is a small moonlight lamp, in case your baby is afraid of the dark.
NETGEAR Arlo Baby Monitor (€ 170) - Recommended
NETGEAR Arlo Baby Monitor adds bunny ears to a complete baby monitoring system, complete with air quality sensors that measure things like temperature and humidity. Talk to your baby, record your own songs and bedtime stories for the baby to listen to, or choose from pre-set ones.
The Arlo app for your phone can send sound, motion, or air quality alerts to your phone, and the system is compatible with Alexa, Apple's HomeKit, Google Assistant, and other home automation standards to integrate with your home connected. You have a week of footage stored in the cloud for free, and there are other storage options to choose from for a fee.
Xiaomi Mi Home Baby Monitor Camera (35 €) - The best for those on a budget
Don't feel like spending a lot on a Baby Video Monitor? That's why we have included Xiaomi's Mi home camera. At just € 35 and with two-way communication via the built-in microphone and speaker, it's a way to monitor your baby.
Specs-wise, it's 1080p, with 5 GHz Wi-Fi support for constant streaming, a 130 ° wide-angle lens to minimize dead spots, and infrared lighting for noise-free night vision. It can be activated by motion or hibernated when it detects your family's phones, so you can avoid unwanted recordings.
Further Reading:
The best baby monitors
The best curved monitors
Buying Guide - Page 3
Baby Shark could surpass Despacito as the most viewed video on YouTube
How to turn old phone into security camera