Also WindTre has just activated the customer care su WhatsApp. Users needing advice will now be able to contact the operator directly within the instant messaging application.
This is communicated by the company itself, which is sending many users an SMS announcing this news to them. In particular, after contacting customer service at 159, some customers will receive a message containing the text: "Dear Customer, to receive assistance via WhatsApp click on https://api.whatsapp.com/send?phone=393880000159 ".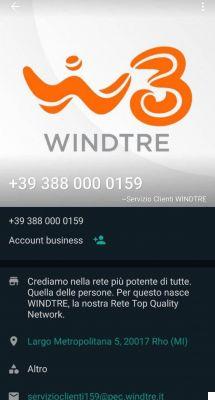 The link attached to the SMS opens immediately a conversation with the operator's customer service. Alternatively, it will be possible to save the number "388 0000 159"In the address book, so as to find the contact within WhatsApp. Not only users who have received the aforementioned message will be able to take advantage of this advice, but also all WindTre customers.
WhatsApp - as confirmed by a recent survey - is an application increasingly chosen by users, managing to exceed the milestone of 2 billion users. Even TIM, not long ago, launched assistance on WhatsApp.
The new Realme 6 Pro, with 8 GB of RAM and 128 GB of internal memory, is available for purchase on Amazon.