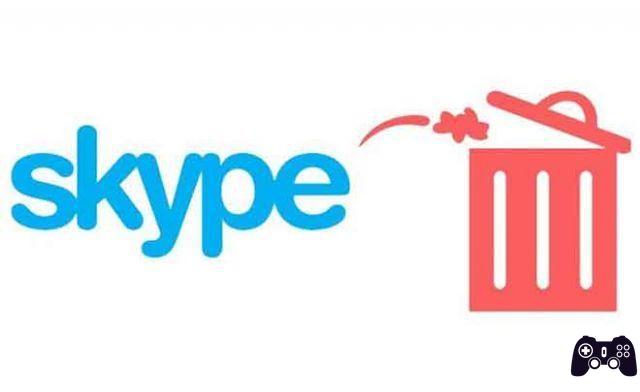 Skype is probably one of the best video calling apps out there. If you no longer use Skype, perhaps because you have found a better alternative for your video calls, and now you would like to delete your account. But what happens when you do? What are the consequences of deleting a Skype account? Should you delete it or not? If you were thinking of switching to a new app, that's fine. However, you should know what happens to the Skype account you no longer use or have decided to delete. We answer your questions in the following sections.
DELETING A SKYPE ACCOUNT
Well, it's not exactly possible to delete a Skype account. And this is because your Skype account is not a standalone service. You just need a single Google account to log into most of Google's services. So you can't delete your Gmail account without deleting / deactivating your Google account. Yes, the same logic applies to Skype.
Skype is one of the many services and products that you have access to when you open a Microsoft account. And just like you can't use Skype without owning a Microsof account, you can't delete your Skype account without deleting your Microsoft account.
POSSIBLE IMPLICATIONS OF ELIMINATING SKYPE
In the truest sense of the word, technically deleting your Skype account means you are deleting your Microsoft account. And when you do (delete your Skype / Microsoft account), you will lose access to other services (Outlook, Hotmail, OneDrive, etc.) connected to your Microsoft account with the same email as a result. Additionally, you will also lose any stored data, files, unused credits, and subscriptions (such as Xbox game subscriptions) that you have on any of these Microsoft services.
HOW TO DELETE YOUR SKYPE ACCOUNT
We will walk you through the process of deleting your Skype account so that you can get a clearer picture of how it works, the complexities involved and then decide if you want to proceed with deleting your account.
You can delete your Skype account directly from the Skype apps for Android, iOS and PC. You can also delete the account on the web by visiting the Microsoft Account Closure page on your web browser.
Visit the Microsoft account termination page
NOTE: You may be asked to sign in to your Microsoft account on the browser if you have not previously signed in.
To close your Skype account on the mobile and PC app, simply tap the profile picture icon and go to Settings> Account & Profile> Close your account.
Next, you will be prompted to provide your account credentials, confirm and accept the account termination terms, tell Microsoft why you are deleting your account, and finally tap the "Mark Account for Termination" button.
YOU CAN RETRIEVE A DELETED SKYPE ACCOUNT
Yes you can. See, when you complete the account deletion process, Microsoft doesn't exactly delete your account, at least not immediately. Microsoft instead flags your account for closure and deletion 60 days after submitting your application. This 60 day waiting period is to give you enough time to cancel the action if you change your mind. Additionally, you can use this period to recover your data (e.g. Skype messages and chats) before it is permanently deleted from Microsoft's database.
If you've changed your mind before the 60-day waiting period has passed, you just need to log into your Microsoft account, visit the "Close account" section and cancel your account closure request.
NOTE: Your Skype account and Microsoft account CANNOT be recovered unless you cancel your account closure request within 60 days.
WHAT HAPPENS TO YOUR PROFILE
As mentioned above, your Skype account will not be deleted until after 60 days of submitting your account closure request. During the 60-day waiting period, your contacts and the public can still see your profile in the Skype search directory but cannot communicate with you (text or call you).
If you'd rather have your Skype profile hidden from the public before Microsoft permanently deletes it, you can do so from your account settings. Note that it will only prevent your profile from being displayed every time people search for it.
Step 1: launch the Skype settings menu on the mobile or PC app.
Step 2: select Contacts.
Step 3: Then select Privacy.
Step 4: tap the "Appears in search results" option to turn off public visibility for your Skype account.
WHAT HAPPENS TO FILES AND CHATS
The entire chat and files you've shared (as well as those shared with you) on Skype will be permanently deleted when Microsoft deletes your account. You will no longer be able to access old chats, files and conversations. Fortunately, you can export and backup your chats and files before deleting your Skype account.
To download a copy of your Skype chat history and files, please follow the steps below.
Step 1: log into your Skype account on a web browser.
Step 2: scroll to the bottom of the Skype home page and tap "Export files and chat history".
Step 3: choose what you want to export: chat / conversation history, files or both.
Step 4: finally, tap the "Send request" button.
Step 5: you should receive a message that your export is in preparation. Tap Continue to proceed.
Step 6: reload the page and your Skype chat history should now be available for download.
You can also export your Skype contacts before deleting your account. If you want to delete your account, we recommend that you export it. You may need it later; you never know. You should also remember that when Microsoft permanently deletes your Skype contacts (among other account data) 60 days after submitting your account closure request, there is no way to get them back.
To back up your Skype contact, log into your account via a web browser, scroll to the bottom of the page and select the "Export contacts (.csv)" option. The contact list will be downloaded to your device automatically.
THEN DELETE IT OR NOT?
If you no longer need / use Skype, you shouldn't delete it. Deleting your Skype account results in deleting your Microsoft account. If and when you do this, you will no longer have access to all Microsoft services and the data you have stored on these services will be deleted. There is just too much to lose. If you no longer need Skype, you can make some changes to your account settings instead. For example, you can change your email address or change your account status from Active to Invisible. This way, people will no longer be able to find you on Skype.
Further Reading:
How to disable Skype automatic start on your PC
How to use Skype on Chromebook
How to delete a Skype conversation
How to delete LinkedIn account
How to share screen with audio on Skype?