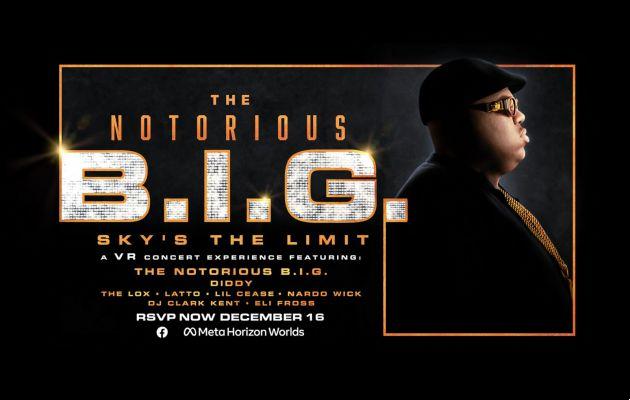 Thanks to virtual reality, it will be possible to attend a concert by The Notorious BIG No, we're not kidding: Meta, a Facebook parent company that owns several products dedicated to social networks, obviously including the VR headsets acquired by Oculus, will produce this sort of concert in 2014.
The fixed day is December 16, 2022, when in Horizon Worlds (the metaverse of Meta) a decidedly realistic reproduction of The Notorius BIG will perform in front of a recreation of Brooklyn in the 90s. There will also be a series of guests such as Seas Diddy Combs, who will give a retrospective on the music of the American rapper. A true celebration of the musician, who died at just 25, during the rivalry between the hip-hop communities of the West and East Coast, which also cost the life of another important American rapper, namely Tupac Shakur.
It's not the first time a deceased rapper has been "resurrected" by technology. in 2012, in fact, Dr. Dre decided to use a hologram of Tupac for a special live performance. However, the arrival of virtual reality could open the doors to projects of this kind, which seem to have been born as tributes to an artist, but in reality the feeling is that everything is done for profit. On the other hand, organizing a live concert requires an enormous effort and we can only imagine how many virtual tickets it would sell a special performance by Michael Jackson within a metaverseespecially as VR reaches even more people.
Meta announces hyperrealistic VR concert with the Notorious B.I.G. pic.twitter.com/MbxzFSE8rx
— HotNewHipHop (@HotNewHipHop) November 16, 2022
At the moment the show of The Notorious BIG shouldn't be paid, but in the future (as we anticipated above) everything could change radically. For all those who were moved by the curiosity to see the "concert" anyway but do not have a Meta Quest 2, the event will also be broadcast on the artist's official Facebook page, which you can reach by simply visiting this address.