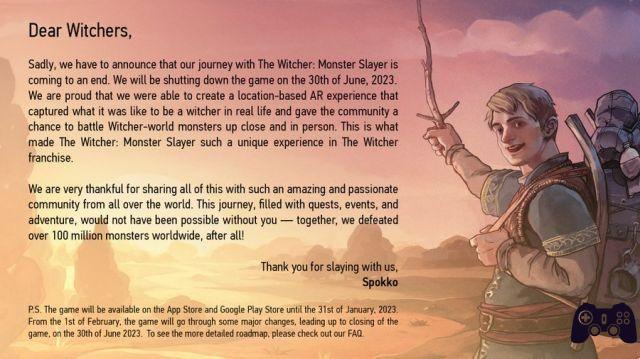 It seems that CD Projekt RED is cleaning up investments and projects currently open, cutting experiments such as games out of games The Witcher Monster Slayer after about two years of operation. The attempt to conquer even the mobile dimension will come to an end, officially speaking, from next year.
According to what was recently reported by the DualSHOCKERS site and by the studio itself, The Witcher Monster Slayer will be permanently deleted from the June 30 2023, depriving both regular players and probable rookies of this experience. The whole thing was accompanied by a message farewell for the fans, published on the official Twitter profile of the title in question, also opening up to direct clarifications.
"Dear Witchers, Unfortunately we have to announce that our journey with The Witcher: Monster Slayer will come to an end. We will close the game on June 30, 2023 ", wrote the developers in this sort of open letter, explaining the reasons behind the cancellation, and tracing them in the business context (probably it did not reach the initially hoped numbers).
With a structure very similar to that of Pokémon Go, The Witcher: Monster Slayer pushed fans from all over the world to embark on adventures in the real world, involving them in hunts everywhere, outside the walls of the house. Taking advantage of the narrative of a solid universe that still inspires fascination today, the game has tried to involve fans in an experience that does not seem to have given the desired results.
Witchers, we have an important message for you.
If you have any questions, please follow this link to our FAQ: https://t.co/QrlrPmTHgn pic.twitter.com/Ta8RFFcaL0
— The Witcher: Monster Slayer (@TheWitcherMS) December 6, 2022
Its elimination will move along a series of phases: the 31st January there will be removal from Google Play and the App Store, with the blocking of in-game purchases, followed by total deactivation in all its parts on June 30, 2023. We just have to enjoy the last moments of a title which we will say next year goodbye. How will you live this detachment? Were you a fan of this video game?
Before saying goodbye, we advise you to visit our YouTube channel, where you can find videos dedicated to the gaming world at 360 degrees.