For several weeks now, information has been received regarding a new Realme smartphone, most likely it is the X3 that could be announced shortly. Some official videos have already emerged on the net that would show the appearance of the device and it would be defined as the next flagship smartphone of the young Chinese company.
In these hours other important news have emerged in this regard, the smartphone would in fact appear on GeekBench with the initials RMX2085 and one of the features that immediately catches the eye would concern the implementation of 12GB of RAM as already seen on the X3 SuperZoom, instead of the 8 GB previously reported. Furthermore, thanks to the appearance of the device both on TENAA and subsequently on AnTuTu, we were able to find out which processor could be that, most likely, will power the smartphone.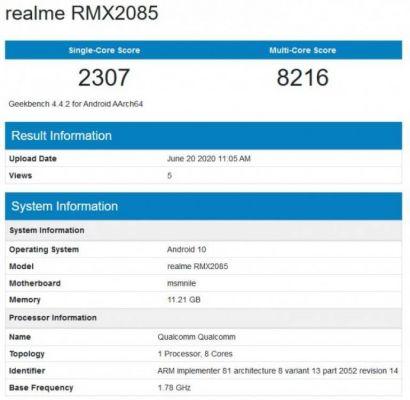 This is Qualcomm's latest solution proposed for the mid-range ie the Snapdragon 765, considering that the single and multi-core scores recorded would have shown significantly lower scores than those scored by the Realme X3 SuperZoom which instead mounts a Snapdragon 855+. A choice that would be justified by the fact of differentiating the various products and avoiding launching a device on the market that is too similar to what the Chinese company is already able to offer on the market.
The Snapdragon 690 also remains in the running, announced only a few days ago and already chosen by Nokia for its next device and able to guarantee very good performance. What is certain is that one of the processors made by Qualcomm and will certainly be implemented which will have 5G connection support.
The latest information, currently available, would finally see the presence of a display with a resolution of 1.080 x 2.400 pixels and the implementation of the Android 10 operating system. To find out which processor will move the next Realme smartphone, the amount of RAM and have all the details on the cameras it will be necessary to wait for the next few days.
If you want to buy a 5G smartphone for less than 600 euros, you can buy the Realme X50 Pro on Amazon, directly from here.