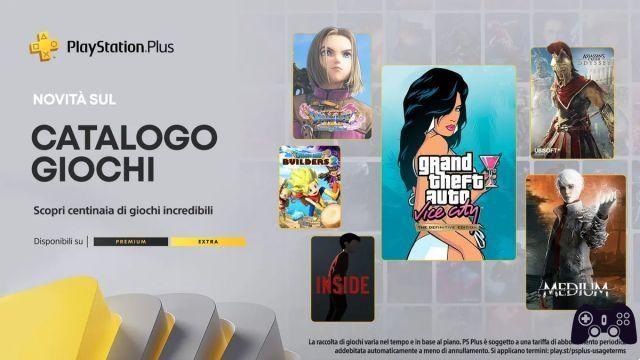 After releasing the trifecta of new monthly games, Sony's PlayStation Plus is about to get bigger thanks to the two tiers Extra and Premium. These innovations were introduced only a few months ago, when the PS Plus subscription service was evolved and expanded by Sony itself. Now subscribers can afford to enjoy an avalanche of different gaming experiences, and like every month we are here to tell you all additions of the month of December 2022.
Once again the Extra and Premium tiers of the PS Plus prove to be catalogs full of great experiences as numerous as they are varied. The month of December will appeal to many enthusiasts with 18 new entries who take the best of the last few years of the video game, and beyond. Among these titles offered in the PlayStation subscription we find ourselves 3 chapters of the Far Cry saw, namely Far Cry Primal, Far Cry 5 and its sequel Far Cry New Dawn.
There will also be other titles of great impact and capable of attracting the attention of those who love the most diverse genres. Among the ninety pieces of the month of December 2022 we certainly find Yakuza Like a Dragon, the seventh main chapter in the saga of Ryu Ga Gotoku Studio; but also WWE 2K22, a real must play for all those who are passionate about Wrestling.
Let's see in detail all the experiences that will arrive on PS Plus Extra and Premium starting next 20th December 2022:
WWE 2K22 - PS4
Far Cry 5 – PS4
Far Cry New Dawn – PS4
Far Cry Primal – PS4
Mortal Shell - PS4, PS5
Judgment – PS4, PS5
Yakuza: Like a Dragon - PS4, PS5
Yakuza 6: The Song of Life - PS4
Middle Earth: Shadow of Mordor – PS4
Middle-Earth: Shadow of War – PS4
The Pedestrian – PS4, PS5
Evil Genius 2 - PS4, PS5
Adventure Time Pirates of the Enchiridion – PS4
Ben 10: Power Trip – PS4, PS5
Gigantosaurus The Game – PS4
Pillars of Eternity II: Deadfire Ultimate Edition – PS4
Worms WMD-PS4
The Escapists 2 – PS4
Ridge Racer 2 – PSP
Heavenly Sword – PS3
Oddworld: Abe's Exodus – PS1
Pinball Heroes – PSP
Before saying goodbye, we advise you to also visit our YouTube channel, where you can find videos dedicated to the gaming world at 360 degrees.