Are you passionate gamers and have you decided to dedicate a corner or an entire room of your home to assemble a gaming station with all the trappings? In this case, you might consider purchasing one proiettore da gaming. Contrary to what many think, in fact, devices that are more than adequate for video games are hidden among the projectors. The same manufacturers, over time, have differentiated their offer, with product lines intended for entertainment and gaming, in a specific way.
However, it must be remembered that projectors are devices - precisely because of their operating principle - rather different from TV screens or gaming monitors: for this very reason, you need to know their characteristics in depth before buying one. The element that most distinguishes them is the refresh rate, quite high; likewise, theinput lag it can be a disadvantage of some models, especially among the cheaper ones, even if in recent years several devices have made their debut on the market that manage it in a much better way.
In our list, below, you will find several gaming projectors divided by price range and features and inserted taking into account their technical data sheet and above all the degree of adaptability to video games. Before starting, we remind you that if you prefer TVs, on our pages you can also find numerous guides in this regard such as: best 4K LED TVs, best 4K OLED TVs, best gaming TVs or best cheap TVs for PS5 and Xbox Series X / S.
Gaming projectors
VAMVO L6200
YABER V6
Epson EH-TW750
BenQ TH685
ASUS F1
Epson EH-TW5700
Epson EH-TW5820
Epson EH-TW7400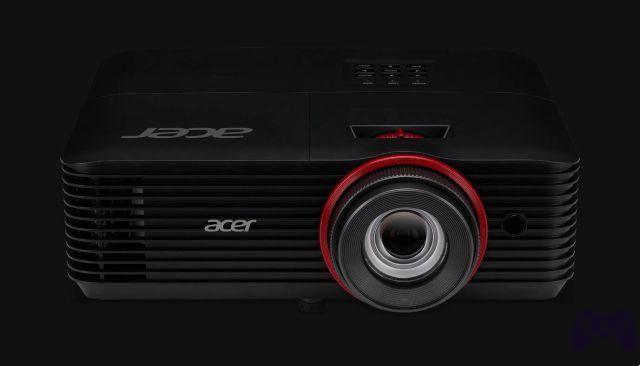 VAMVO L6200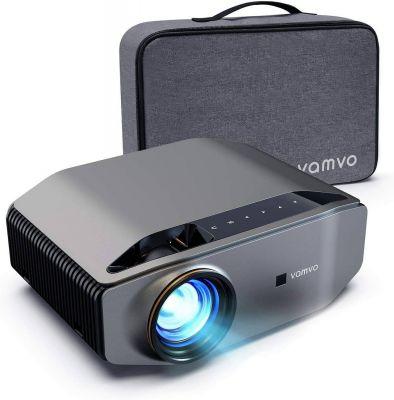 Il VAMVO L6200 it is one of the best gaming projectors, if not the best, that can currently be found in the price range of 200-250 euros, and represents the best compromise between the cost of the device and its quality: to have at least sufficient experience, in fact, we advise against avoid any projector sold for less than 170-180 euros list price, since in that case the risk of running into devices that are rather badly suited to gaming is very high. The VAMVO L6200, on the other hand, manages to do it in a more than worthy way, despite the rather low cost, and can count on a declared brightness value (well 6000 lumens) which, on paper, is truly remarkable for the reference range. The native resolution is of 1080p, with support for 2K upscaling. There are also two HDMI ports, so you can connect both a device for the video source and a possible audio source (an ARC system or similar, even if the device is still equipped with an internal speaker).
See on Amazon
YABER V6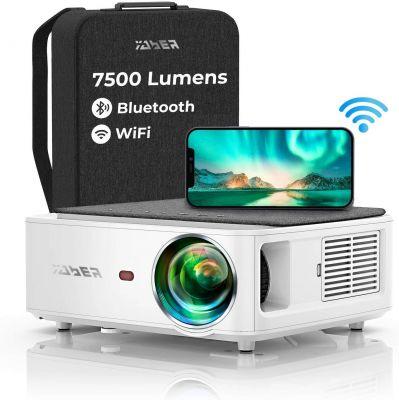 We're starting to go up a bit with the price, but also with the functions and quality, with the YABER V6: it is, in this case, a projector in possession of several more arrows to its bow, such as the ability to connect via Wi-Fi to any device connected to your home network, mirroring your screen - sure, you'll never want to use this feature with your consoles or PC, but it's still quite a plug-and-play feature, which can serve in case your notebook or smartphone does not have the necessary connections. There The maximum brightness of the YABER V6 is 7500 lux, while the native resolution is 1080p, with the ability to upscale to 4K. There is also support for bluetooth and allo digital zoom (up to 50%), while the purchase of the projector in the promotional periods indicated by the company will also allow you to receive a free carrying bag.
See on Amazon
Epson EH-TW750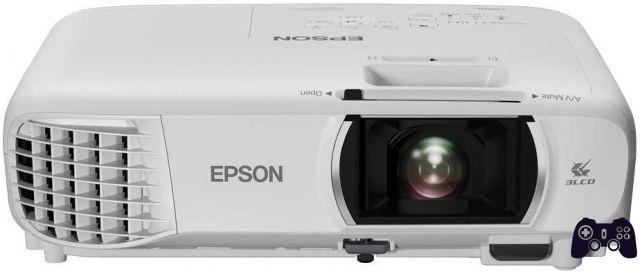 Epson is one of the most trusted brands in the field of video projectors, and the new EH series, designed for entertainment (as opposed to the EB series, for work/office use) and available on the market for less than a year, is no exception. The EH-TW750 is a great solution for home entertainment, e it can also adapt very well to video games: Although it does not exceed 1080p in native resolution, the image quality it is already starting to make big steps forward compared to the cheaper proposals, which, while offering high brightness, are forced to make some sacrifices from that point of view. Do not be fooled by the brightness of "only" 3400 lux (which in any case allows you to extend the life of the internal lamp), since the technologies in the field are very different. Furthermore, this model, Frcan count on a refresh rate of 240 Hz and a contrast ratio of 16.000:1. In terms of connectivity, the presence of an optical audio output, to connect many types of home theaters.
See on Amazon
BenQ TH685: Gaming mode at 8ms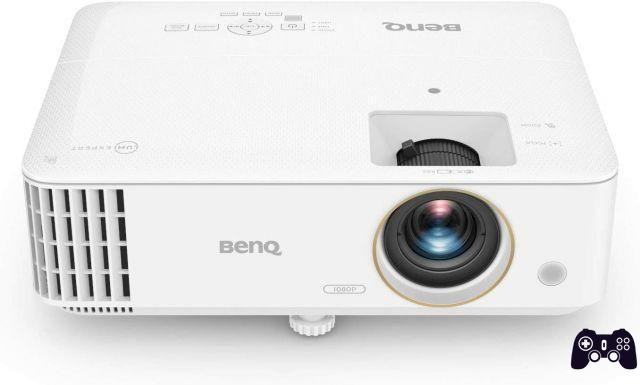 Unlike other competitors, who have preferred to push further on image quality, BenQ has focused on input lag, which has always been the Achilles heel of projectors compared to traditional screens. The BenQ TH685, the company's gaming projector, has a gaming mode that reduces the latency time to just 8 milliseconds, with DMD response time and 120Hz refresh rate. The TH685 is also equipped with an extremely short sight, which allows you to generate images the size of 100 inches from just 2.5 meters away: this makes it perfect for those who don't have too much space and can only allocate a corner of the house to entertainment and not an entire wall, but still want to jump into the purchase of a gaming projector.
See on eBay

ASUS F1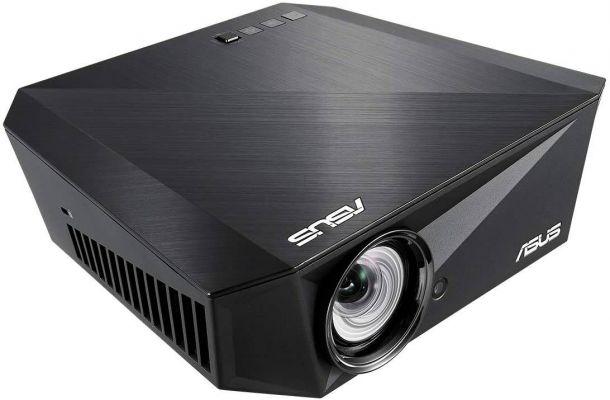 Just like Acer, also Asus has been involved for some time in the production of projectors suitable for entertainment and gaming: one of the most recent examples is theASUS F1, projector which, in a body characterized by rather small dimensions (it weighs "only" 1.8 kg) manages to include a respectable technical data sheet. The resolution, which stops at Full HD, is accompanied by a refresh rate of 120 Hz with auto-focus support, which allows you to never lose sharpness when viewing fast-moving images. The 2.1-channel audio is taken care of by Harman Kardon: Great news, in case you don't intend to connect the projector to an external system.
See on Amazon
Epson EH-TW5700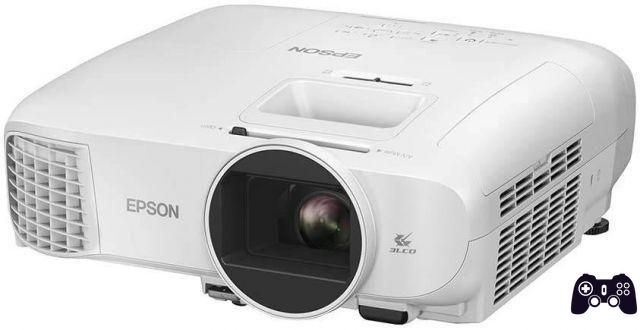 With the Epson EH-TW5700 we begin to enter the high end of the market, where almost all projectors are able to adapt without too many problems or sacrifices to be used with video games. L'EH-TW5700, seen the cost less than 1000 euros, can easily be defined as one of the best gaming projectors in terms of the relationship between cost (not exaggerated) and performance. There 3LCD technology, which maximizes the rendering of the entire color spectrum with a brightness similar to that of white, makes it a perfect device for both watching movies and playing games, also thanks to the remarkable contrast of 35.000:1. The internal lamp is designed to last: according to Epson, even watching one film a day – therefore using it for an average of two hours – can be achieved well 11 years of life without having to replace any parts.
See on Amazon
See on eBay
Epson EH-TW5820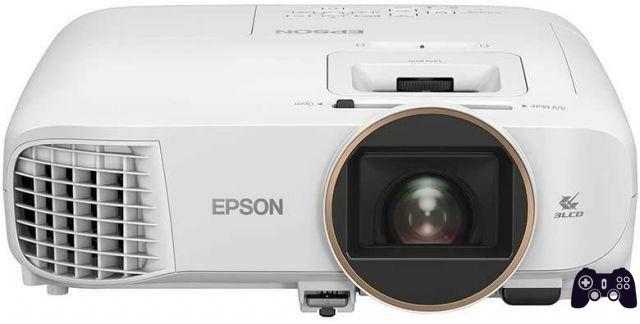 THEEpson EH-TW5820 it is the older brother of the TW-5700, of which it represents, in fact, an enhanced version. Here too we are talking about an FHD projector with high image quality, with 240Hz refresh rate and 3LCD technology. The main feature that distinguishes the EH-TW5820 is the contrast ratio, which doubles the previous one bringing it to a good 70.000:1, a more than adequate value for most users, which allows you to obtain a uncompromising visual quality, without having to make the room almost completely dark. Furthermore, unlike the EH-TW5700, the EH-TW5820 includes support for Android TV, which acts as a real operating system and allows you to navigate through the projector's functions and take advantage of the wide range of connection possibilities to all home devices (smartphones, notebooks, consoles, PCs) in a much easier way.
See on Amazon
See on eBay
Epson EH-TW7400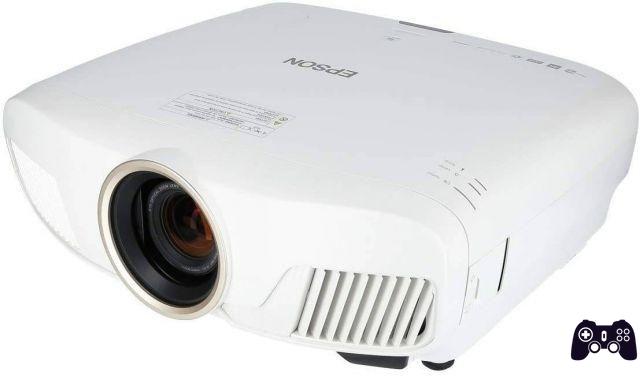 Finally, we come to the best of the best: the EH-TW7400 is the projector of choice for those who want a truly enthusiast-end device, able to offer only the advantages derived from a similar experience, without any element being sacrificed in order to have them. Sure, the price to pay for having such a device is almost prohibitive, but it is still inferior to many high-end or very high-end TVs: if you're thinking of buying a projector that really has it all and you can afford it, don't think twice: we're talking about one of the best gaming projectors out there, able to adapt incredibly to the task. The resolution here rises to 4K (achieved thanks to lens interpolation) and the image quality is truly astounding for a home projector, with a contrast ratio of 200.000:1 and support for HDR and 3D. Epson also offers a very complete ecosystem that allows control via the official app for iOS and Android, which acts as a remote control.
See on Amazon
How to choose the best gaming projector
Choose a projector with features that make it suitable for gaming it can be a difficult undertaking if you don't get enough information and you don't know for sure what data to look at. To help you in your choice, we have therefore thought of a series of tips capable of guiding and advising you in the best possible way a gaming projector that fits your needs and budget.
Brightness
A quality projector should primarily be evaluated on its ability to reproduce images clearly: for this reason, it is important that the brightness is as uniform as possible, without more or less shaded areas, and remains constantly on good values. Some projectors are certified according to the ANSI scale (the one studied by the American National Standards Institute): in that case, it is an important but not fundamental parameter. In any case, don't be fooled by the "declared" brightness, but learn to evaluate it according to certain criteria, including the type of lamp mounted on the projector itself.
Input lag
If brightness is a fundamental characteristic in an absolute sense, input lag is for gamers, which they need to use a device that does not suffer excessively from excessive latency between the execution of the commands and their actual application on the screen. For some time, in the past, projectors have suffered from problems related to input lag, but in recent years several models specifically intended for entertainment and gaming have made their way onto the market: in this guide, we have tried to be the as specific as possible, recommending just some of the latter.
Features and connections
A good projector can also be recognized thanks to its versatility, which allows it to be connected to as many devices as possible to be exploited to the fullest. Therefore, it must have a sufficient number of audio/video connections: HDMI is a discounted option, but not all projectors have ai support standard ARC e/o MHL (in the first case for better audio management, in the second to connect a smartphone more easily), therefore check their presence or absence and compare them with your needs (the projector could also be used for work).
Video formats
Another non-trivial feature are the video formats and codecs supported by the projector, which extend its versatility in terms of software compatibility. The presence of the most common and universal formats (Nvidia 3D, Dolby Vision, etc.) can be an important evaluation parameter for the purchase of a projector, especially if it is high-end (in which case it is important that nothing is missing). In some cases, however, you may have to deal with some limitations, linked for example to the support of proprietary technologies connected to some families of video cards, (eg. Nvidia G-Sync o AMD FreeSync), which may limit the functions of your projector on PC a little.
Price
Like any essential accessory and not dedicated to gaming, the price must be taken into consideration. If you are looking for a good gaming projector, with low latency and excellent brightness, Needless to say, the expense to be faced will be greater. Even the resolution and support for various video formats affect and a lot. The solutions proposed in this guide range from the cheapest to the most expensive, but in both cases we have tried to find the best value for money.