The global version of OPPO Watch with ECG function will be announced in a few days. The date chosen by the Chinese manufacturer is September 24th. To reveal it is the same Asian company through a post on the popular Chinese social network Weibo. The brand's first smartwatch - announced in China in March - reached some international markets a few months later. The international version, however, lacked its own ECG function, which makes the device particularly interesting.
For the moment, we don't know exactly in which markets it will debut. As we all know, hardware is not enough to take advantage of the ECG function but it is necessary to obtain the appropriate certifications for each single country in which it must be used. According to reports, OPPO has already obtained the green light from the United States. It is therefore assumed that the smartwatch will debut first on the American market before reaching other markets. Information is still awaited regarding the.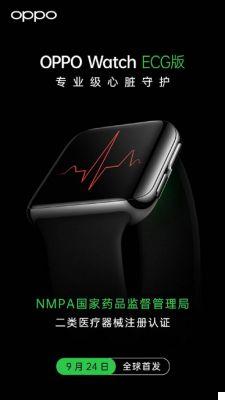 We take this opportunity to remember the technical characteristics of OPPO Watch. The smartwatch comes in two versions: with a 46 mm case and with a 41 mm case. The latter is made with less valuable materials (aluminum and polycarbonate shell), while the former has a ceramic body. The displays change: 1.9-inch curved screen for the larger version and 1,6-inch flat panel for the other. The model with ECG functionality will be the one with a 46mm case. The software on board is in both cases WearOS, developed by Google.
We just have to wait a couple of days to see if it is among the markets that will welcome the new OPPO Watch ECG Edition. Appointment on September 24th!
Apple Watch Series 5 has ECG functions and is available for purchase on Amazon,.