Oppo has recently registered with the CNIPA a patent dedicated to a smartphone that should introduce a very interesting feature, namely the Li-Fi. If the project materializes, it would be the first major manufacturer to have adopted this technology in its devices that can be purchased by users.
The patent registered by Oppo shows a device with a modern design and a very thin bezel surrounding the large display. There should also be a photo sensor that uses pop-up technology. In the back, right next to the rear camera, there is a small square component, which should allow you to exploit the potential of Li-Fi.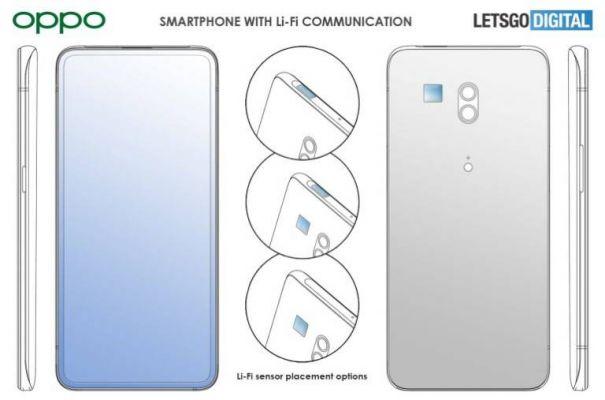 Li-Fi communication is a recent technology that allows you to use the light waves emitted by an LED instead of radio waves. Compared to common Wi-Fi, Li-Fi offers several advantages, including:
A major protection in terms of privacy, considering that data are transported within a defined optical range;
Speed almost 100 times higher than that of Wi-Fi;
Greater simplicity of components;
A notable energy saving;
The probable reduction of risks for health.
Read also: The best smartphones between 300 and 350 euros
Oppo recently launched several high-quality devices, including Find X2 Lite (available on Amazon), Find the X2 Neo (available on Amazon), Find the X2 Pro (available on Amazon), A52 (available on Amazon), Reno2 (available on Amazon), A9 (available on Amazon) e A91 (available on Amazon).
Looking for a smartphone with an excellent technical data sheet? Oppo Find X2 Pro, with Snapdragon 865 and 12 GB of RAM, is available for purchase on Amazon.