Now there is little time left to the presentation of OnePlus Nord and, to deceive the wait, we point out how another new smartphone has appeared on the Web. To reveal it to us is the Geekbench database, with the code name BE2028.
The device should be of a slightly lower range than the North, but still belonging to its family. After all, the company has said it, the new smartphone line is a line-up and not a device in its own right. It could be called OnePlus Nord E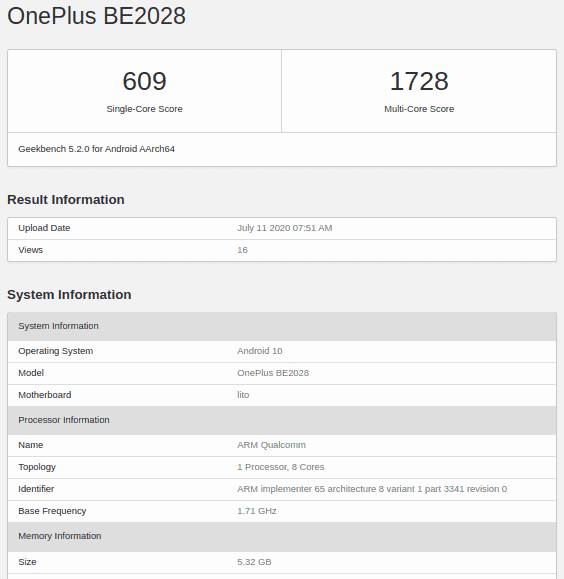 Geekbench registers a smartphone with code name Lito having single core performance equal to 609 and multi core performance equal to 1728. He owns a SoC Snapdragon 690 5G which you have probably never heard. It is one of Qualcomm's brand new chipsets not yet used in any smartphone. The SoC belongs to the mid-range and is very similar to its Snapdragon 765G sibling, except that the latter has slightly higher clocks.
The other information shows how it is supplied 6 GB of RAM e Android 10 the operating system. At the moment we don't even have a photo that can help us compare the design with the next smartphone on the way.
On July 21, OnePlus North will be presented but we do not know if we should also expect this smartphone or it will arrive shortly after, perhaps accompanied by a simple official press note.
What is certain is that One Plus Nord and this product are not the same smartphone. They have a different product code and the RAM information is different, the former holds 8 GB while this mysterious one holds 6.
There is no need to have the latest OnePlus 8 Pro to have a OnePlus experience. Now OnePlus 7T has an affordable price, you can find it here .