What you want personalize your hybrid console or simply protect the device from shocks in an efficient way, this buying guide of migliori cover Nintendo Switch, Nintendo Switch Lite e Nintendo Switch OLED it will surely suit you. In this article we have collected the best products available on the market to protect your favorite console in portability, customize the aesthetics of the Joy-Con a little while making them more protected and, perhaps, even more comfortable for your hands.
Whatever the purpose for which you are looking for a case suitable for your Nintendo Switch, in this guide you will find solutions for your interests. Before consulting the list we have prepared, also take a look at the guide to the best cases for Nintendo Switch, Lite and OLED, in the guide to the best Joy-Con alternatives and in the guide to the best accessories for Nintendo Switch.
Nintendo Switch covers, the best
Skin eXtreme Rate
Cover Nintendo Switch e Nintendo Switch Lite
Grip Nintendo Switch
Cover Nintendo Switch OLED
Cover Joy-Con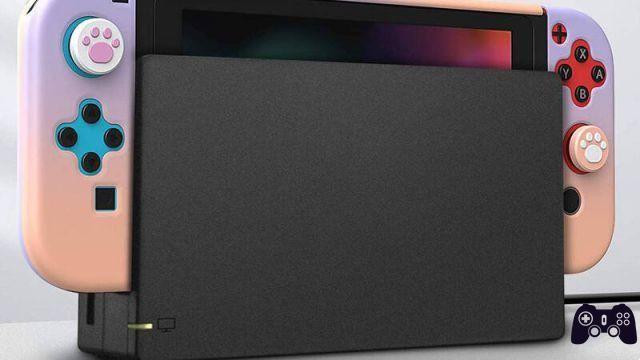 Skin adesive eXtreme Rate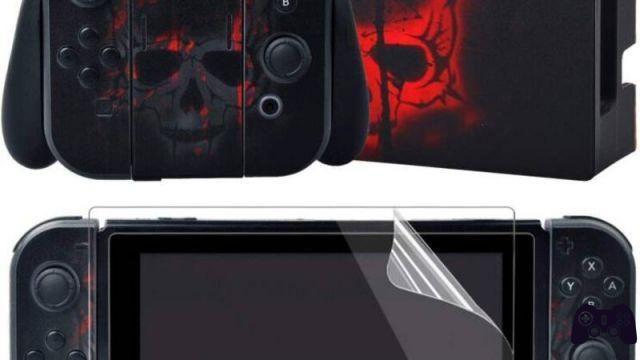 One of the simplest ways (and at the same time cheaper and "artisanal")
to customize Nintendo Switch
in its entirety, i.e. dock, Joy-Con and console itself is definitely buying an adhesive skin. There are so many options available, but perhaps the most famous and cheapest is certainly the one proposed by eXtreme Rate, which offers many different customizations, with always different colors. Clearly you won't find official products, but it's still an interesting solution if you're looking for an easy and cheap way to personalize
the console without damaging it
.
See on Amazon
See on eBay
Cover Nintendo Switch e Nintendo Switch Lite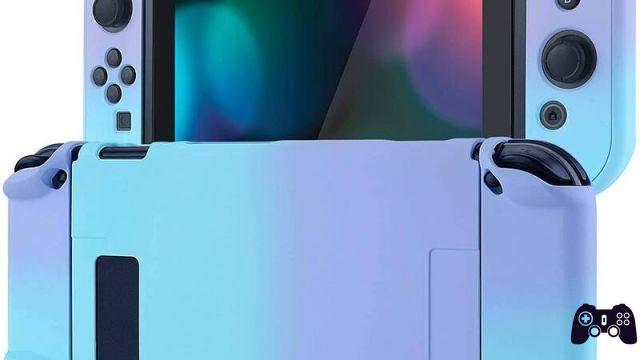 Let's move on to the actual stuff Cover per Nintendo Switch e Nintendo Switch Lite, silicone or plastic covers that are primarily used to protect the console from shocks, and secondly a personalize with pleasing aesthetics your device. Some of these even have more functionality, such as an improved and more ergonomic handle, or as an opening to extract the Joy-Con from the console without necessarily removing the entire cover. Other covers, again, are also able to adapt to the insertion of the console inside the dock. For this section we have opted for the PlayVital series by eXtremeRate, which offers the right level of shock protection, a compact form factor, lots of colors and patterns to better customize your console and a TPU body, soft to the touch but excellent for absorbing impacts of light and medium intensity.
See on Amazon
See on eBay

Grip Nintendo Switch
One of the most sought after aspects when looking for a cover for Nintendo Switch, resides in the grips, or in two additional horns, placed at the two ends of the console, which improve the ergonomics of the console and make long sessions on the move less restrictive or uncomfortable. Many covers for Nintendo Switch have provided this feature over the years but in this specific case we would like to recommend the NeoGrip by Skull&Co. It's not really a cover, even if it's sold bundled with a well-made hard case, but rather an extension that can guarantee better ergonomics for your Nintendo Switch, without sacrificing any of its functions. With the Neo Grip, in fact, you can continue to use your Switch in Tabletop mode or insert it in the dock without having to disassemble the grip which, moreover, allows you to be easily adapted to both the standard model and the OLED model, simply by moving an adjustment present inside the body. Finally, if you are a Nintendo Switch Lite owner, Skull&Co offers custom-made grips even for the smallest model.
See on Amazon
See on eBay

Cover Nintendo Switch OLED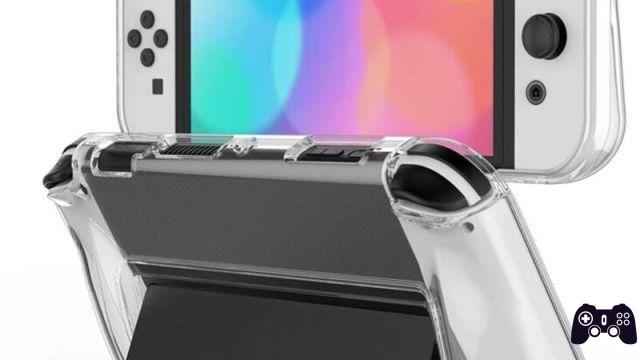 The latest addition to Nintendo is the OLED Switch, a console that, while keeping the internal architecture intact, has some external changes that make it essential to form a new line of covers suitable for its slightly larger dimensions. As with the younger sisters, the cover per Nintendo Switch OLED may have several additional features, such as improved ergonomics or the possibility of accommodate game cartridges on the back. Of all those available on the market, we opted for a model produced by JETech which, in the face of a very low list price, offers two important strengths: the presence of two soft silicone grips and total protection of the console.
See on Amazon
See on eBay

Cover Joy-Con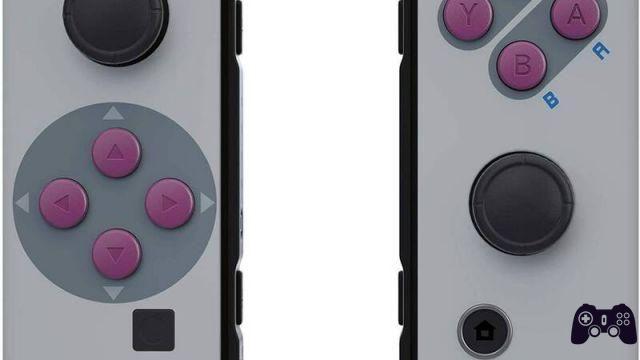 If you just want to customize your Joy-Con and not the entire console, then maybe it's not the case to buy entire covers for Nintendo Switch but only those necessary to cover the device's characteristic controllers. Whether they are silicone or rigid, even the cover per Joy-Con they can have aimproved ergonomics or can be sold in bundles with accessories useful. Beware of some eXtremeRate solutions, also in this case available in different patterns. But be careful: these covers can only be equipped by disassembling the original body of the devices: the console warranty does not cover these modifications, so follow the instructions that the products give you to the letter.
See on Amazon
See on eBay

How to choose the best Nintendo Switch cases
Getting a protective cover suitable for your console is not something immediately intuitive, first of all because there are so many different types of covers, from simple stickers that perform aesthetic functions to soft shockproof ones up to those that replace the original body of the consoles. Secondly, they exist for the time being 3 different types of Nintendo Switch (and knowing how Nintendo works, we know that other versions could soon arrive). Before choosing the ideal cover for you, pay attention to these parameters: models, materials, additional features, accessories and price.
Patterns
For many people it can be taken for granted, but if you are simply looking for gifts for your children and grandchildren, pay attention to the cases you choose because these are custom made for consoles, in a similar way to what happens with the many different types of smartphones: this means that if you buy a cover for Nintendo Switch, and impossible can adapt well to even Nintendo Switch Lite and Nintendo OLED Switch. Keep in mind the Nintendo Switch model for which you need to buy a cover before proceeding with the purchase and always rely on the icons placed on the packages that indicate, through the wording Made for Nintendo Switch Lite / OLED, with which console model are fully compatible.
Materials
There isn't a magic formula that is always suitable for understanding which materials are more resistant to shocks on the console, but the important thing is to have a cover for Nintendo Switch that is able to protect minor and medium-sized damage. The choice between stiffer materials, such as plastic, or more malleable materials such as silicone it is more a prerogative of your habits and your needs in terms of tactile performance. Just always pay attention to the form factor of your cover for Nintendo Switch, a single body produced in TPU often favors better protection from medium-sized bumps (such as falls from heights of up to one meter), whereas a rigid plastic cover, perhaps open in the upper part in order to allow the removal of the Joy-Con, it is certainly more suitable to protect from scratches and abrasions generated by daily use.
Joy-Con protection
Many models of covers for Nintendo Switch have a structure divided into three parts. This allows you to individually cover the body of the console and the two Joy-cons to allow you to release them freely without having to remove the cover. However, this solution, however practical it may be, is by no means the best in terms of protection as it is many parts of your Nintendo Switch will remain exposed to accidental damage precisely by virtue of having to leave the two housings dedicated to the controllers free. Our advice in this specific case is to opt for two types of protection for your console: one that completely defends it from all sorts of shocks and one that protects the Joy-Con on those occasions when, to play with friends away from home, you'll need to go off-hook the controllers often. Finally, if you only need a solution for your home environment, just buy a pair of silicone covers that protect your Joy-Con from accidental falls.
Additional features
The task of a cover for Nintendo Switch is obviously to protect the console from shocks, but the choice of this or that product is not based only on this single element, or on aesthetics, many of the covers that we have proposed offer additional functions that could prove useful for the different uses that will be made on the move. Some covers for Nintendo Switch, in fact, offer portions of the body dedicated to the storage of cartridges, others are designed to allow the use of the stand even with the Switch placed inside a cover, still others offer two grips to ensure greater ergonomics . The choices and options are really many and embrace the majority of user use cases, even the most demanding ones.
Accessories
As you may have noticed, many Nintendo Switch cases are sold in bundle with accessory kit of various nature. Think carefully about what might be convenient for you before proceeding with the purchase: a protective case can come in handy for transport, an external cartridge holder can ensure that you carry more games with you without weighing down your console excessively with a cover designed for that purpose Analogue caps can protect their delicate material from heavy perspiration and tempered glass is known to be essential to protect your console's screen. Our advice, therefore, is not to always look for a cover without additional accessories because on many occasions they can prove to be much more useful than you think, as well as allowing you to save money on purchasing the same accessories separately at a later time.
Price
When choosing a cover for Nintendo Switch, as well as for any other product, we inevitably end up having our wallet make the final decision, instinctively orienting itself on the models that fall within the maximum available to us. However, a high price does not always equate to a better level of protection as many factors that determine the price are mainly based on the additional options offered by the various Nintendo Switch covers, on the attention to detail during the manufacturing process, on the type of materials used and, finally, on the importance of the brand, or of the licensed brand with which they are personalized.
This is to tell you very clearly that if your goal is simply to protect your Nintendo Switch with a transparent silicone cover, there is no need to focus on the more expensive models as the differences between the various price cuts could be reduced, very trivially, to the TPU's ability not to yellow excessively over the months.