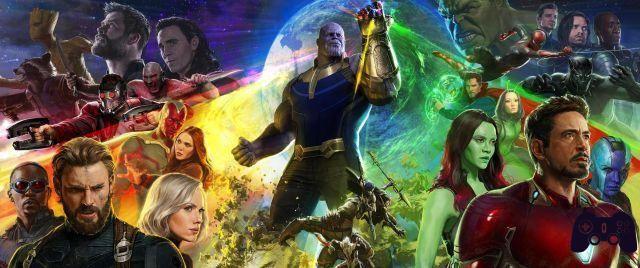 The Walt Disney Company announces in a press release that Avengers: Infinity War grossed over € 3 million after just 24 hours after screening in cinemas. Below you can find the full press release:
RECORD BOX OFFICE FOR
AVENGERS: INFINITY WAR
The new Marvel movie hits theaters
and collects over 3 million euros in the first 24 hours
Milan, April 26, 2018 - Just 24 hours after its arrival in theaters, the new Marvel film Avengers: Infinity War has conquered the box office with a record collection of over 3 million euros. Distributed by The Walt Disney Company, the film dominated the day of April 25 with a presence on 930 screens, the highest number for the Marvel Cinematic Universe and for a superhero movie.
"We couldn't imagine a better way to celebrate Marvel Studios' 24th anniversary," comments Daniel Frigo, CEO of The Walt Disney Company. "In just 2018 hours, Avengers: Infinity War has confirmed itself as the most anticipated film of the cinematic season and beyond, marking a large number of very important milestones: the best Opening day of all time for a Marvel movie and for a movie about superheroes. , the best debut of all time for a film released by Disney and the best opening of all time in April and all of XNUMX. Congratulations indeed to the entire Disney team and to our partners, who have worked with great commitment and in synergy, in full respect of the silence imposed by Thanos ".
No Spoiler - #ThanosImponeYourSilence
On April 24, in the historic setting of the Teatro Principe in Milan, the preview of the film was held. Many celebrities from the world of entertainment, music and the web walked on the carpet together with the characters of their favorites Iron Man, Black Panther and Star Lord who animated the evening. Among the play of light and themed settings, including some Jeep Renegade themed Avengers, guests were able to immerse themselves in an unprecedented cinematic journey that brings to the big screen the greatest and fatal showdown of all time.
Written by Christopher Markus & Stephen McFeely, the new chapter of the Marvel Cinematic Universe is produced by Kevin Feige, while Louis D'Esposito, Victoria Alonso, Michael Grillo, Trinh Tran, Jon Favreau, James Gunn and Stan Lee are executive producers.
This year the Avengers will also be at Disneyland Paris with the Summer of Marvel Superheroes: the big news of the summer 2018 that starting from 10 June and until 30 September will give everyone the opportunity to meet Iron Man, Thor, Captain America , Spider-Man, Star-Lord and Black Widow in the magical setting of Walt Disney Studios Park! More information at www.disneylandparis.com