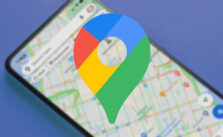 In this article we will see how to change your home or work address on Google Maps from your phone and PC. Google Maps allows you to configure the options on the app as you wish. Among these, you can set your home address on Google Maps to allow you to easily go home wherever you are.
Plus, it's easier for you to share your home or work address with anyone quickly. If you're new to these changes, or just looking to change your home address on Google Maps, here we are. In this guide, we'll walk you through the steps to change your home or work address in Maps from your phone or PC.
14 solutions for when Google Maps only works over WiFi on Android and iPhone
Change the Google Maps address on your phone
You can set and change the location on Google Maps from your phone, be it Android or iPhone. You just need to have the Google Maps app installed on your phone to change your home address.
Then, to change Google Maps information on iPhone and Android, open the Google Maps app and tap on the icon Profile in the upper right corner.
From the menu, tap and go up Settings.
Scroll down through Google Maps Settings and select the "Home or work address".
From the next screen, go to the Tagged tab and search for "Home".
Now tap the a icon three points.
You choose "Change home"From the pop-up menu on your phone.
On the next screen, enter your home address or choose on the map to change your home address on Google Maps.
You can then select and change the Google Maps home address on your Google account. Once you've set up your home address, you can ask Google Home voice search or even Google Assistant to "go home". Here are some commands you can use with the Google Assistant to take you home with Google Maps once you've set your home address.
"Hey Google, take me home"
"Ok Google, show me the path to my house"
"Hey Google, show me the directions to my house"
Using Google Maps to set or update an address on Google Maps is really useful when you are driving with Android Auto and want to go home with a simple voice command. In addition, navigation with Google Maps works anywhere in the world.
Google Maps vs Waze which one to choose
How to change Google Maps location on PC
If you have access to your PC (or even prefer to use your computer) here are the steps on how to change your location on Google Maps. To change your home location, you need to go to Google Maps (maps.google.com) from a web browser, such as Google Chrome. The other steps are as follows.
From the web go to Google Maps, click a location for insert a placeholder. If you see a small dark gray pin on the map, click the point for again release the blue placeholder.
Once you've released the "blue pin" on the Google Maps web map, look for the popup tab at the bottom of the screen. Click on the coordinates (a number combination that might look like this: 37.421772, -122.084192 ).
Now look at the location details that have appeared to your left. From the same window panel, click on the option "Add a label".
In the text field, enter "Home"And select the option"Home - Set your home address"In the menu that appears.
Confirm on "Set as home"From the confirmation popup to proceed.
Finished. The location you previously held on Google Home has now been changed to the new address. This way, you can change your home address in Google Maps as much as you like without too much trouble.
With your home address settings, Google Maps can save where you live and make things easier for you. Let's say one day you move to a new city and got lost on a wrong path, you can just take Google Maps and go home (or even ask the Google Assistant to take you home). I hope you now have a very clear idea on how to set or change the address on Google Maps.
Further Reading:
How to use Google Maps on Apple Watch
How to view Google Maps search history
How to know your current position on Google Maps
How to view and manage location history in Google Maps
How to add a GPX file to Google Maps