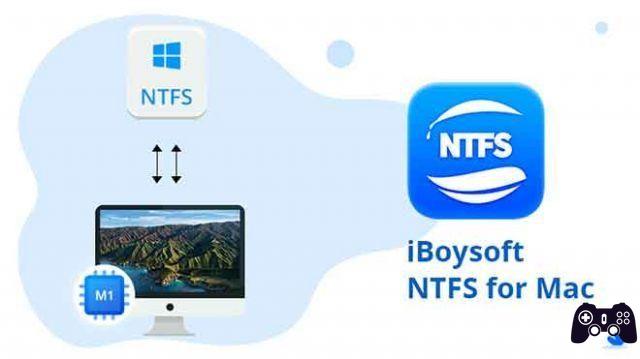 How to read / write NTFS drives on macOS is a very common question asked by most Mac users. The problem is mostly faced by people who have used computers powered by Windows OS previously and later switched to macOS.
The New Technology File System (NTFS) is a file system developed by Microsoft and used on the Windows operating system.
Even nowadays Windows users prefer NTFS file system instead of other file systems for various reasons. For starters, NTFS offers better encryption and security features for files stored on the drive. In addition, the compression algorithm of NTFS provides more free storage space than other file formats.
Additionally, NTFS supports individual file sizes greater than 4G. Last but not least, the corruption rate is lower than other formats, especially on drives with a lot of data in them.
If NTFS is a popular file system, why doesn't macOS support it? The reason is that NTFS is a proprietary Microsoft file system and the company hasn't actually released any proper documentation for it. Also, there is no official licensing system for NTFS.
Therefore, Apple does not offer full support for NTFS on macOS. However, macOS does support NTFS read functionality. This means that you can access the content stored on NTFS drives and read it simply.
However, macOS does not offer support for writing to NTFS drives. Hence, it is not possible to delete, rename, modify files on an NTFS drive on a Mac computer.
What is iBoysoft NTFS for Mac?
iBoysoft is a famous software development company that offers various solutions for data recovery, drive management, etc. NTFS utility software for Mac allows macOS users to test all file privileges of their NTFS drives on a computer powered by the macOS operating system. More importantly, it is one of the few software available that is fully compatible with the latest macOS and ARM-based Mac M1.
Thus, you can add / edit / copy / delete / move files stored on an NTFS drive on a macOS system using iBoysoft NTFS for Mac software.
Let's talk about the iBoysoft NTFS application
iBoysoft NTFS for Mac is the best NTFS solution for Mac that gives your Mac the ability to read / write to NTFS drives and allows you to seamlessly transfer and manage files between Mac and PC. In particular, it allows you to read, write, modify, delete, add and move files on NTFS drives and also to mount and unmount NTFS drives with one click.
With iBoysoft NTFS for Mac, writing to NTFS drives on your Mac shouldn't be a problem, just like existing NTFS read-write support natively on macOS or OS X.
It is a handy and lightweight menu bar app that allows you to perform the main functions in the drop-down menu.
Mac mounted NTFS drives will be listed in the drop down menu, where you can easily open or eject them one by one or eject them all at once.
The NTFS driver also functions as an NTFS disk manager which allows you to:
• View disc information
• Open a disc
• Erase the data on the disc
Here you can find the official guide on how to enable read and write support on macOS Big Sur.
Features of iBoysoft NTFS for Mac
Below is a more in-depth look at the features offered by iBoysoft NTFS for Mac.
• Fast and secure NTFS native read and write access. You can read / write to NTFS files using iBoysoft tool quickly and natively.
• Highly integrated with MacOS Disk Utility and Finder: the updated version gives you direct permission in Finder (rename, tag and AirDrop file) and Disk Utility (Partition and Erase). It is extremely affordable and saves you time.
• Automatically mount NTFS drives in read-write mode: iBoysoft's product will mount the NTFS drive in read-write mode at boot without bothering to adjust settings manually.
Further Reading:
How to Format a Hard Drive (Mac) [Solved]
How to fix "Could not read from source file or disk"
How to defragment hard drive on Windows 10
How to format a hard drive
How to disable file compression on Windows 10