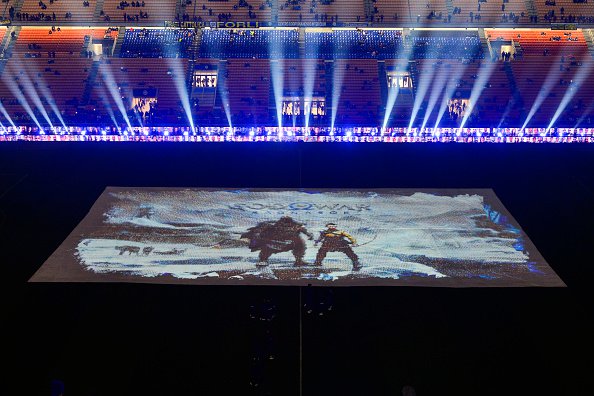 After the New York subway, God of War Ragnarok also conquered the San Siro stage. The Inter and Milan stadium was in fact the scene of a gigantic advertisement for the new exclusive PlayStation 4 and PlayStation 5, with Sony organizing a real digital mosaic projected onto the football field on the occasion of the Serie A match between Inter and Bologna.
The mosaic was created thanks to the Face The Ragnarok project, started on October 3 and entirely dedicated to the PlayStation community and video game fans. PlayStation has in fact asked social users to share selfies with the famous Kratos tattoo and then to tell their story by choosing from a few words that identify the distinctive features of their personality. Over 2.000 selfies collected, which helped create the digital mosaic projected yesterday.
The reveal of the mosaic was preceded by a gigantic play of lights, which first froze the field and subsequently unveiled the digital work. Everything was enriched by 3D lettering, which was able to win over the San Siro audience and stimulate the curiosity of the spectators. The video was subsequently released on the official Instagram profile of DAZN, the media partner of this initiative, and is visible a little further down.
PlayStation celebrates the arrival of #GodOfWarRagnarok and his Community at San Siro with a spectacular play of lights and images@PlayStationIT #DAZN pic.twitter.com/sSKfGdQZcc
— DAZN Spagna (@DAZN_IT) November 10, 2022
God of War Ragnarok is available starting yesterday, exclusively on PlayStation 4 and PlayStation 5. The launch of the game has completed over 2 and a half years of work for Santa Monica, who was faced with a very difficult challenge behind the launch of the game, including user harassment, scathing criticism from a minority of the community and much more. However, all the anxiety and adrenaline disappeared yesterday, when the launch of the new Kratos and Atreus adventure was celebrated in the offices, complete with a NASA-style countdown.