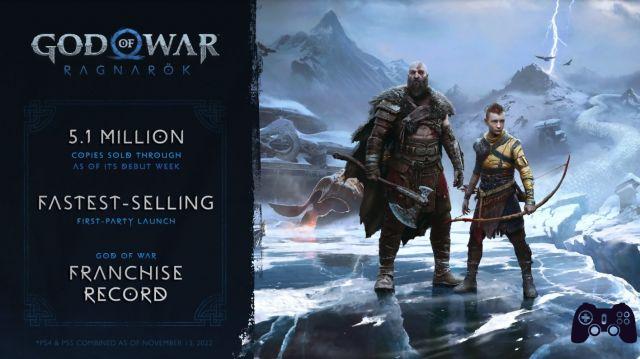 ---
Only seven days have passed since the launch of God of War Ragnarok, and since then there have already been many fans who have thrown themselves headlong into the new Norse adventure of Kratos and his companions. The new work by Santa Monica Studio has been able to attract an avalanche of attention, and this great work is paying off in record time. Just in these hours Sony has unveiled what have been the first incredible numbers of the new God of War, which was capable of break several records already going into history.
PlayStation itself announced how satisfying the first week of God of War Ragnarok's life was with a post published on Twitter. As we can see from the official numbers shared on the net, the latest chapter of the God of War franchise has managed to break several milestones, going to position itself at the top of the ranking of first-party Sony experiences that have been able sell a disproportionate number of copies in record time of just one week.
Speaking of numbers, thanks to the PlayStation post we discover that God of War Ragnarok (you can buy it on Amazon) was able to sell the beauty of over 5.1 million copies worldwide in just seven days. Impressive numbers that allow Ragnarok to thus become the chapter of the Santa Monica Studio franchise that it has sold more and faster than ever. Results that will please both the talented Californian team and PlayStation, which knows very well that it can still focus very strongly on this kind of purely narrative single player experiences.
Congratulations to @SonySantaMonica for making God of War Ragnarök the fastest-selling first party launch game in PlayStation history! pic.twitter.com/NPgN6YHRnQ
- PlayStation (@PlayStation) November 23, 2022
Furthermore, these results are an important testimony that goes to underline the great work done by the boys of Santa Monica Studio, one of several flagships within the PlayStation first party roster.
Before saying goodbye, we advise you to visit our YouTube channel, where you can find videos dedicated to the gaming world at 360 degrees.