In recent years, among the most popular accessories among gamers we can certainly find gaming chairs, that is what has now become an essential product for all those who have already tried their hand at purchasing it. But do you know why a good gaming chair is so important? Because a good gaming chair, in addition to being very often also decidedly captivating from the point of view of pure visual impact, in fact manages to offer unparalleled comfort, reconciling our long gaming sessions with a seat capable of giving so much satisfaction . A self-respecting gaming chair is also built following the various precepts of ergonomics, thus allowing us to avoid all those annoying little problems that often appear after long hours sitting on some more entry level product. Not bad right? As you can imagine, however, not all gaming chairs are the same and even among products with a considerable price it is often possible to find some nasty surprises. To avoid this unpleasant eventuality we have therefore searched for you what are currently the best gaming chairs on the market for a maximum of 200 euros.
However, if your budget is greater and you therefore want to equip yourself with a product that knows no rivals, you can find in this article what are the best gaming chairs ever. Do you want to spend less? No problem, you can find here the best gaming chairs on the market for 100 euros or less. Are you looking for something screen-printed with a gaming theme? Again we have the right article for you!
Black Friday gaming chairs: the best offer
Newskill Kitsune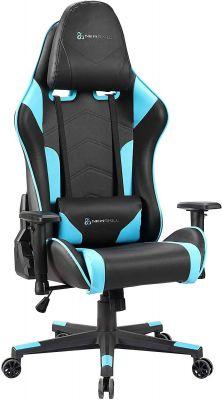 Among the best gaming chairs for 200 euros or less on the market we can certainly find the Newskill Kitsune (on sale these days thanks to Black Friday deals!), faux leather chair suitable for supporting weights up to 150kg. With a 180-degree adjustable backrest, height and angle adjustable armrests and both lumbar and trapezoidal cushions: although the Newskill Kitsune is a budget gaming chair, it has everything a number of respectable characteristics, able to raise the overall value of the product. Of course, maybe the design is not exactly original, but comfort and low price are qualities that should not be underestimated absolutely.
See on Amazon
Gaming chair, the best under 200 euros
Trust GXT 705 Ryon
GTPlayer Pro Ready Gaming
IntimaTe WM Heart Racing Chair
WOLTU BS14ws Ready Gaming
SONGMICS Office Chair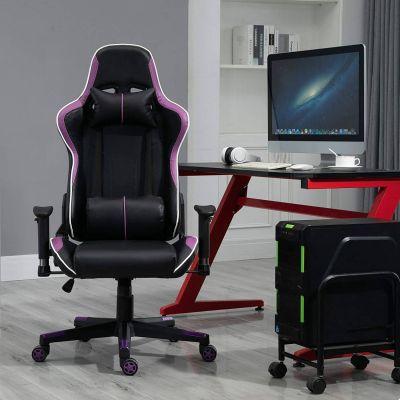 Trust GXT 705 Ryon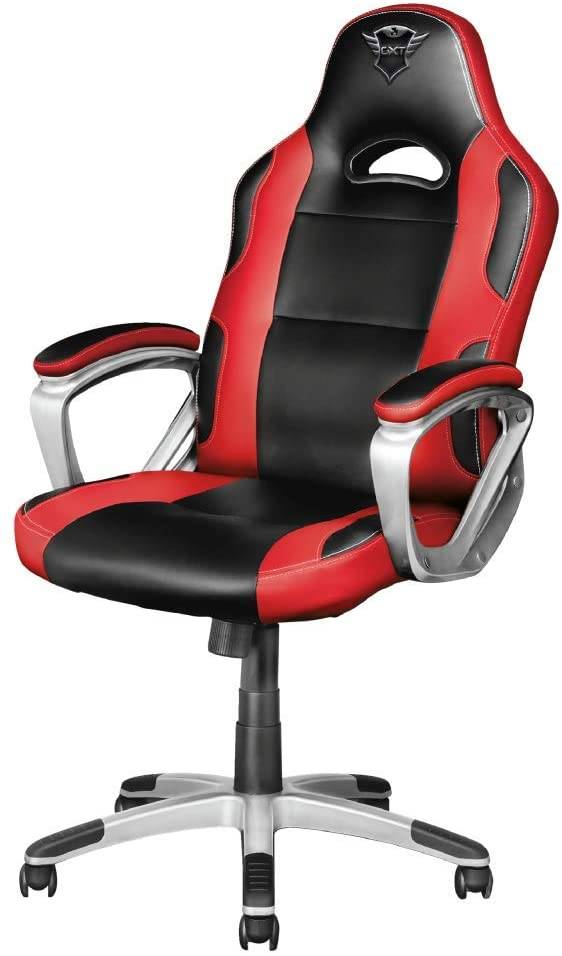 A good solution for all those who are looking for a good gaming chair is definitely the Trust GXT 705 Ryon, with the Trust product that manages to offer both a good design and a decidedly remarkable quality. The GXT 705 Ryon is in fact equipped with armrests with comfortable additional padding, a seat that can be tilted and locked at will and a highly ergonomic shape. Finally, to make everything even more interesting, the Trust GXT 705 Ryon for a huge number of users is a particularly resistant wooden frame, capable of supporting weights up to 150 kg.
See on Amazon
See on eBay
GTPlayer Pro Ready Gaming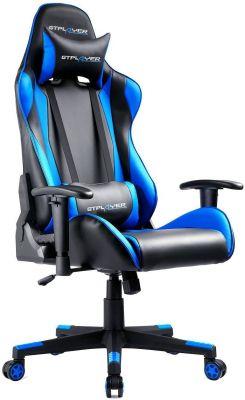 The GTPlayer Pro is an absolutely interesting gaming chair, equipped with an ergonomic shape, a comfortable seat and good quality materials. The upholstery is in fact in PU synthetic leather, the frame is a single piece in steel and the armrest is adjustable. In addition to these mere technical characteristics, to which the inevitable reclining and adjustable backrest is added, the GTPlayer Pro surprises particularly for its comfort and an attractive and aggressive design which, we are sure, will drive more than a few players crazy. The GTPlayer Pro is therefore ultimately a very good gaming chair for less than 200 euros.
See on Amazon
IntimaTe WM Heart Racing Chair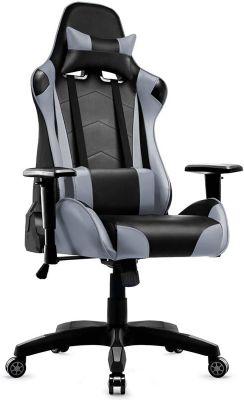 Elegant, comfortable and equipped with good quality materials: these are just some of the main features of the IntimaTe WM Heart Racing, a gaming chair for 200 euros or less among the best on the market. To make everything even more noteworthy is the pair of comfortable lumbar and head cushions, which together with the reclining seat make the IntimaTe WM Heart Racing a very valid solution with very little to envy to much more expensive products. If you want to be on the safe side and have no particular needs, the Intimate WM Heart Racing is most likely the gaming chair available for less than 200 euros that's right for you.
See on Amazon
WOLTU BS14ws Ready Gaming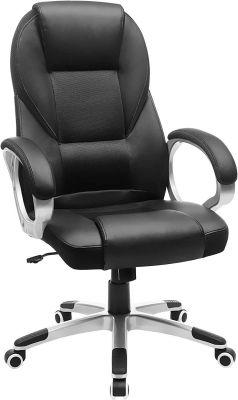 If you are looking for a good gaming chair with a footrest at an attractive price you will find in the Woltu BS14ws a respectable proposal, with a particularly accurate design and able to give many satisfactions to all those who will be convinced by this product. In the presence of the footrest, a respectable technical data sheet is also added, with the Woltu BS14ws which has an eco-leather covering and a maximum load of 150Kg. To complete the more than interesting offer of the Woltu BS14ws is poi a large range of choices regarding the colors available, which makes this gaming chair an excellent solution for many players. If you are looking for a gaming chair with footrest you will hardly find better at this price.
See on Amazon
See on eBay
SONGMICS Office Chair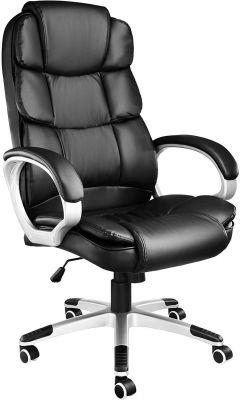 As the last proposal of this list we have decided to include the SONGMICS, a chair that certainly does not have the classic gaming chair stylistic features, but which manages to reveal itself a great product even with that end. Featuring office chair design and faux leather cover, it is one of the best gaming chairs if we want to assist a comfortable seat with a product with classic and inconspicuous lines, unlike the other chairs featured in this article. With load capacity up to 120kg, high quality materials and tilting mechanism, has everything you would look for in a good gaming chair. Sober and decidedly functional.
See on Amazon
How to choose the best gaming chair under 200 euros
As you may have guessed by reading our proposals above, there are many variables to take into consideration when you find yourself choosing your own personal gaming chair. Materials, fabrics and much more: let's see together what are the characteristics not to be underestimated when choosing the best gaming chair under 200 euros. You don't want to find a low quality product in your hands, right?
Price
But why exactly the best gaming chairs under 200 euros? The reason is obvious: the range that goes from 100 to 200 euros is in fact certainly one of the most interesting and substantial of this particular market, given that it offers a large number of products characterized by a good quality and an affordable price. Choosing a gaming chair under 200 euros among those proposed in this article will therefore allow you to get your hands on a good product, perhaps devoid of gadgets or premium materials as more expensive alternatives, but still decidedly satisfying and able to keep you company for many years. So if you don't want to spend too much but don't want to be satisfied either, the one under 200 euros is the price range for gaming chairs which is definitely for you.
Material
The first aspect is certainly that relating to materials which, in most cases, they are divided into leather, PU leather or imitation leather and fabric. Faux leather gaming chairs are certainly easier to clean but, on the other hand, they offer less breathability than their fabric counterparts and, consequently, they make you sweat much more easily, especially in the summer. Furthermore, PU leather, in addition to being drastically cheaper, is a synthetic leather made of polyurethane and as such much less valuable than traditional leather. However, you won't have to worry too much about this last distinction: real leather products are, as you will imagine, really expensive and, consequently, very difficult to find in a product under 200 eurosFurthermore, the purely personal factor should not be underestimated, given that sitting on a fabric or leather gaming chair leads to different sensations.
Adjustments
Although practically all good-level gaming chairs have these characteristics, it is still necessary to check if they allow you to change the height and tilt the seat: two very comfortable features that should not be missing, not even in a gaming chair under 200 euros in price. As for the elbow rests, if present, they should at least be settable in height and, preferably, also in the other dimensions. A hyper-adjustable gaming chair allows for greater comfort because it not only adapts to the player but also to the desk, creating a perfectly balanced bridge between the player and the support where the screen is located. Since a player usually spends many hours playing, an adjustable chair guarantees great benefits in terms of comfort.
Supports
While not everyone loves them, that's always a good thing Make sure your gaming chair has posture supports. We are talking in particular of the one for the back, to be positioned on the lumbar area and which lightens the load on the spine, and of the one for the head. Two accessories that absolutely must not be missing in a self-respecting gaming chair and which are capable of prevent and avoid many small pains. Not to be forgotten is how, in almost all cases, they are removable in case they are not to your liking. Furthermore, for those who prefer a chair with 360-degree supports, there are also chairs with a footrest. This serves to prevent the legs from assuming an incorrect posture while sitting, relaxing the thigh muscles and thus also extending the back muscles which will have less load to bear.
Design
A good gaming chair under 200 euros, as well as guaranteeing great ergonomics and being characterized by good quality materials, should also be characterized with a respectable design. In fact, these products end up playing an important role in the bedrooms and studios of many people and for this very reason they should therefore satisfy their tastes also in terms of style and glance. Fortunately, this type of chair was created to adapt to everyone's needs, from the passionate gamer to the amateur, up to those who play just a couple of times a month. However, there is someone who, given their comfort, is also adopting them as office solutions or as thrones for the study. If you are looking for something of this type, the more colorful ones are not for you, but there are also several with sober colors that adapt perfectly to environments outside of gaming.