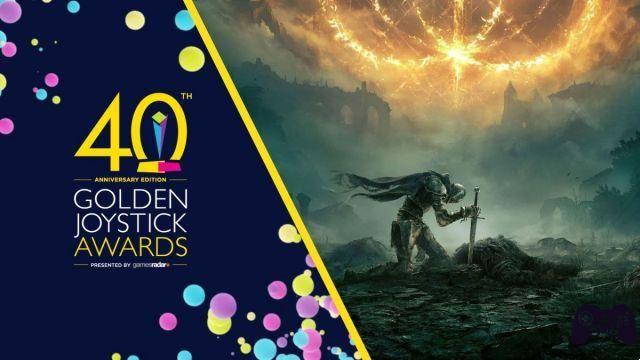 As we stride closer to The Game Awards 2022 gala, meanwhile there are plenty of other gaming awards being handed out. Just in these hours, in fact, we have discovered which were all the winners of Golden Joystick Awards, the event presented by the editorial staff of gamesradar and which this year celebrates its fortieth edition. Without great surprises, one of the undisputed protagonists of the award ceremony was Elden Ring, is all this a prelude to the next TGA?
The awards event came to life yesterday Tuesday 22 November, and it was a real celebration of videogame 2022. By now this kind of awards have also made inroads into the video game medium, so much so that there are several awards that the various titles can aspire to every year. As for the Golden Joystick Awards though, 21 categories were chosen, and have rewarded a great variety of experiences.
Of course, it stands out among all Elden Ring's triumph as Ultimate Game of the Year, with the most recent From Software epic that was able to defeat a tight competition made up of as many great games such as: Gran Turismo 7, Horizon Forbidden West, Immortality, Mario + Rabbids Sparks of Hope, God of War Ragnarok, Return to Monkey Island, Teardown, Xenoblade Chronicles 3, Bayonetta 3, Call of Duty Modern Warfare 2 and Neon White.
Let's see together all the winners of the Golden Joystick Awards category by category:
Best Storytelling – Horizon Forbidden West
Still Playing Award – Genshin Impact
Best Visual Design – Elden Ring
Studio of the Year – FromSoftware
Best Game Expansion – Cuphead: The Delicious Last Course
Best Early Access Launch – Slime Rancher 2
Best Indie Game – Cult of the Lamb
Best Multiplayer Game – Elden Ring
Best Audio – Metal: Hellsinger
Best Game Trailer – Goat Simulator 3 Announcement Trailer
Best Game Community – Final Fantasy 14
Best Gaming Hardware – Steam Deck
Breakthrough Award – Vampire Survivors
Critics' Choice Award – Elden Ring
Best Performer – Manon Gage (Marissa Marcel, Immortality)
Nintendo Game of the Year – Pokemon Legends Arceus
PC Game of the Year – Return to Monkey Island
PlayStation Game of the Year – Stray
Xbox Game of the Year – Grounded
Most Wanted Game – Legend of Zelda: Tears of the Kingdom
Ultimate Game of the Year – Elden Ring
These are all the winners at the Golden Joystick Awards 2022. Now we just have to be patient a few more days and then enjoy The Game Awards 2022, with the gala evening presented by Geoff Keighley which will come to life next 8th December.