It's been nine years since the reveal of cyberpunk 2077 e Lada Lyumos wanted to make a cosplay of the first, iconic artwork of the game, that of the woman on her knees with bionic arms.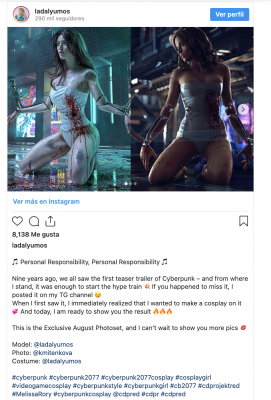 As you may recall, the game's launch was not the most successful in memory, especially for the Xbox One and PS4 versions of Cyberpunk 2077, reduced so badly as to become memes, and the issue has created a long list of CD problems. Projekt RED, primarily from a reputational point of view.
Controversies that, however, have not touched Lada Lyumos, who told in her post on Instagram how he thought about playing that character since the game's first teaser trailer, and today he's finally fulfilled that purpose.
It is also funny to note that the artwork created by CD Projekt RED appears fundamentally more sensual than the cosplay of the Russian model, who has also accustomed us to very impactful shots due to her extraordinary physique.