The new MacBook Air, 13 ″ MacBook Pro and Mac Mini announced at Apple's latest event all have one thing in common: they use iThe first SoC designed by Apple specifically for Macs, Apple M1, which marks the beginning of the process that will take the Californian company away from Intel CPUs on all its products. Now, users are curious to find out what the actual performance of this chip is, and early benchmarks seem to help with the feat.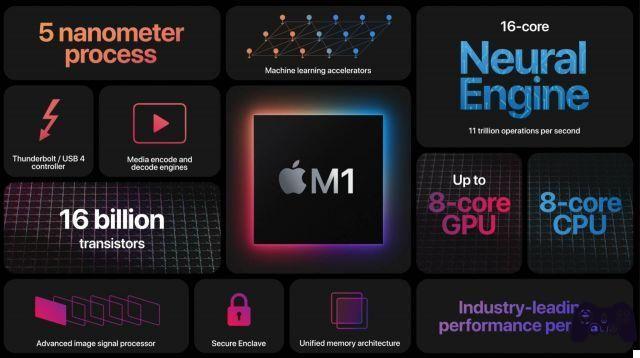 Some specifications of Apple M1, more detailed than those that Apple has communicated during the presentation, are finally available thanks to the database of CPU Monkey. Among the various results in synthetic tests, some have been found technical information regarding the SoC of the Cupertino company.
Apple M1, which as we know is produced in TSMC foundries with a production process a 5nm, it should work at one base frequency of 1,8GHz and reach a maximum of 3,1GHz. If the information turns out to be correct, it would be the first Apple chip to exceed the 3GHz frequency threshold.
The frequency of operation seems to tie all 8 cores, 4 high performance and 4 high efficiency in big.LITTLE configuration, which the GPU. What Apple has called "the best integrated GPU in the world" should be able to boast 128 Execution Units (EU) and have access to maximum 8GB of memory.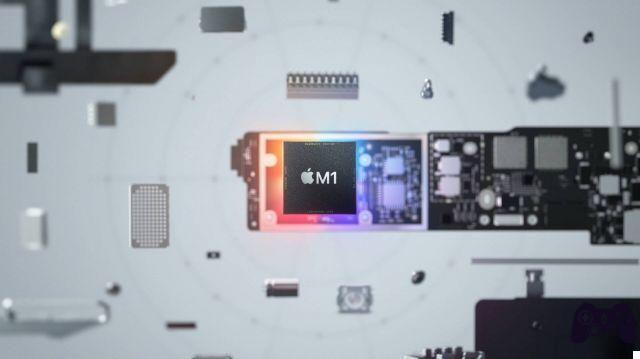 Supported RAM is referred to as type LPDDR5 5500 o LPDDR4X 4266, it is not specified which of the two standards was used on board the new Macs. The Apple SoC will have a configuration dual channel of system memory.
The database also includes the results of some synthetic benchmarks performed on the CPU. The chip's single core performance looks truly impressive, with the Apple M1 scoring 1634 points, a result it does on par with a Ryzen 7 5800X.
Read also: Did Tim Cook crash Apple's stock? Yes, according to some shareholders
In multi core the performance is more modest but still noteworthy, with a result halfway between a Ryzen 7 2700X and an Intel Core i7 9700K. We also want to remember that the processors that the Apple processor was compared to are energy-efficient desktop chips.
When it comes to graphics power, the Apple M1 was able to beat the Intel UHD 630 integrated GPUs with 6 times higher performance and catching up with the Radeon Vega M XL.
Apple iPhone SE 64GB is available for purchase on Amazon for only € 429,00, don't miss it!