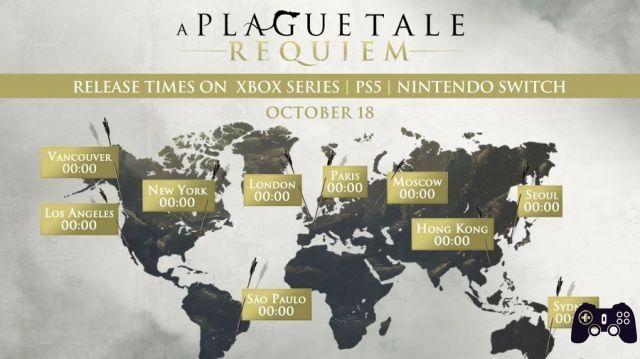 We finally know the unlock time of A Plague Tale: Requiem, anticipating that its availability will be accompanied by a fundamental download. Now that Asobo Studio has made the unlock time of the new chapter of A Plague Tale official, we know that everything will be available to those who have purchased it starting from midnight on October 18th, for both PC gamers and those looking forward to it on consoles.
#APlagueTaleRequiem's release is getting closer…
Get ready to unleash the rats on October 18 at:
00h00 CEST on PC
00h00 local tim on console pic.twitter.com/HutQRoRtLq
— A Plague Tale (@APlagueTale) October 13, 2022
Furthermore, it was also made official that the first download of the title will be accompanied by a day one patch focused on improving the performance of the title, and aimed at all platforms on which it will be immediately made available. A mandatory element therefore, but still central to starting your game to the best of technical possibilities.
The interest in this release is by no means accidental, given that the development team of A Plague Tale: Requiem itself was keen to reveal the release time, so as to remind all those who access the title immediately to avoid to spoil everyone else's experience with spoilers and early reveals. The attention towards this launch therefore remains very much, demonstrating a strong interest in their community and in what will be their new adventure in this second chapter, revealing this new information directly from the game's official Twitter profile, with a dedicated post.
In this second chapter, in fact, we will find the two brother and sister that we have come to know in A Plague Tale: Innocence, that is Amicia and Hugo, this time involved in a new adventure. We just have to wait for this very close release, reserving all our curiosity towards the future of this franchise, and reminding you once again that A Plague Tale: Requiem will be available starting October 18 on PC, PS5, Xbox Series X | S and Nintendo Switch through the cloud.