Xiaomi believes that smartphones can be made that bend to Z shape, going to differentiate itself from the audience of the current competing foldable proposals.
This will allow you to have a really large extended display and many ways to interact with it, thanks to the various folds that you can observe. But what about the thickness when closed?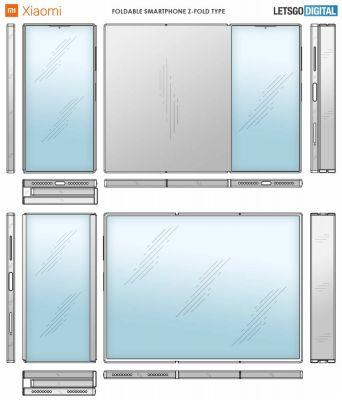 Colleagues of letsgodigital they showed the Xiaomi patent, which we are talking about, putting their own: we appreciate a very particular folding that has two hinges equidistant from each other and a display formed by thin frames.
The official document shows a product that doesn't have much in common with the current folding: Mate X, Galaxy Z Fold and not even Z Flip. The electronics of this device are positioned between the various three parts - separated by the hinges - and allow for more space, for example to be able to insert a larger battery. The point is that these three parts when closed create a thickness that is anything but acceptable for a product that must also be portable.
There is a front camera housed in a hole and the volume keys with other elements on the side profile. A complete smartphone rich in resources but thickness is the Achilles heel of such a device. There are no measures but it would not be surprising if closed to measure over 20 mm. Galaxy Z Fold 2 measures almost 17 when closed and has only one hinge.
This patent traces that of the folding device that was shown in the hands of the Xiaomi CEO a few months ago, Xiaomi Fold. To break into the hearts of users, Xiaomi will have to offer an interesting and functional folding smartphone but above all with an excellent value for money.
With Xiaomi Mi 10 Lite 5G you have a complete smartphone, an excellent camera and a performing autonomy for less than 300 euros. You can buy it here .