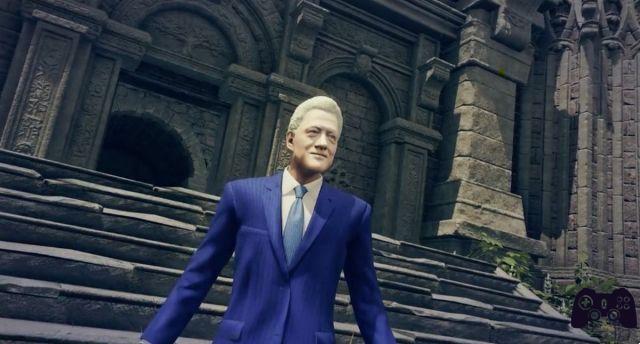 One of the high points of The Game Awards 2022 was, of course, the game of the year award. Shortly before receiving the coveted award, however, Hidetaka Miyazaki, director of Elden Ring, was interrupted on stage by a boy. The young man took the microphone and took the opportunity to dedicate this award to his "Reform Orthodox rabbi, Bill Clinton." As we watched helplessly at this moment, we knew full well what all of this would lead to: memes, jokes, and any other form of irony we can think of.
We're proud to announce the collaboration between #ELDENRING X #BillClinton that was announced in #TheGameAwards ! pic.twitter.com/QTpR0UHYHe
— Arestame (@Arestame_Arkeid) December 9, 2022
Just following this trail of hilarity, a modder known as Arestame has created the mod that we have all been waiting for. Now, in fact, the forty-second president of the United States is the protagonist of Elden Ring. Thanks to a new mod, in fact Bill Clinton is shown exploring Sepolcride armed only with a wooden club. However, the former president's elegant suit is evidently too uncomfortable to roll away from enemy attacks and poor Clinton is brutally defeated.
After this terrible beating, the character wakes up in a cave, face down in the mud, ready to start his adventure in Elden Ring (which you can buy on Amazon). All this is embellished by a soundtrack that acts as the background to the short video shared on Twitter by Arestame to show this new mod. In the now immense series of memes that have involved this story, the content created by the modder seems to be the perfect conclusion.
Unfortunately, the content is not currently available for download. However, Arestame is known for making many other mods for the Elden Ring. In fact, many of his mods are currently available on Nexus Mod and can be downloaded for free. Among its contents, many are concerned with replacing bosses with unlikely characters such as protagonists of anime such as One Piece. In any case, we hope to see this content soon among the mods available for the FromSoftware title.