The landscape of simulation games has had a nice injection of lifeblood over the past few months. The credit goes above all to the guys from Asobo Studios who, in collaboration with Microsoft, gave birth to Microsoft Flight Simulator, sanctioning the return to the market of the King of flight simulators. The wait has been quite long for fans of the genre and of the fanchise, but to date all the patience brought over the years has paid off in a big way, with a game that not only lives up to its predecessors but which, potentially, will be able to set new standards for the whole genre, and it already did in its first months of life.
At the moment Microsoft Flight Simulator is only available in the PC version, but we know that the development team intends to release its title also on the consoles of the Xbox family. If there's a huge pro that PC gamers have today, it's being able to enjoy this fantastic experience even with all the flight peripherals (at this address you will find the guide to the best controllers for MFS) suitable for this kind of simulations. For this, today, we are here to offer you our guide on the best peripherals suitable for enjoying 100% of the simulation experience offered by Microsoft Flight Simulator.
The best peripherals for Microsoft Flight Simulator
Thrustmaster Warthog, the best ever
Speedlink Phantom, the economical alternative
Thrustmaster TCA Sidestick Airbus Edition, the alternative per mancini
Thrustmaster TCA Yoke Pack Boeing Edition, l'ispirazione reale
Thrustmaster T-16000M, the best for Xbox
Logitech G Saitek Pro, Logitech's proposal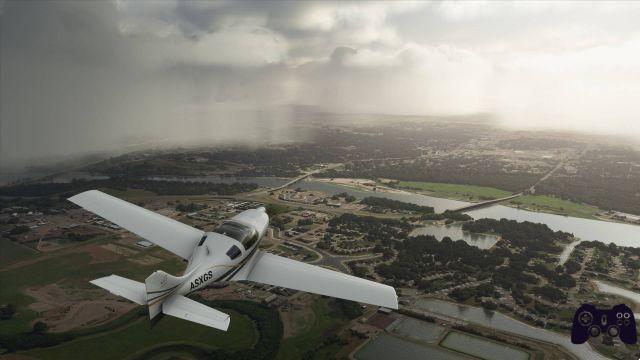 ThrustMaster 2960738 HOTAS Warthog Flight Stick, the best ever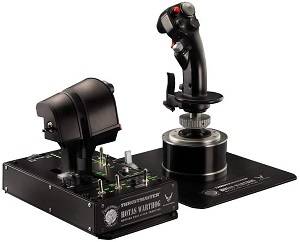 So they start right away with a perfect peripheral for gamers who want to get the most out of these gaming experiences. If for you the only thing that matters is quality then
ThrustMaster 2960738 HOTAS Warthog Flight Stick
it is almost an obligatory choice to fly better on Microsoft Flight Simulator. This control system is able to give truly optimal feedback during your flight phases within the Asobo Studio title. Thanks to a general compactness and millimeter precision, the joystick and handle offer excellent resistance and are able to be perceived every slightest movement of air during your flights. Furthermore, both peripherals can be used both as a couple and separately, giving the player the possibility of being able to further customize his experience with this type of hardware.
He joystick HOTAS Warthog ha in total 55 fully programmable buttons and 2 four-way hat switches, each of which has an integrated push button; you will therefore have the maximum possibility of customization, while on the other hand you will be able to enjoy extreme realism: to press the buttons and triggers you will have to exert the same force as that required for a modern airplane, so you will feel like you are flying for real. Finally, you will also have a control panel with 5 programmable LEDs, useful for when you want to play in the evening hours.
See on Amazon
See on eBay

Speedlink Phantom Hawk, l'alternativa economica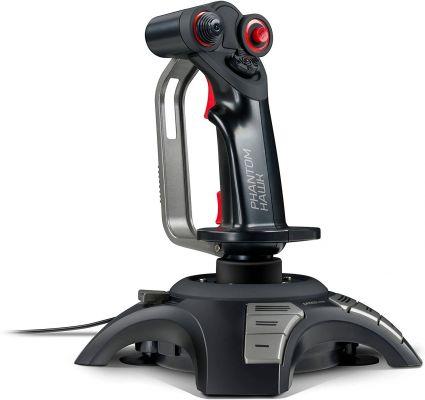 Let's now move on to a product that is more suitable for all budgets and above all perfect for anyone who has never tried to approach flight simulators by holding a joystick. Thanks to its fantastic design and optimal ergonomics, the
Speedlink Phantom Hawk
stands as a perfect entry point for all those who want to try Microsoft Flight Simulator for the first time. While not one of the most expensive peripherals on the market, this joystick has all the elements needed to enjoy hours and hours of thrilling flights.
We have indeed 12 fully programmable buttons, which will allow you to play any flight simulation game such as Microsoft Flight Simulator. In addition, you will be able to adjust the intensity of the vibration, thus having a shaking effect equal to real flying experience, while the secure and ergonomic grip will ensure maximum control of the joystick even in the most complex situations.
See on Amazon
See on eBay

Thrustmaster T-16000M FCS Joystick, l'alternativa per mancini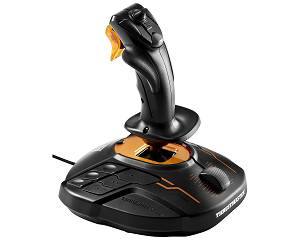 Even if the simulation genre is considered quite niche, the community of enthusiasts can count on a different choice of very varied products. One of these is the joystick
Thrusmaster T-16000M FCS
, one of the peripherals also designed for all those left-handed players. Obviously, this joystick also exists in a version suitable for right-handed people, and it is one of the most customizable peripherals currently available, thanks to the possibility of removing some of the components and the support for the TARGET software that can be used on PCs, the which allows you to act directly on the customization of the buttons by composing your own customized dashboards at any time.
The T-16000M FCS features 4 independent axes, including a rotating rudder, 16 action buttons, an 8-way hat switch and an ergonomic trigger, all designed to ensure you have the most realistic and accurate flying experience possible. The lower TWCS throttle position compared to other similar products will instead ensure unprecedented comfort, letting you use your left hand to increase speed and handle your aircraft skillfully.
See on Amazon
See on eBay

Thrustmaster TCA Sidestick Airbus Edition, the real inspiration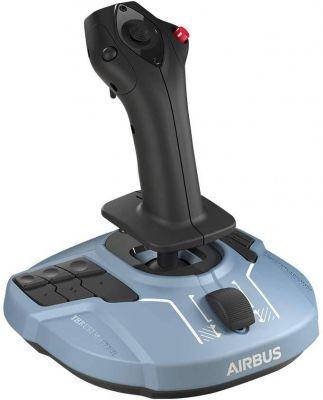 We remain on a Thrustmater branded product, but this time we offer you a model
made in collaboration with Airbus
. It is a very traditional joystick without any particular additions, but which in its simplicity will allow you to enjoy a flight experience very close to reality to the fullest and in an immediate way. This joystick has been crafted with inspiration from the iconic Airbus sidestick via an ergonomic 1:1 scale replica.
In addition to the presence of 17 buttons, there are 4 interchangeable modules for the joystick head and 12 action buttons, for countless possibilities in flight and on the ground. The throttle, integrated into the base of the joystick, also features the thrust reverse function typical of airliners, allowing you to pilot in an extremely realistic way in Microsoft Flight Simulator. Finally, you'll get to adjust the sidestick configuration before each takeoff, choosing between captain, co-pilot or solo, thus having three experiences available in one.
See on Amazon
See on eBay
Thrustmaster TCA Yoke Pack Boeing Edition, il migliore per Xbox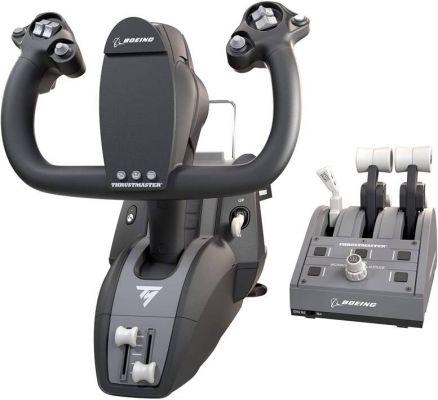 We close the Thrustmaster branded proposals with a peripheral different from all those previously proposed. It is a real flight stick made in a similar way to those used on Boeing aircraft. This product features a stick plus throttle dial, both accompanied by
officially licensed by Boeing and Xbox and inspired by the iconic Boeing 787 airliner
.
The TCA Yoke Boeing Edition peripheral is designed for Xbox One and Xbox Series X|S, but is also compatible with PC, so you can use it on both platforms without problems, enjoying exceptional stability thanks to the internal structure of the stick made entirely of metal . Moreover, all levers of the throttle dial are interchangeable, thus ensuring an excellent flying experience for both right- and left-handed users. Then there is the iconic Boeing autopilot function, for maximum realism in terms of altitude, aircraft course and speed.
See on Amazon
See on eBay

Logitech G Saitek Pro, Logitech's proposal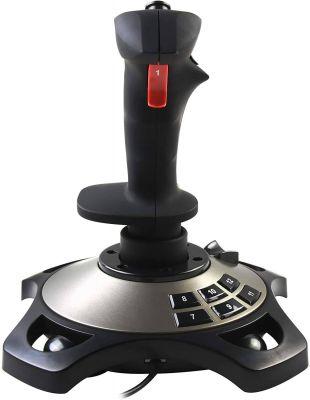 We close this list of the best peripherals for Microsoft Flight Simulator with the
Joystick Logitech G Saitek Pro
. This pick features a design that mimics a small aircraft yoke or Piper and features a stainless steel joystick that offers stable, smooth, and precise control of the virtual aircraft. We find 25 fully customizable buttons, while the control lever is equipped with a 3-position switch that will allow you to choose between 3 different profiles, for a total of 75 controls that you can adjust to your liking.
The joystick also features great ergonomics thanks to the stainless steel, which gives the player a comfortable feeling of constant control. In short, a choice that will please players who don't have a huge budget at their disposal and that will be able to give you excellent sensations on any flight route you want to simulate within the wonderful Microsoft Flight Simulator.
See on Amazon
See on eBay
How to choose a peripheral for Microsoft Flight Simulator
Let's take a small step back though. Before starting to list what are currently the best peripherals for Microsoft Flight Simulator on the market, it is fair to underline that there are different types of controllers and joysticks out there. There is no more right or wrong choice, given that each peripheral has its own particularities, and it is up to the individual player to aim to buy the version that is more in their own way, also depending on the experience one has on the genre.
Before starting to draw up the various characteristics, we would like to underline the four macro-categories of peripherals and joysticks that can be purchased. We are talking about four configurations that are called respectively: THREATENED; HOSAK, HOSAM e HOSAS.
THREATENED
Let's start with the configuration Hands on Throttle and Stick: i.e. a peripheral that includes a stick and a throttle, which therefore occupy both hands. This setting can include a throttle attached or separate from the stick. Models with separate cuffs are generally more expensive but more comfortable.
HOSAK
The second configuration that you can find on the market is defined as Hands on Stick and Keyboard. With this type of device setting, only one stick is used, while with the free hand the keys on the keyboard are used to execute additional commands.
HOSA
Thanks to the wide possibility and customization we also have a third and a fourth configuration. The penultimate, that is Hands on Stick and Mouse, allows players to play with one hand controlling the joystick stick, and the free hand using the mouse. The HOSAM configuration is currently the setting that allows for the most accuracy.
HOSAS
We close with the final configuration, that is Hands on Stick and Stick. If you buy such a peripheral, know that you will have two sticks in your hands that will allow you to play while receiving maximum realism and access to multiple buttons.
Keys and buttons
With all these configurations it may seem complex to find the perfect peripheral for your needs, but what should be emphasized is that from model to model the layout and number of buttons. Obviously you will never have a peripheral with the exact amount of buttons, keys and levers as in real aircraft, but if you are new to this kind of experience it could seem quite confusing to understand the various features and actions that are activated or deactivated by the various keys.
Price
We come to deal with the price question. With such a wide choice of products, the cost can skyrocket if you look at a mix of the various peripherals. There are configurations that require the use of more than one joystick to be used with both hands plus one (or more than one) bridge with additional buttons and additional commands. This type of configuration can considerably raise the budget required, but this does not mean that there are no cheaper peripherals on the market.
Of course, there are also cheaper peripherals, but what is important to underline is that in this field the price can go down together with the quality of the components. For this you need to go to the next point.
Components
When we talk about peripherals for flight simulators, one cannot fail to touch on the point relating to quality of the components. There are many different products out there that use rubber and hard plastic inserts, usually the cheapest, but if you want to increase your budget you can find peripherals with bases and various metal inserts that give greater durability and solidity to the product.
The same goes for i components such as buttons, triggers or thumbsticks present. Usually these are plastic components, but it is not so rare to also find rubber keys that make the general ergonomics of the product of excellent quality.