Xbox Series X and Xbox Series S are the next-gen consoles from Microsoft: the first is the jewel of the family, the second is the little sister that ensures next-gen performance in a reduced body and price. With Xbox Series X, Microsoft has created a real engineering masterpiece with the components wedged between it, but with an excellent dissipation system and a large fan placed above. Minimal, elegant and small in size: Series X looks like a small case, but from its generous weight, you can deduce how captivating and gritty its hardware actually is. Have you already bought the next-gen Xbox? Then you have no excuses: take a look at the best accessories to fully upgrade your XNUMXth generation station!
In case you need advice on expanding the memory of Series X, here you will also find a specific guide to external hard drives for the console, while here you will find the HDs for PS4 and Xbox One.
The best Xbox Series X accessories
Controller Xbox Series X|S
Memory expansion
Batteries and chargers
Long charging cable
Xbox Stereo Headset
Thrustmaster TX Racing Wheel Leather Edition
Xbox lamp
Skin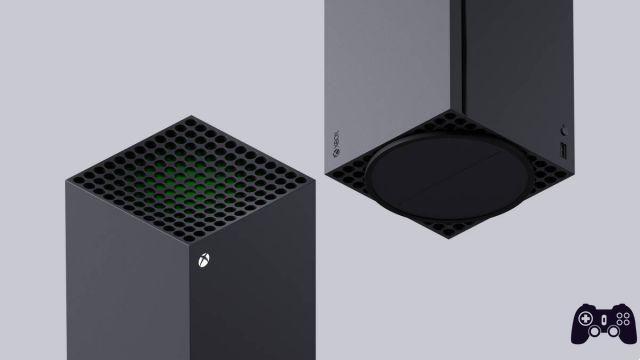 Controller Xbox Series X|S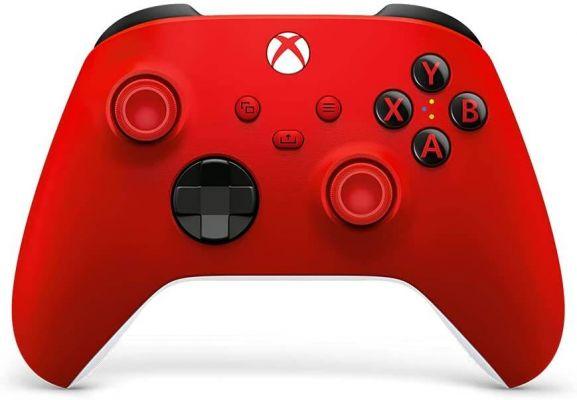 Ergonomic and functional: these are the two adjectives with which Xbox users have always described the various versions of the pads. But with the new Xbox Wireless Controller, the Xbox division has set the quality bar even higher!
The new Xbox Series X pad features a smaller body than the Xbox One pad
, but equipped with features such as the knurled surfaces on the back and on the backs, a totally revised vibration system and a USB Type-C input for charging. Additionally, Impulse Triggers increase player immersion. A second pad for your new next-gen console, if you often play split-screen, is a more than recommended purchase.
SEE ON AMAZON SEE ON EBAY

Memory expansion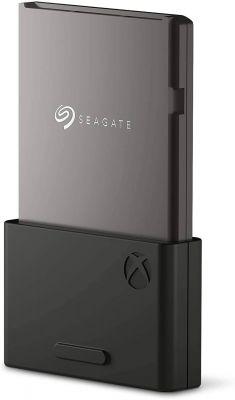 Xbox Series X is equipped with a 1TB SSD with an effective available space of just over 800GB, a more than adequate space, but which could be expanded for all those users who like to install a large library. The situation is quite different on the Xbox Series S equipped with a 512GB SSD, but with 364GB effective space. However, such a small space can be enhanced thanks to the
Official Seagate 1TB Expansive SSD
. The price is justified by that
supports all the features of the new consoles from Microsoft
and, moreover, it is a small card that will disappear in the appropriate slot… the space on your desk is saved!
SEE ON AMAZON SEE ON EBAY
Batteries and chargers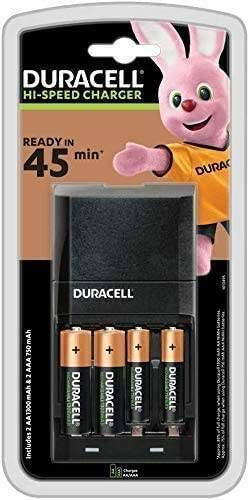 The battery compartment of the Xbox controller is considered by many to be a limitation, but it actually offers a choice. Around the marketplaces it is chock full of alternative solutions and, precisely for this reason, it is not difficult to run into a defective or easily worn out product (which is not good for delicate objects such as batteries). We can therefore only advise you to buy the
Duracell quick charger
(recharges your NiMH batteries in 45 minutes) with 4 batteries included, 2 AA and 2 AAA. In the compartment you can recharge up to four AAA or AA batteries, or 2 AA and 2 AAA. We also advise you to read the instructions carefully.
SEE ON AMAZON SEE ON EBAY
Long charging cable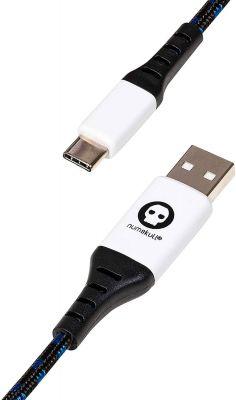 Do you need one
long cable
to comfortably recharge your controller? The solution comes from a Microsoft licensed product! It's a four-metre-long Type-C cable decorated with Xbox logos at either end. The nylon coating is also excellent, synonymous with durability over the years. For those who play from the living room, this solution is more than mandatory, to say goodbye to discomfort.
SEE ON AMAZON SEE ON EBAY
SteelSeries Stereo Headset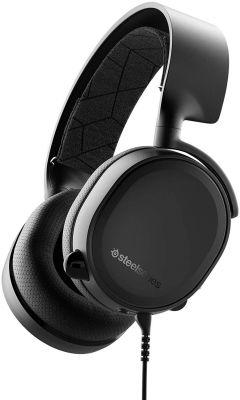 Want a headset designed specifically for Xbox? Compatible with Xbox Series X|S, Xbox One, Switch, PS5 and Windows 10,
the SteelSeries Arctic 3 stereo headset will ensure you an excellent experience both in game and in chat
. Also equipped with a removable adapter, you can balance the volume of the game and chat as you like, or mute your microphone. It is a cheap headset, but at the same time of high quality!
SEE ON AMAZON SEE ON EBAY
Thrustmaster TX Racing Wheel Leather Edition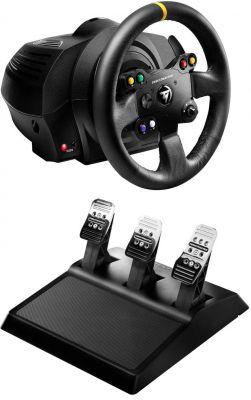 If you are a fan of driving games or driving simulators, Thrustmaster has confirmed the compatibility of the majestic steering wheel
TX Racing Wheel Leather Edition with Xbox Series X and S. It is one of the best wheels ever equipped with an industrial class brushless servo motor
which provides responsive force feedback effects. In addition, it includes a pedal set with three pedals and the brake is equipped with a Conical Rubber Brake Mod that offers a well-calibrated resistance.
SEE ON AMAZON SEE ON EBAY
For those who want to spend little, on the other hand, the excellent offer of is available Hori with his Racing Wheel Overdrive, equipped with a pedal board with two pedals. Click here to view the product page!
Xbox lamp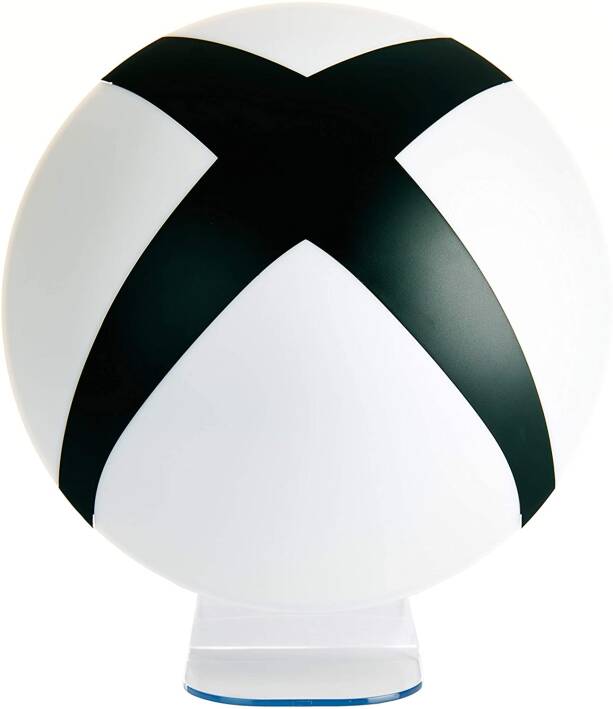 Do you want to give a touch of class to your workstation dedicated to Xbox Series X|S? So
the lamp dedicated to Xbox
it's the perfect accessory! Thanks to an affordable price and its small size, it really fits in every pocket and desk.
Equipped with a micro-USB input and a compartment for three AAA batteries, the lamp can be powered in various ways
: via the batteries, via the USB socket of the Xbox or via a charger such as that of the iPhone. In short, perfect for giving an extra touch to your workstation.
SEE ON AMAZON SEE ON EBAY
Skin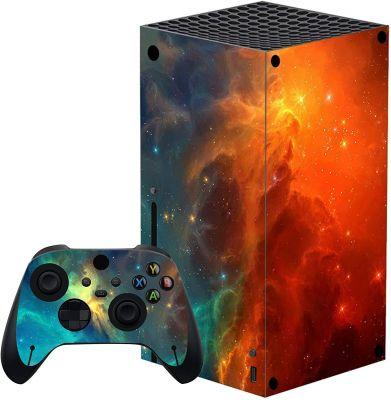 There are those who appreciate the minimal design of the new Microsoft home console and those who would like to make it unique. If you want to make your console unique, you will not be able to resist
skin per Xbox Series X e Series S
! These are protective and decorative decals, made from vinyl. Covered with a non-aggressive adhesive layer, the panels will adhere perfectly to the sides of your Xbox and the Xbox Wireless Controller, giving you an obvious touch of personality.
SEE FOR SERIES X ON AMAZON VEDI PER SERIES S YOUR AMAZON
How to choose accessories for Xbox Series X
If choosing a controller, a steering wheel or something similar is an experience that is based above all on the characteristics of a given product, with the basic functionality that ultimately remains the same in all devices of this category, go and choose an accessory for Xbox Series it is not the same thing. In fact, between different functions and purposes, in addition to the intrinsic quality of the product, it is also necessary to understand what you are looking for, in order to avoid making any unnecessary purchases. Just to help you in this decision we have decided to draw up some advice below, which can help you orient yourself in this mare magnum.
What are the types of Xbox Series accessories?
There's quite a bit of useful paraphernalia to accompany your next-gen consoles. Obviously not everyone has the same purpose, with an accessory that can cover different functions, starting from the more purely aesthetic one up to adding some particular feature to our console. Before throwing ourselves into more specific advice, we have therefore decided to divide the gadgets and accessories for the Xbox Series into 3 categories to facilitate your search and help you find what you are looking for more easily.
There's quite a bit of useful paraphernalia to accompany your next-gen consoles. Gadgets and accessories that will expand the console's functions and that we have divided into 3 categories to make it easier for you to find what you are looking for.
Support Accessories: this first category naturally includes all those accessories designed to support the player at 360 degrees. So the controller or steering wheel, but also the batteries (rechargeable and not) essential for your games. But if you're not the type for batteries, then for euros you can bring home long charging cables that allow you to play without ever thinking about the end of the batteries. Furthermore, for players who always like to keep their collection close at hand, we have also included a memory expansion card that allows you to conveniently store all the games in the pass without weighing down the system.
Designer accessories: all those accessories that are used to personalize your console fall into this second category. If you want to make Microsoft's black monolith unique, know that there are numerous skins for the console with the most disparate designs and which satisfy all tastes. These adhesive covers can be purchased for a few euros, are an excellent gift for a lover and are able to add a touch of class to your living room.
Gadget: the last category includes real gadgets, or all those Xbox accessories that have nothing to do directly with the console. Do you have space left over in the library? Don't know what to add to your game collection? Is your Master Chief action figure feeling lonely? An Xbox lamp could be just the thing for you. An object that atmosphere, is beautiful to look at and is perfectly in theme with your Xbox passion.
Xbox Series: versions and cost
One aspect to take into consideration when choosing the best Xbox Series accessories is that there are two different latest generation consoles from Microsoft: Xbox Series X and Xbox Series S. As indeed also for PlayStation 5, therefore, there are two gaming platforms that landed on the market just over two years ago. Xbox Series X, the best performing sold at 499 euros, is equipped with a Blu-Ray player and was designed with 4K in mind, while the small but still powerful Xbox Series S is sold for 299 euros, it does not have a Blu-Ray player and gives its best in Full HD or Quad HD. In any case, do not be frightened by this abyss in price: any game between now and the end of the generation that will be playable on Xbox Series X will also be playable with Xbox Series S, although as easily imaginable given the lack of player on Series S titles on disc will only be usable on Xbox Series X.
But how to distinguish Xbox Series X from Xbox Series S? Fortunately it is very easy: in addition to costing half, Xbox Series S has in fact a completely different shape compared to its older sister and is a small and cute white parallelepiped, with a large black grid on top. Xbox Series X instead has more squared shapes and a black color, resembling a small but imposing monolith. Series X, as previously mentioned, also has a Blu-Ray player unlike Series S. Although they are both compatible with all Xbox Series games, finally, Xbox Series X is significantly more technically powerful than Xbox Series S, returning a quality and graphic solidity often and willingly greater. If you still miss the console you can find it on Amazon, both Xbox Series X and its younger sister. You may perhaps find them temporarily unavailable, but in this case it will be enough to wait a few days to be able to buy them again.
As for the best accessories for Xbox Series X and S, it is important to underline how the difference between the two consoles is in most cases irrelevant, given that cables and devices are in most cases compatible with both. But be careful if you want to buy something related to the Blu-Ray player, since Series S does not have one, or products designed exclusively for a single console. The skins that we have proposed above, in fact, must be purchased for the console in your possession, given that Xbox Series X and Xbox Series S have different shapes and sizes.
Price
The last, inevitable, paragraph in this series of tips dedicated to the best accessories for the Xbox Series could only be dedicated to what the price is. Since these are very different products, which have the most diverse features and functions, it is obviously complex to define a good price range, which can therefore go from a few euros to several dozen. In drawing up the list of products above, we have therefore tried to include only valid accessories and gadgets and, above all, with a good quality-price ratio within their category. In short, we have tried to help you spend as little as possible without absolutely overshadowing quality.