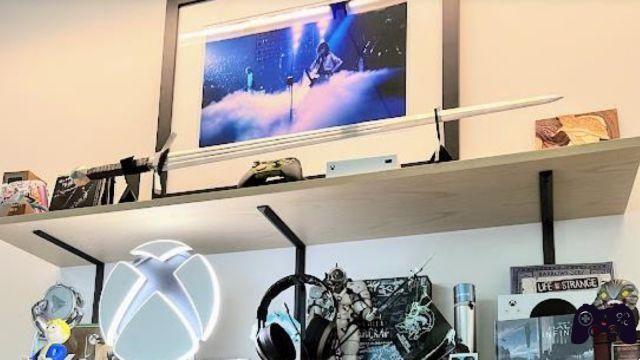 Keystone, Microsoft's hardware intended for Xbox Cloud Gaming never officially confirmed before, it has just been unveiled by Phil Spencer. Over the last few hours, in fact, the head of Microsoft Gaming has published a photo to celebrate 25 years of Fallout, the iconic series of which the Redmond giant holds the rights after the acquisition of Bethesda, with a giant Vault Boy in first floor. In the photo, however, the prototype of the new hardware also appeared, which would be intended exclusively for streaming gaming.
The photo shows the much-ruffled hardware top center, in a shelf. Keystone, codename relaunched by several journalists very close to Microsoft, was later confirmed by Tom Warren in a long article published in The Verge. Warren confirmed that the device is precisely the new hardware that can only be used by taking advantage of Xbox Cloud Gaming and that it could also include other apps dedicated to the world of entertainment, such as Netflix.
Immediately after the publication of the photo, the Xbox team "rebuked" Phil Spencer via social media. "What did we say about showing old prototypes, boss?", the words written by the social media managers behind the official Twitter account dedicated to the Microsoft gaming brand. However, Spencer has hardly committed such a levity: it is easier, however, that it is a move planned by the marketing team, given that it is not even the first time that something similar has happened. In the past, Spencer himself had arranged some objects in a library in his home, so that they were clearly visible during some live streams. A nice way for some teasers, which later turned out to be correct, such as the collaboration with Hideo Kojima.
Vault Boy left the shelter and stopped by my office to celebrate the #Fallout25 Anniversary. Congratulations to the @Fallout @Bethesda teams on this major milestone for an iconic franchise. pic.twitter.com/hGoN1sAQRK
— Phil Spencer (@XboxP3) October 10, 2022
Keystone has yet to be officially announced by Microsoft. The device could be shown during the next edition of The Game Awards: the show, hosted by Geoff Keighley, showed the Xbox Series X design to the world in 2019. A new partnership with the Canadian journalist is therefore very likely, given that the event could be a perfect stage for an announcement of this kind.