What are the best headsets for Xbox consoles? Very often, when you look at a video game, what stands out most to the eye are various aspects, such as the graphics, the gameplay or, why not, some particularly captivating characters or settings. These are certainly extremely important elements, capable of more or less positively affecting a player's attention, but which do not, however, exhaust the long list of crucial aspects of a video game.
Although at first sight for many it may in fact seem superfluous, or at least secondary to the characteristics already mentioned, the sound aspect plays a leading role within the economy of a playful work, often managing to give a not indifferent quid to a particular video game. Good gaming headphones are therefore increasingly an indispensable accessory for video games to the fullest, both when diving into some solo adventure and when having fun with friends in some multiplayer title. To find the best headphones for consoles made by Microsoft it is therefore a fundamental aspect if you want to make the most of any gaming experience.
If you are looking for the best headset for PS4, no problem: in this article you can find the best choices currently on the market for the Sony platform, while if you prefer to focus on wireless products only, here you will find our selection of the best wireless headphones on the market. market. So let's stop talking and here are our personal choices!
Best headphones for Xbox consoles
Astro A50 Wireless
HyperX CloudX Stinger Core
Steel Series Arctis 1
Logitech G432
Microsoft Stereo Headphone for Xbox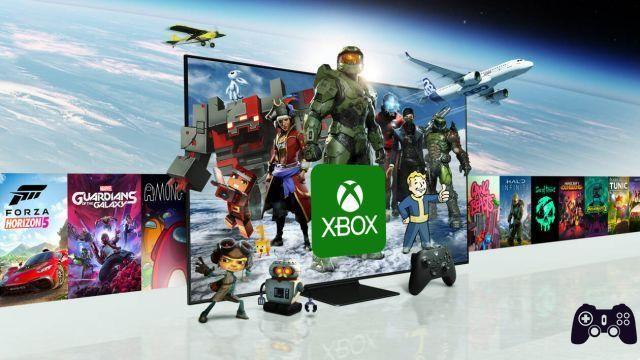 Astro A50 Wireless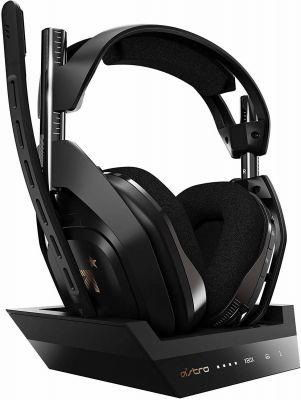 When we find ourselves talking about premium gaming headsets, one of the first names that come to mind is certainly that of
Astro 50 Wireless,
with this particular headset that has always stood out for its superlative audio quality and a decidedly high price. However, what is offered by these gaming headphones is worth every single euro spent, thanks above all to a very high-level sound, a decidedly stable wireless connection and a great ease of use. To make everything even more appetizing is also a charging station equipped with a large number of ports, capable of making this very interesting product even more versatile. If you want the best and don't have too many budget problems
the Astro 50 Wireless are therefore without a doubt the best gaming headphones for Xbox
that you can find today on the market. Being dissatisfied with it is practically impossible.
See on Amazon
See on eBay

HyperX CloudX Stinger Core Wireless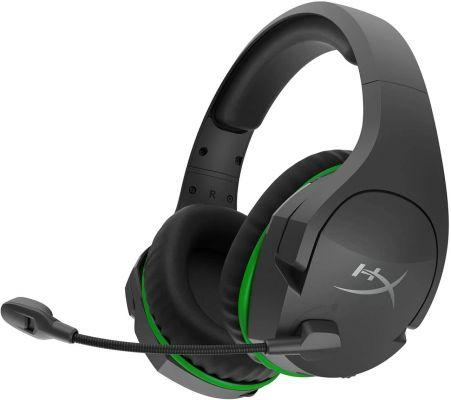 Taking the limelight in recent years regarding the best headphones for
Xbox
and not only is Kingston definitely standing with its brand
HyperX,
thanks to very valid proposals and at an absolutely honest price. To confirm the great goodness of this brand are also the
HyperX
CloudX Stinger Core,
with this product that wins our prize for best gaming headset without too many problems
Xbox One
with wireless connection. Crystal clear audio, great ease of use and top-level design and materials
in fact, they make the HyperX CloudX Stinger Core a very high quality headset.
A great autonomy and the official Xbox certification make them an absolutely recommended solution for owners of the Microsoft platform who prefer a wireless connection to a wired one.
See on Amazon
See on eBay

SteelSeries Arctis 1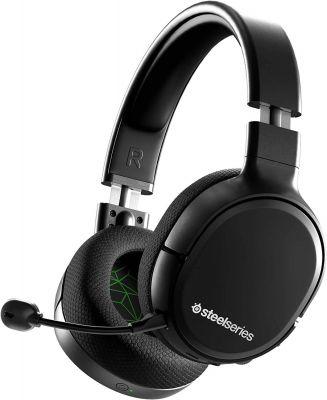 Another, excellent product for your multiplayer sessions (and not only)
It's definitely the SteelSeries Arctis 1 headset
. Completely wireless (although other models of the same family are also available wired), the headset features a detachable Clearcast microphone for when you don't need to use it. As far as the purely technical aspect is concerned, the SteelSeries Arctis 1 use the same, identical driver as the Arctis 7 and the band has been reinforced in steel, making it very light and long-lasting at the same time. The form factor is on hear and on the pavilions there is a volume regulator and the microphone off and on button. In addition to wireless connectivity, these headphones also feature a 3.5mm jack input, fully compatible with Microsoft console controllers.
See on Amazon
See on eBay

Logitech G432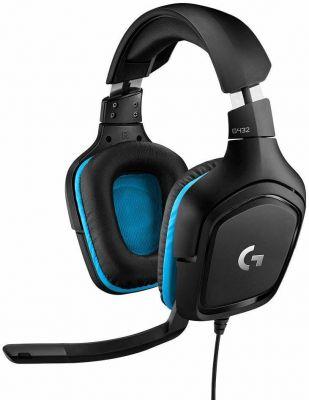 If our goal is to spend as little as possible and at the same time have satisfactory audio fidelity, fortunately the
Logitech G432, cheap wired gaming headphones but able to give a lot of satisfaction.
The product of the famous Swiss company is in fact equipped with 50mm audio drivers, a versatile flip-to-mute microphone and great convenience. If you are therefore looking for
an economic but performing product with the Logitech G432 you can be on the safe side,
being one of the best headphones for
Xbox One
as for cheap headsets. If your budget is limited you will hardly find better.
See on Amazon
See on eBay
Microsoft Stereo Headphone for Xbox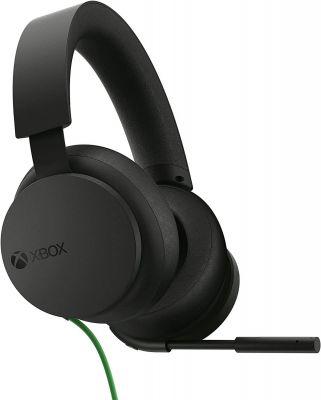 We could not close this article
with the official Xbox headset
. At the moment the version that can be found more easily is certainly the wired one, which connects to the console pad. The audio is decidedly clean, as is the microphone, which returns a clear and crystalline voice. On the pavilion we find the volume knob, while on the left one the key to activate or deactivate the microphone, which is not removable. The headset is certainly very light and lends itself very well to gaming sessions of a few hours. The price is also decidedly in line with expectations: with 59,90 Euros you take home a peripheral capable of responding to our needs.
See on Amazon
See on eBay
How to choose the best headphones for Xbox

As you know very well the market nowadays is nothing short of awash with gaming headphones of all types and brands and therefore it is not at all easy to find your perfect headset, that faithful accessory that can faithfully accompany you on numerous and countless adventures. So what are they the main features to keep in mind to choose one of the best headset for xbox?
Type of connectivity
The very first thing to keep in mind is certainly the relative one to the type of connectivity: gaming headphones are in fact essentially divided between wired and wireless devices. While for the former, as the name suggests, there is a cable that connects the headphones and the joystick, the second type of device is wireless and therefore does not require a cable to be used. Be careful though: wireless headphones need to be charged from time to time and, for the same performance, they are usually more expensive than their respective wired counterparts. It is also very important that there is a Designed for Xbox sticker on the headphone box, or alternatively that full wireless compatibility is indicated. In fact, Microsoft consoles have a proprietary wireless protocol that does not allow full compatibility with models that are not specifically made for Microsoft consoles.
Audio quality
Another fundamental aspect when you find yourself choosing a pair of gaming headphones is certainly that relating to audio quality. Although practically every product allows you to enjoy the audio of your games in an overall clear way, a good gaming headset can stand out for its superior quality. So pay attention to the audio drivers of the gaming headset and the presence of other features, such as 7.1 surround sound, which can give an extra boost to a product compared to other competing devices.
Microphone
It may perhaps seem obvious, but it is crucial to ensure that the headphones you choose have a microphone. In case you love to dabble with multiplayer titles, or if you like to talk to some friends during some solo adventure, a microphone will in fact be very useful. The vast majority of gaming headsets for Xbox and not only does he own it, but an additional look definitely doesn't hurt
Design
We know it, we know it: it's not the clothes that make a monk, but why end up spending several tens of euros for a product that may be technically valid but unconvincing on the aesthetic one? Fortunately, in today's landscape there are countless products capable of help together excellent performance and a not bad design, thus managing to satisfy both the sight and, of course, also the hearing. In short, it is certainly not the first element to take into consideration, but nowadays there really aren't reasons to give up a design that is at least satisfactory.
Known brands
Whatever your budget and your needs, the last tip we want to give you in choosing your headphones for Xbox is to take a look at the brand that produces the product. In fact, it is not a law engraved in stone, but trusting well-known brands, such as Logitech, Turtle Beach or HyperX protects you from nasty surprises. If, on the other hand, you have spotted some other interesting product on the menu but you do not know the brand, our advice is to look for you some reviews online, so as to be able to ascertain the true performance of the headset.
Price
Finally, we come to the most delicate aspect to take into consideration when choosing one of the Xbox One headsets available in this list: the price. It must be specified that a higher price does not always mean better quality. in many cases, especially for the more expensive models, a high price corresponds to additional features and functions that you may not really need.
Obviously this does not mean that a headset with a price that is around €50 can guarantee you a sound performance similar to a more expensive one but if you are interested, for example, exclusively in a good audio performance to enjoy games and multimedia content in peace, a €100 headset will be more than enough to meet your needs. If, on the other hand, you are interested in having a charging dock, a mixer to manage game and chat volumes, different types of connection and all those functions that go beyond simple sound performance, then you will have to prepare yourself to invest a more important figure, which could be around €300, and invest your savings in more complete models such as the Astro A50 Wireless