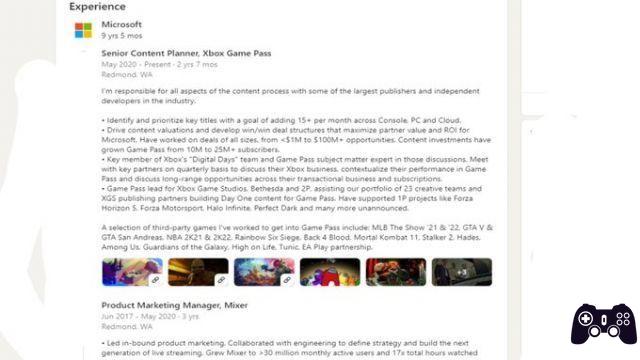 Ever since Xbox Game Pass was born, many have been intrigued by the various nuances present within the subscription service. There is no doubt that, nowadays, it is the most complete and interesting video game service on the market. From great titles available from day one to more experimental experiences, the Game Pass is the perfect way to always have something to play, but how much is willing to spend Microsoft to add a game within its own service?
This detail on the service of the Redmond house has never been clarified in an official and definitive way, but according to what has been found on Linkedin it seems that a Microsoft employee has revealed some very interesting estimates. Let's talk about Ben Favreau, the one who covers the role of Senior Content Planner and who, month after month, has the task of always adding new experiences within the Xbox Game Pass.
It is precisely Favreau's Linkedin account that gives us a clear indication of what Microsoft spends to add new games to its subscription service. As we can read on the social network, the Redmond company is going to offer software houses/publishers agreements that they range from less than 1 million dollars to even more than 100 million. However, there is talk of estimates, with Favreau not specifying how such agreements can vary from experience to experience.
Xbox Game Pass deals range from $1 million to $100 million. pic.twitter.com/OnWP9dsuGx
— Timur222 (@bogorad222) November 22, 2022
These are very high numbers, and which are going to magnify even more if we think that in the space of a single month there are quite a lot of new entries in the Xbox Game Pass catalog. Let's talk about at least one fifteen new titles a month, not counting the day one releases of Microsoft's first party studios and the teams with which the US company builds a partnership.