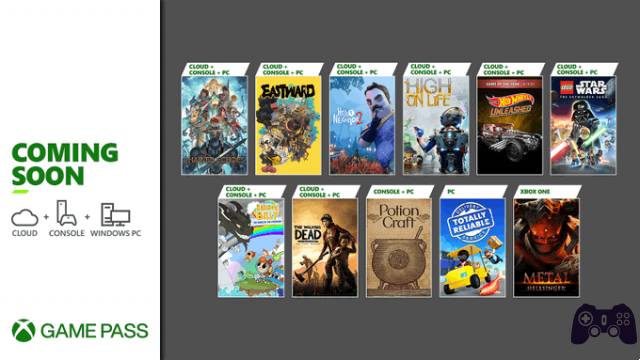 It is no longer a novelty that, thanks to the subscription service Xbox Game Pass, gamers can enjoy an avalanche of unprecedented videogame experiences month after month. Even the first half of December will be a celebration for subscribers to this Microsoft service. We can say it with great certainty right now that the Redmond company itself has announced all the games that will arrive in the catalog from today until the middle of the Christmas month.
With a post published both on Twitter and on its official blog, in these moments Microsoft has unveiled the new games coming to Xbox Game Pass. We are talking about eleven titles, all different and arriving in different periods of these first two weeks of December 2022. Among the highlights of the month we cannot fail to mention Hot wheels Unleshed e LEGO Star Wars The Saga Degli Skywalker, two very recent titles that have made fans of their respective brands of Star Wars and Hot Wheels excited.
Another game that you shouldn't miss for any reason is the brand new High on Life, the new first-person shooter born from the brilliant mind of Justin Roiland, former author of the cult animated series Rick & Morty. In this crazy and ramshackle space epic we will have to deal with talking weapons of all kinds, which will accompany us with irreverent jokes in a story that promises to be already difficult not to love.
future download lineup is lookin real nicehttps://t.co/hNjYSfkME3 pic.twitter.com/Q3S0p3D3jb
— Xbox Game Pass (@XboxGamePass) December 1, 2022
Let's see in detail all the games with their respective release dates on Xbox Game Pass:
Eastward – now on console, PC and cloud
The Walking Dead The Final Season – da oggi su console, PC e cloud
Totally Reliable Delivery Service – now on PC
LEGO Star Wars The Skywalker Saga – 6/12 on console, PC and cloud
Hello Neighbor 2 – from 6/12 on console, PC and cloud
Chained Echoes – dal 8/12 su console, PC e cloud
Metal Hellsinger – dal 8/12 su Xbox One
High on Life – dal 13/12 su console, PC e cloud
Potion Craft – 13/12 on consoles and PC
Hot Wheels Unleashed – dal 15/12 su console, PC e cloud
Rainbow Billy The Curse of the Leviathan – dal 15/12 su console, PC e cloud
Before saying goodbye, we advise you to visit our YouTube channel, where you can find videos dedicated to the gaming world at 360 degrees.