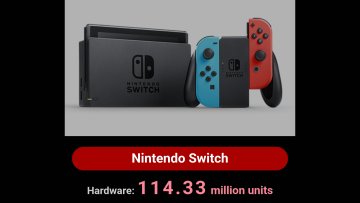 We may be at a turning point to award the title of best-selling console of the last generation. As reported on Twitter, in fact, Nintendo Switch is likely to surpass PS4. And actually, most likely, all of this will happen when the new Zelda chapter is released in May of 2023.
Let's take stock of the data at our disposal: at the moment Nintendo Switch can count on an installed console base of 114 million units. A figure that is still far from PS4, given that the Sony console stands at 117 million units sold. These are rather large numbers, but if we were in a car race we would probably be talking about a few hundredths of a second away.
If it is true that three million consoles are not sold overnight, it is also true that in 2023 Sony could say goodbye to cross-gen video games, with the latest release (God of War Ragnarok) set for this year. Unlike the PlayStation, Nintendo will still be launching a few games right on its current console, including Zelda: Tears of a Kingdom. It is one of the strongest exclusives of the Japanese giant and it is very likely that that game will further push the sales of the console, which are already normally very fast.
Nintendo Q2 FY23 Results
• Switch Hardware now at 114.33 Million Units Lifetime
Software (Totals)
• Splatoon 3: 7.9 Million
• Xenoblade Chronicles 3: 1.72 Million
• Switch Sports: 6.15 Million
• Kirby and the Forgotten Land: 5.27 Million
• Mario Strikers BL: 2.17m pic.twitter.com/b6n78yKJkE
— Benji-Sales (@BenjiSales) November 8, 2022
Now, it is clear that ours are only hypotheses, which however could come true over the next year. Net of all this, however, the real sales data will count and we will certainly know more around September 2023, when the first data relating to the various quarters of the next fiscal year will emerge. Unless Nintendo decides, over the next few months, to launch a new console, perhaps in conjunction with the new adventure of Link. Keep following Tom's Hardware for all the news and upcoming announcements from the world of video games.