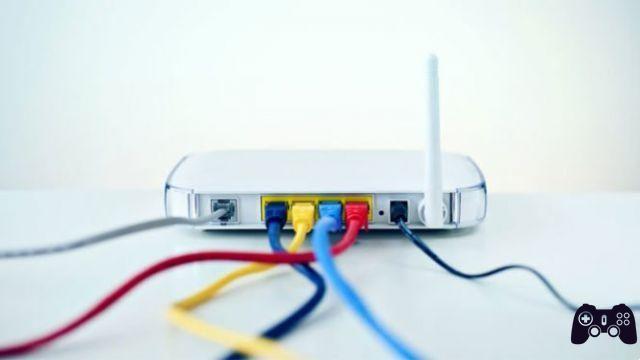 I wireless router they have had a big boom in recent years. These networking devices have taken the connection experience to the next level, eliminating all those very annoying wires, providing freedom and mobility to computer equipment connected to a network.
How to create a Wi-Fi network for guests >>
What is a wireless router
Un router it is a vital element within a computer network, both commercial and home, as it is responsible for providing IP addresses to the different computers that will connect to that network. These devices usually always come with an installation disc (CD). However, if you are new to router setup, you will find a few in this article tips for setting up a router and you can also use this general information to configure any router that you have on hand.
How a wireless router works
The wireless router has been specially designed to work without cables and provide network connection to one computer or group of computers. These devices consist of a cable entry that connects them to the network and an antenna system that wirelessly connects the equipment needed to connect to the Internet service or internal network of a company, institution or home, as appropriate. .
The main goal of the wireless router is to send information from one computer to another, avoiding the annoying wiring system and effectively and easily sharing services such as the Internet connection or network between multiple devices at the same time with a single device.
The operation of these devices largely resembles the operating system of a mobile phone. The router receives the broadband signal through a DSL cable, then processes it and sends it through radio waves, which are then distributed to the entire perimeter of influence of the device, reaching the signal of any equipment that is in range. .
Conversely, when a wirelessly connected device sends information, it arrives at the router in the form of a radio signal and is processed within the device, until it is converted into a digital signal, which is sent to the server via a DSL cable. These processes are extremely fast and occur in microseconds.
Wireless router models
There is a wide variety of wireless network device models, which vary according to the specifications of each. When choosing a model, it is important to be clear about the use you will make of it and the amount of equipment that will be connected. This way, we will be able to purchase high-performance equipment that meets our needs and delivers the signal strength our network requires. Among the main brands of wireless routers that we can find on the market, we have: Netgear, Belkin and Linksys.
Which router should we choose for our network?
A frequent doubt among PC users is which router we should choose to create a home network or a local network. This question does not have a specific answer, as it will depend on our needs and we will have to choose it from thousands of options. It must meet all our needs, which is why we have to take into consideration what type of network we want to have and how many services we want to share.
Considerations
When choosing a router for our network, the first thing to consider are the characteristics of the equipment that will be part of our network, since this is an important factor in making the corresponding network connections:
How many computers will our network have?
How many desktop computers will be part of the network.
How many portable devices will be part of our network.
What security system do we want for our network?
Once we have clarified the type of network we will create, it is time to take the next step, which is to evaluate the performance of the router.
Evaluation of available router options
There are thousands of router options in the market, some cheaper than others, some super expensive, some double, some just wireless. The choice will depend on a large number of factors and, above all, must satisfy our previous considerations.
The main points to consider in a router are the following:
If we will have portable devices, a double router that has several outputs in cable mode and wireless output for mixed networks is convenient.
The router must have an excellent price / performance ratio.
You need to accept firmware updates and work with different platforms.
It should be lightweight and easy to set up.
You need to have sufficient support to offer various network services.
If your modem meets your expectations, it's time to buy it. Now that we have purchased it, we need to configure it.
Tips for setting up a router
The first thing to keep in mind when you are configure a router is to know the model well. If you don't know it, you can see it on the box or in its housing where the model type of the device is always placed.
Another important tip is to have all the device information at hand. To do this, you need to have access to the installation manual, where you can find the default administrator password for the computer. You should also check that all cables are working properly and that you have a stable and continuous power outlet to prevent the router it loses its configuration and stops working in the future due to electrical faults.
One thing to consider when deciding to install e configure a router, is to choose a place where its power can be deployed. It is recommended to place it in height and avoid nearby obstacles, so that the WiFi wave arrives in the best possible way within the range of the router. The chosen site must also be easily accessible if the connection is used via a network cable.
Once connected the router to the PC where the device will be configured, insert the installation disc and follow all the steps indicated. If you are not an expert, avoid performing actions that are not described in the installation wizard as it can lock your computer.
With the help of the user manual or instructions from the manufacturer's website, once installed the device configures security options to prevent intruders from using the wireless network.
Avoid at all costs that the router get wet or come into contact with moisture, as it is fatal for this type of device.
Avoid connecting more devices than those recommended by the manufacturer, as they may have communication and connectivity issues.
They are simple tips, but they will facilitate the process installation, configuration and maintenance of a router in your home, office or school.
Configuring a router: how to do it
Now that we know what a Wireless router is, how it works, we will see how to connect a computer that is at the starting point, to the router that is in the middle of this whole system that we will analyze in detail.
What we need to first is remove the power cable from the router, leaving only the network cable connected to our computer.
As a second step we have to disconnect the network cable that was previously connected to the DSL modem.
As a third step, the network cable that we connected to our PC must be connected to one of the inputs of our router; in this device we will notice that there is a special input which is usually blue, this must be connected to our DSL modem by means of a network cable. The cable will also be blue.
Now we just need to reconnect the power to the modem.
Plug the network cable back into the router.
Once all these steps have been done, our computer will be correctly connected to a Wireless network.
Configure a router: security in the network
Once we have properly connected each of the cables from our computer to the router, and from there to the DSL modem, all we need to do now is configure a secure password in so that only we, with the people we want, can enter the Internet through our account.
As in the previous article, we will indicate sequentially and step by step what are the procedures to be followed to secure our Internet network.
We open our favorite browser and enter the following address: 192.168.1.1 or 192.168.0.1
In most routers, there is no password and the username is simply "admin".
The interface of the page that is shown to us will have some elements on the left side, from which we have to choose the one that says "Wireless Setup".
The interface of this page will change slightly, having to click on the button that is shown in the central part and which suggests a guide to configure the Wi-Fi connection.
The next step will indicate that you are going to define a name, security type and password for the Wi-Fi connection.
The name we need to replace here is one we can always remember, which will appear in the list of wireless networks detected by our laptop's Wi-Fi device.
There are four levels that we can choose, the same ranging from "none" to "best", the latter is the most appropriate because it has a level of security of type WPA2, which is very difficult for someone to crack or to hack with a certain application.
The next step we will have to enter a secure password so that the Wi-Fi connection becomes effective.
As a last step, we need to register by clicking "Save" so that all changes are registered and start using our WPA2 secured Wi-Fi connection from our laptop.
If you liked the article, share it.
Wifi: tips, problems and solutions >>
Further Reading:
What is a WPA2 password? I'll explain it to you
How to enable the firewall built into your wireless modem router
How to hide Wifi from your neighbors
Tired of your slow WiFi? Here is the ultimate solution
How to connect your iPad to an Ethernet network port