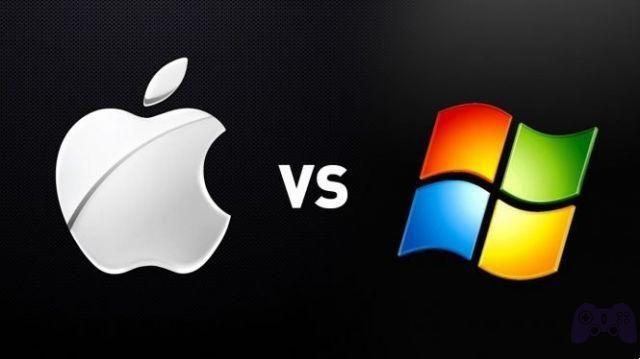 What is the fastest operating system? This computer-related debate is almost as old as the machines themselves. Of course, Windows and Mac fans both tend to assume they have the fastest operating system around. With Windows and Mac quickly releasing updates and new versions of the operating system, how do they compare in terms of speed? Stay tuned to see the answer.
How to make a photo collage on Android
SPEED TEST
According to most speed tests, Windows is on top, being considerably faster than Mac OS. It's worth noting, however, that when it comes to comparing these two operating systems, running performance tests isn't as common anymore. The Mac practically does not look like Windows and vice versa, and their kernels are completely different.
This is why they are usually compared with the other positives and negatives. So, let's rephrase the original question: which operating system is more efficient and which will allow you to get your job done faster?
Windows vs. OSX – HARDWARE
Let's start with a hardware comparison because it is closely related to the speed of these devices. With Apple, convenience takes priority and you rarely have to come up with a hardware setup yourself.
However, if you want more freedom, you're better off with a Windows computer. Windows allows you to configure hardware with relative ease and roll out updates as needed. Additionally, Windows is supported on devices like the Raspberry Pi and most VR headsets.
PCs are faster than Macs as long as the price range is the same. However, a Windows computer cannot run macOS, while a computer with Mac as its native operating system can run Windows.
How to find a music video without knowing the name
Windows vs. OSX - EASY INSTALLATION
Windows and Mac are quite similar in this respect, and there is no clear winner. Both of these operating systems have their own account systems. If you create a Microsoft / Apple account, you get access to additional useful options such as device synchronization and speech recognition.
Additionally, both operating systems install updates in a similar way, as do device drivers for simple-to-read hardware, such as keyboards or mice.
Windows vs. OSX - ACCESS AND EASE OF USE
Starting with login, both systems are fairly straightforward, both with different advantages. Your Mac lets you sign in using just your finger if you have a device with a Touch Bar. You can also sign in with another Apple device, such as an Apple Watch or iPhone if you have one near your computer.
Windows relies on Windows Hello for an improved logon experience. It has fingerprint readers and face access capabilities, but it doesn't work on all devices running the Microsoft operating system.
Looking at the elementary ease of use, the Windows Start Menu is very hard to beat. It offers you an easy way to open recent apps, system settings, and files. Mac OS relies on its Dock, which is an aesthetically pleasing way to access the applications you use most. Both are instinctively easy to use. But if you're new to both of these operating systems, Microsoft wins here.
How to know if someone is blocking your calls
Windows vs. OSX - SUPPORTED APPLICATIONS
Another thing related to your computer's overall performance is the type and number of apps these devices can run. At first glance, everything looks quite similar - for example, Adobe apps work fine on Windows and Mac, and speed shouldn't be an issue.
But for more specialized needs, like games, Windows tends to be the best option. It supports a lot more games than the Mac, and the Xbox also connects quite well. On the other hand, keep in mind that Mac is commonly called the ideal operating system for people with creative jobs. Mac device screens are better, and the operating system is suitable for the appropriate software for these professions (for example, it supports a wide variety of graphic design apps).
Windows vs. OSX - COLLECTION OF RESULTS
In the end, both of these operating systems are great. If your budget isn't large, you should probably choose a Windows computer and configure the hardware to your liking. But when considering the Mac, remember that it allows you to run Windows.
What is your place in this debate? What would make you think about switching to the other operating system? Do you prefer a third option? Let us know in the comments below.
How to hide electrical cables in a simple and effective way
Further Reading:
How to disable automatic driver update in Windows 10
How to change a hard drive letter in Windows 10
How to change the default browser in Windows 10
Can i install Windows 10 on my old computer?
How to create a restore point in Windows 10 - quick and easy