The new operating system version of the Microsoft designed for dual screen and call devices Windows 10X is delayed and this is not a big news. A new indiscretion, however, speaks of the possible release of a first RTM build as early as December while it would have been abandoned support for Win32 programs.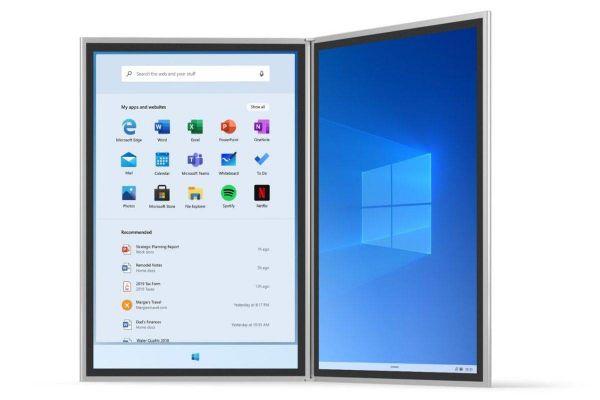 Microsoft has been working for many months on its version of Windows dedicated to foldable devices with two call screens Windows 10X. However, work is proceeding slowly also due to the Covid-19 pandemic that is affecting every corner of the planet. The expected release date of the operating system by the end of this year had already been moved earlier to 2021, resulting in it cancellation of the arrival on the market of Surface Neo, the company's innovative product featuring two touch displays joined by a hinge similar to that of the Surface Duo.
Read also: Abandon all hope, Microsoft Surface Neo is postponed until a later date
However, new rumors coming from Twitter seem to indicate the possibility that the Redmond company is already ready to publish a first RTM build of Winows 10X by the end of this year. Unfortunately, this news is linked to another less pleasant one: Microsoft would have decided to abandon Win32 software support.
For those asking, Windows 10X is on track to RTM in December. Spring 2021 release still looking likely. Not sure if MS is planning to do any external 10X testing. If they are, I suspect they're waiting for the RTM build first.
— Zac Bowden (@zacbowden) October 21, 2020
For the uninitiated, Win32 programs are those that can normally be run on a normal Windows PC and are based precisely on the Win32 API used by Microsoft sin da Windows 95. The company had promised software support through an emulator present in Windows 10X, which would have allowed a less traumatic transition towards the use of the new products on which the future operating system will be installed.
From the rumors circulated on the net it seems that the development of this emulator has been shelved. The first versions of Windows 10X will therefore arrive without compatibility with Win32 software and will be limited to using UWP and PWA applications. A mistake that Microsoft had already committed with the first versions of Windows 8 for ARM systems and of which we know the sad fate.
However, there is no need to lose hope: Microsoft is working hard for the development of the OS and it could be that the lack of the emulator is to be attributed solely to the youth of the software which will still be updated and may receive compatibility with Win32 programs at a later time.
Samsung Smartphone Galaxy S20 FE is available on Amazon with 128GB of internal memory and its 120Hz display for only € 543,00.