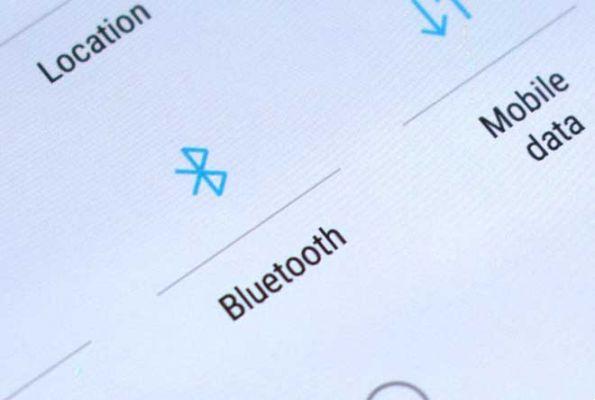 Bluetooth likes to interfere with Wi-Fi networks, mainly because they both send signals on a 2,4GHz radio frequency and this could be the reason why WiFi isn't working. Sometimes Bluetooth completely cuts off Internet access, while in other cases it slows down the speed considerably. To fix this, switch the modem to the 5GHz band.
This is easy to prove. Turn off Bluetooth on your device if it is on and check if the Wi Fi is still not working now. In that case, our recommendation is to switch the router from a 2,4GHz band to a 5GHz band if supported, which should allow you to use Bluetooth on your device without causing WiFi connection issues. You can change this in your router settings.
WiFi doesn't work, why not try the simplest solution?
Never neglect simple solutions. We often look for complicated and ingenious methods, but if the WiFi doesn't work, one of the classic remedies could be the cure. First you have to deactivate and reactivate the connection on your modem by turning it off and on again then you have to do the same thing on your device.
Open the Quick Settings menu with a downward gesture from the top of the screen and select the WiFi icon to turn it off. If the drop-down menu doesn't offer this icon, open the applications menu, go to Settings and open it from there.
WiFi not working? Restart the router and device
I can't connect to the Internet what can I do? This is a simple solution that is known to solve many technology-related problems. Start by restarting the modem - unplug all cables from the device and wait a few minutes. After reconnecting it, wait a minute or two for the device to set up. While you wait, go ahead and restart your phone, tablet, laptop, or whatever other device you are using.
Once your device and router are backed up, turn on Wi-Fi to see if the problem is resolved. If not, it's time to move on to the next step.
Other solutions to try if your PC won't connect to the internet
If none of the fixes so far have worked, there are a few more you can try. We've listed some of the most common below:
Come closer: the reason your Wi-Fi isn't working may be because you are too far away from the modem. Grab your device and bring it as close to the router as possible, then try to go online.
Troubleshoot: if internet is not available Windows 10, right-click on the Wi-Fi icon in the system tray, select the "Troubleshoot" option and wait for the device to perform its operations. The whole process takes less than a minute to complete and has solved my connection problems many, many times so far.
Forget the Wi-Fi network and reconnect: this is another quick and easy fix. The process varies by device and operating system, but if you are using an Android phone, find the Wi-Fi option in the settings and select your network. A window will then appear on the screen with some information that also contains the "Forget" button. Tap the button, then reconnect to the same network with your password.
Perform a factory reset: this is far from the best option available, but if nothing else works, a factory reset might do the job. It will delete all data from the device, including software bugs that may be causing connection problems, and restore everything to its original settings. But before going this route, make sure you backup the data on your device. To find out how to do a factory reset on an Android device, click here.
No internet access
Have you tried all the solutions listed in this post but still have some wifi connection problems? If so, you may need to make a call. But before doing that, try to figure out if the problem is with your device or the modem. Try to connect as many devices as possible to your Wi-Fi network.
If none of them are able to go online, the problem is with the router or network. But if only one of them fails to connect, then there is likely something wrong with that specific device.
In the first case, call your operator. It can check if there is work in your area causing interference with the network or if there is a problem with your router. If the router is to blame, your ISP will send a technician to replace it - this has happened to me three times in two years.
If your device is responsible for the Wi-Fi-related issues you're having, you'll need to get it fixed. In this case, call the manufacturer if the device is still under warranty or the reseller.
Problems with acquiring an IP address
I cannot connect to the internet due to problems with acquiring an IP address. Are you trapped in the clutches of an endless loop during the authentication process? Sometimes the Wi-Fi doesn't work because it can't get through this process. We have another solution available, go to the Google Play Store and download WiFi Fixer. The application restores the Wi-Fi system files and some services essential for the proper functioning of the network.
WiFi Fixer will take care of your device when it tries to acquire an IP address. It's a particularly easy to use app, not very pretty, but once you understand how it works and see the short tutorial, WiFi Fixer will help you troubleshoot your connection.
Slow wifi connection problems
So you are finally able to connect, but the speed is so low that you can't even surf the web? If you are connected to a public Wi-Fi network, the problem may simply be network congestion - too many users at the same time.
If you are sure that the router is working properly, that the signal is strong enough and that there is no interference, check the speed of the network by installing Speedtest on the device. This is a reliable and accurate service that, in seconds, will show you your actual download and upload speed and ping, helping you to identify the problem.
If you have root permissions and are already familiar with Android, you can speed up the connection on your device by modifying a specific system file that contains a TCP / IP configuration.
These are some of the most basic and common solutions to Wi-Fi problems, although they are not the only ones. Did any of these solve your connection problems? Let us know which one in the comments!
Read also: WiFi not working, some simple solutions
Further Reading:
What to do when Facebook Messenger doesn't work
Slow Wi-Fi / Internet connectivity issues on Samsung Galaxy A20
How to copy and paste in PuTTY
10 solutions for when WiFi calling doesn't work on iPhone
Slow Wi-Fi / Internet connectivity issues on Samsung Galaxy A40