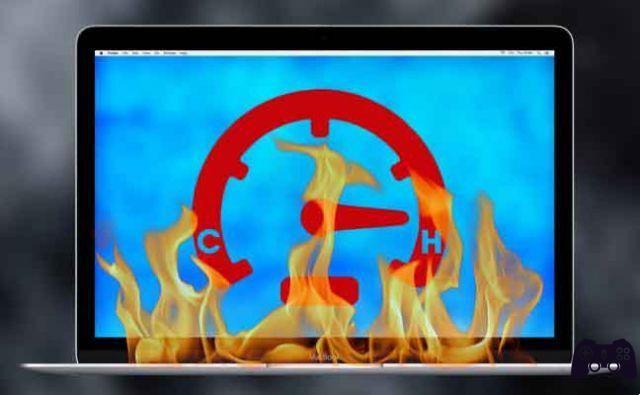 Apple's MacBook line of laptops are known for their longevity. They have superior build quality, a huge and precise trackpad, class-leading speakers, and an excellent screen. Instead the MacBook Air and MacBook Pro are known for excellent hardware and battery life, while heat management is a sore point. The problem is even more evident with the latest MacBook Air featuring a fanless design.
MacBook overheating can lead to more problems. Overheating shortens its battery life, slows down your Mac, and makes you uncomfortable if you need to use the MacBook on your lap. Ultimately, it affects your workflow and hinders productivity.
There can be various factors behind Mac overheating problems. Solutions are based on the age, model and usage pattern of your MacBook. In this post, we will talk about the reasons that lead to overheating problems on Mac and the eight main steps you need to take to fix the problem. Let's begin.
1. Force quit unnecessary apps
Any Windows users who have recently switched to using a MacBook should try this solution first. On Windows, you can press the Close button in any app and the system will close the app from memory. The behavior is slightly different on macOS. When you tap the "x" sign in macOS, only the app window will close. The apps keep running in the background. Did you notice that dot under the app icon on the Dock? Well, this indicates that the app is still running.
When you run dozens of apps on a MacBook (at least on those with 4GB of RAM), your system may slow down and experience overheating issues. You should force quit those unnecessary apps, the ones you aren't using. Tap the app icon using a two-finger click on a trackpad and select the Exit option from the floating menu. This will close the app and free up system memory.
2. Use Activity Tracking
macOS allows you to install apps from the App Store and other sources. It could happen that an incompatible app uses an unusual amount of resources and battery. In such a situation, you need to identify and force close such apps from the Activity Monitor built into macOS.
Use the Command + Spacebar keys to launch Spotlight and search for Activity Monitor and press Enter. The menu will show open apps and their energy impact on the system. If you experience an unusual spike in usage, select the app and press the "x" sign in the upper left corner to force quit the app.
3. Keep an eye on the charging cycles
All MacBook batteries are lithium-ion type. These batteries have a limited life and degrade over time. Most MacBook Pro and Air models come with 1000 charge cycles (check your model's battery charge cycles from Apple's official website). After 4-5 years of use, you should check the number of charge cycles on your MacBook.
Use the Command + Spacebar keys to open Spotlight Search and type System Information to open the menu. Go to Hardware> Power and here you will see the cycle count from the Health Info menu.
If the count has exceeded the limit, it could lead to overheating problems. It's time to replace the MacBook battery with a new one.
4. Use Battery Health Management
Battery Health Management is designed to intelligently improve battery life, which ultimately leads to avoiding overheating problems on your Mac. The Battery Health Management option limits the charging cycles on your MacBook. It learns how to use your MacBook and limits charging the device to 100% when needed.
The company recently introduced the feature with the macOS 10.15.5 update. The feature can only be enabled on MacBook models with USB Type-C Thunderbolt 3 ports.
Open System Preferences> Power Saver> Battery Health> enable the "Manage Battery Status" option.
5. Track the temperature and battery status
High battery temperature on Mac is the main reason for MacBook overheating problem. Apple does not offer any official way to view the temperature and battery status. You need to download a third party app called coccoBattery.
You can use the app to view detailed information such as battery temperature, status, available capacity, full capacity, production date and more.
6. Use Safari instead of Google Chrome
Google Chrome is the most popular browser in the world. At the same time, the browser is notorious for its aggressive use of RAM and battery. You should ditch Chrome and choose the built-in Safari browser as it is battery compatible. If you can't live without Chrome extensions, opt for the Chromium-based Microsoft Edge browser, which supports all Chrome extensions.
During my tests, I saw battery improvements when using the Microsoft Edge browser compared to Google Chrome.
7. Disable CPU Turbo Boost
All MacBooks are equipped with Intel's Turbo Boost technology which automatically increases the CPU clock speed above the base clock for better performance. While this helps to perform complete tasks in a short time, it damages the battery life of your MacBook. The behavior could lead to overheating issues on your Mac.
Unfortunately, there is no direct way to turn off the Turbo Boost feature on your MacBook. To do this, download a third party app called Turbo Boost which you can use to disable the Turbo Boost function.
The app claims to reduce CPU usage by 60%, with 30-50% longer battery life on previous models. The app offers real-time CPU load, fan speed, and battery temperature from the menu bar.
8. Update your MacBook with the latest software
The MacBook battery issue could be due to a buggy macOS build on your device. Apple usually releases OS updates quickly to keep macOS running smoothly and smoothly. Apart from that, Apple also adds some battery-related features (see macOS 10.15.5) to increase the battery life of the MacBook.
It's always a good idea to keep your macOS up to date. Open System Preferences> Software Update> download and install the latest operating system and make sure your MacBook is running the latest version of macOS.
Conclusion
MacBook overheating problems can be irritating. The high temperature of your MacBook reduces the screen life and battery life of your laptop. Scroll through the list above and fix Mac overheating issues as soon as possible.
Further Reading:
Overheating problems for the Galaxy A40
Why is my phone hot? What can you do
iPhone overheats, 8 solutions
How to start a Mac in safe mode and when to use it
Overheating problems for the Galaxy A20