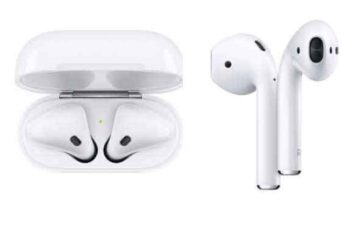 This article lists all the possible solutions for when only one AirPods is not working. AirPods have quickly become one of the most popular headphones in the world due to their reliable, simple and affordable design. However, just like any other headset, AirPods can also have problems.
A common problem reported by AirPods users is that the audio from a headset is not working. This can, of course, be very annoying, especially when you consider the cost of these wireless headphones. Listening to audio in one ear is perhaps worse than not hearing it at all. It sounds silly, but if you are having this bad experience you know what we are talking about.
It can be very confusing, especially if you like video games. Fortunately, however, there are steps you can take to fix this and hear both AirPods. This article is here to help you fix the problem with an AirPods not working.
What to do if an AirPods doesn't work
There are many reasons why your AirPods may only ring in one of your ears, and depending on the cause of the problem, the solution will be different.
It can be caused by software problems, Bluetooth connection problems, or even a battery problem. Either way, we'll take a look at some of the more common causes and how to fix them. The solutions are in front of you, so follow them closely.
AirPods don't connect, 8 solutions
Check if your AirPods are charged
If an AirPod is not making any sound the first thing you should check is if your AirPods are charging properly. One of them could be low on the battery which could cause it to shut down.
To check if your AirPods are charged, simply put them in the charging case, open the case lid, and hold it close to your iPhone or iPad. This will show you the battery percentage for your AirPods. Alternatively, you can go to the Bluetooth settings for your AirPods on any Apple device and check the battery there.
If this is your problem, the solution is incredibly simple and can be done right away. Simply place the AirPods in their case and charge them with the Lightning cable.
Once loaded, try playing with them and see if that fixed the problem. If the problem persists and you only have sound in one ear, try the next solution.
How to connect AirPods to Android
Clean your AirPods
In some cases, the problem may simply be that your AirPods aren't clean. Make sure both AirPods are thoroughly clean. Sounds silly, but if they're filled with ear wax, they won't work. Either the volume will be lower or they will completely stop working.
Use a cotton swab, cotton swab, damp cloth, or gently clean it with a soft-bristled toothbrush. Scrub until they shine like new again. Do not use water as you could damage or spoil them. If you have to use a liquid to clean your Airpods, use a minimal amount of alcohol as it dries quickly. Just be careful not to use too much or you risk damaging the main internal components.
Finally, you should also clean the charging case! Using a cotton swab, clean the charging case where the malfunctioning AirPod connects. If the AirPod is not receiving a good charge, there will be no sound. Clean the door and charge it for a while.
Now, put them back and try them out. Is there sound in both ears? If not, move on to the next solution.
If an AirPods doesn't work, plug them back in
Often, problems with AirPods are the result of a poor Bluetooth connection. As a result, the solution may simply be to reconnect your AirPods to the smartphone.
This may have occurred to you already, but it's still worth a try. Unplugging your AirPods and plugging them back in is one of those simple solutions (like turning something off and on again) that works most of the time. Here's how you can do it on your iPhone:
apri Settings on your iPhone.
Select Bluetooth.
Touch the button " i "Next to your AirPods.
click on Disconnect and confirm in the pop-up.
Reconnect the AirPods to the phone one more time by going back to the Bluetooth settings and tapping the Airpods. Do they both work now? If not, there are other solutions.
Turn off Bluetooth
Bluetooth issues on your device may be causing the AirPods to misbehave. You can disable Bluetooth from the Bluetooth settings. While there is an option to disconnect Bluetooth devices in the Control Center, this won't actually disable Bluetooth.
After turning off Bluetooth completely, wait about a minute, then turn Bluetooth back on. Again, check if both of your AirPods are working. If not, go to the next step.
Look for your stereo balance
Inside your smartphone, there is a setting for stereo balance. Stereo balance is the distribution of sound between each of your headphones. The left and right headphones need to be balanced to work, otherwise problems arise, such as having an AirPods not working.
Here's how to check it out on iPhone:
Open the Settings on your phone.
Switch to the tab Accessibilità.
Scroll down to Audiovisual and touch it.
Look at the letters L e R. Move the slider straight to the center, which will give you a perfect 50-50 balance.
Disable the option Mono audio if it is enabled.
Here's how to check stereo balance on Mac:
apri System Preference.
Select Sound and click Exit.
Choose your AirPods in this menu.
Put the cursor exactly in the center between left e right if it isn't already.
If that doesn't solve the problem, it's time to try one last step.
Check your device
Perhaps the fault lies with your device and not the AirPods. To see if this is the case, connect to another pair of Bluetooth headphones and see if you are experiencing the same problem. If you do, your device is to blame, not the AirPods.
In this scenario, you will need to reset your device settings. Here's how to do it on your iPhone:
Go up Settings.
Select the tab General.
Scroll down to Restore
Select Reset all settings.
Your device will be reset to default settings, but don't worry, your data won't be lost. Connect to your AirPods again and see if they both work. If not, it's time to seek out the pros.
Update your operating system
If you've ever read one of our many articles, you've probably seen these tips before. This is because many of our technical problems are caused by outdated software. This also applies to the Bluetooth connectivity feature your Airpods rely on to function properly.
While software issues typically affect both Airpods, an update is worth trying. Here's how to update your Apple device:
Update software on iOS
Open Settings on your iPhone and tap Generali.
Toccata Software update.
If available, tap Download and install.
Update the software on a Mac
Tap the Apple icon in the top left corner of your Mac.
Toccata Software update.
Follow the steps to update macOS.
When the updates are completed successfully, plug in your Airpods to check if this solved your problem.
If an AirPods still doesn't work, contact Apple Support
The last resort is to contact Apple directly. Go to their official website and look at the AirPods section. Find the Audio Quality tab and look for the solutions there. From there, you can call or contact them online.
If none of the other options worked for you, hopefully Apple will be able to guide you through your problems.
FAQ
Here are more answers to your questions about Airpods.
What should I do if I have lost an AirPods?
If only one of the little buds is missing, you can try using Find My iPhone to locate it. For this to work, you must be within range of the AirPod and have it connected to your iPhone. Tap your AirPods in Find My iPhone and tap "Play Sound". It will be really quiet, so you'll need to listen carefully.
If your AirPod is a lost cause; you can purchase a replacement AirPod from Apple.
Will my AirPods work with only one AirPod?
Yes. If you've lost one or one just doesn't work, you can still use earphones. Unfortunately, you won't be able to pair them to a new device without both pods in the case.
But, if you're already paired, you should be fine with just one AirPod for a while.
How do I know if my Airpods are still under warranty?
To check your Airpods warranty coverage, visit this Apple website. You'll need the serial number found on each Airpod, but it's incredibly small and hard to see. An easier option to find the serial number of your Airpods is to access the Bluetooth settings on a connected device (make sure the Airpods are in the ear and connected).
Tap the "i" icon to the right of your Airpods name to view the serial number. Go back to the website we linked above and enter your serial number.
Solved problem with only one AirPods not working?
AirPods have become incredibly popular due to their ease of use, reliability and simplicity. While AirPods are generally a great product, they can have problems just like any other pair of headphones. Problems like audio playing in one ear are very common and very frustrating.
Hopefully, one of the solutions given in this article has solved the problem with an AirPods not working for you. Having experienced this problem before, we know how nerve-wracking it can be. Tell us what you think about this problem and the solutions. Were they helpful? We can't wait to read your comments!
Further Reading:
How to connect AirPods to Apple Watch
How to connect AirPods to iPhone and iPad
AirPods flashing orange? Here's how to fix it
How to update your Apple AirPods
How to connect AirPods to Chromebook