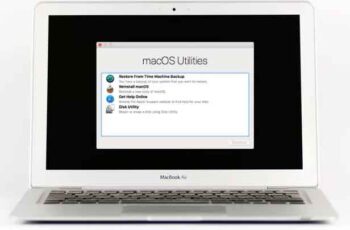 If your Mac doesn't boot normally, it's likely that its startup disk is damaged or corrupted. Well, the causes that can trigger this problem could be a corrupt file or a slight power surge that you may not be aware of. Either way, macOS recovery mode can be instrumental in solving such problems without resorting to extreme measures like reinstalling macOS.
With the Mac Recovery Mode feature, you can fix this and repair your startup disk, restore from a backup after a fatal error that prevented it from starting properly, or reinstall macOS. We will explain what macOS recovery mode is and the steps required to use it when diagnosing and troubleshooting any problems or a complete reinstallation of macOS.
What is macOS Recovery?
Mac Recovery Mode is a special mode in macOS that loads native recovery tools that help you restore from a Time Machine backup, get online help, reinstall macOS or wipe a hard drive, and more.
The recovery tools are loaded from a special disk partition containing a recovery image and a copy of the macOS installer.
If you can't recover your computer by other means, recovery mode is useful for diagnosing disk problems, installing the previous macOS running on your Mac, or getting help online.
How to Record Screen on Mac
Mac recovery mode includes four main features:
Restore from Time Machine Backup: Time Machine copies all your files, operating system, and settings, which you can then copy to an external hard drive and use it to restore your Mac's data. This wipes the current drive.
Disk Utility- This feature scans, verifies and repairs drives from the recovery screen in case something is wrong. This is a quicker and more convenient method than wiping and reinstalling your computer.
Reinstall macOS: This function erases the current operating system and its data, replacing it with a clean version. Before using it, upload your files to iCloud or other storage, then reinstall the operating system.
Get online assistance- This feature allows you to use Safari to troubleshoot any internet connection or other problems you have with your computer.
How to clear cache, history and cookies in Safari on Mac
When to use macOS Recovery?
MAC recovery mode debuted with OS X 10.7 Lion in 2010. It contains the latest version of macOS you have installed, so you can fix any problems with your computer. You may never need to use it unless you want to do the following:
Clean your computer to give it away or sell it. The recovery mode allows you to wipe and remove all your data and Apple ID.
Troubleshoot problems such as startup errors.
Use Disk Utility to perform repairs when problems with the disk occur, or the Disk Utility tool cannot repair problems with the drive.
Go back to an older version of macOS.
Perform a clean install of macOS to fix any issues that are slowing it down.
Erase your disk.
Internet connectivity troubleshooting.
You want to restore your Mac from a Time Machine backup.
Can't update your Mac? Here are 10 solutions
How to enter MacOS recovery mode?
1 pass: Start recovery mode by shutting down your Mac and restarting it. Upon startup, hold down the Command and "R" keys to enter recovery mode.
2 pass: When you see the Apple logo, the spinning globe or any other startup screen, release the Command and "R" keys. If prompted, enter a password (user administrator or firmware password) of the Mac and go to the next step.
3 pass: If you see the macOS Utilities window, it means that startup is complete. Here, you'll see the four services offered by recovery mode: Restore from Time Machine Backup, Reinstall macOS, Get Help Online, and Disk Utility. There are extra utilities, including Network Utility, Startup Security Utility, and Terminal in the Utilities menu from the menu bar.
4 pass- Exit recovery mode by going to the Apple menu and clicking Restart or Shut Down. Before exiting, you can choose a different startup disk from the Apple menu.
There are different key combinations to use at startup, depending on what you want to do with recovery mode. The Command + R shortcut helps you while installing the latest version of macOS you had on your Mac before the problem occurred.
The Option / Alt + Command + R shortcut works when updating to the latest version of macOS compatible with your Mac. The Shift + Option + Command + R shortcut works while installing your Mac's macOS version or the available version closest if it's not available as a download.
Headphones don't work on Mac - what to do
What to do if unable to boot into macOS recovery mode
If macOS Recovery doesn't work, force boot into Internet Recovery Mode. You can do this manually by pressing and holding the Option / Alt + Command + R or Shift + Option + Command + R keys at startup.
When you do this, you will see a spinning globe instead of the usual Apple logo on startup.
If that doesn't help your Mac boot, try booting using an external Mac startup disk or bootable installer.
NOTE: An Internet connection is required to use Internet recovery, get online help, or reinstall the macOS utility.
When to use Internet Recovery
Internet Recovery is useful when your Mac cannot create a partition for Recovery HD, because the drive is partitioned with Boot Camp Assistant and modified, or you are using a RAID volume that does not support the recovery partition.
Even if the partition was created successfully, recovery mode may not access it due to severe system errors or damage to the drive.
In such cases, your Mac will automatically start Internet Recovery, but if there is a working recovery partition, you will not be able to enter that mode. Reinstall the original version of macOS that came with your Mac, the factory installed version. And that may not be the latest version.
Internet Recovery uses code embedded in your computer, which includes an image for the specific operating system. When you enter this mode, a request for the correct reinstall codes is sent by broadcasting this image to Apple's servers.
It takes longer to boot into internet macOS recovery mode than a normal partition-based recovery. Also, it requires an internet connection, so make sure yours is strong and stable, and that your Mac has an adequate charge.
Restore your beloved MAC to full health
Recovery mode is the last resort to use when troubleshooting startup issues with your Mac. Running regular scans for problems before they turn into worse problems is a better way to make sure you don't have to use this tool in a short time.
Further Reading:
How to enter Recovery Mode on Samsung Galaxy A70
How to enter Recovery Mode on Samsung Galaxy A41
How to enter Recovery Mode on Samsung Galaxy A40
How to enter Recovery Mode on Samsung Galaxy A71
How to enter Recovery Mode on Samsung Galaxy A80