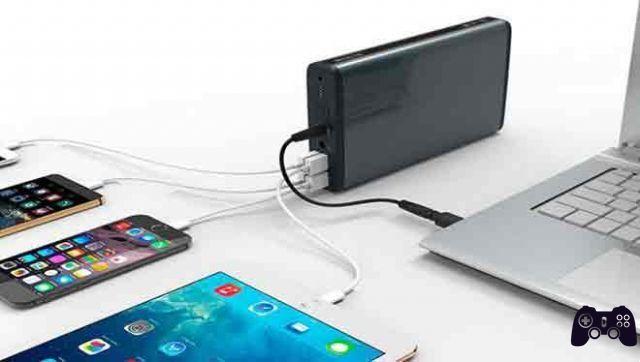 Power banks keep your device charged while on the go. A portable charger, sometimes called a power bank, is a reusable battery that is small enough to fit in your hand.
Covered in a protective casing, it connects to any input and output source, allowing you to charge various devices (a smartphone or laptop, for example) from almost anywhere without the need for a wall outlet.
Portable chargers come in a variety of forms and have a range of functions. The most essential aspect is that these power banks have a built-in rechargeable battery which extends the power and usage time of the other devices.
Smartphones use battery capacity measured in milliamps. These capacities vary between 2.000mAh and 5.000mAh, although there may be differences.
Typical power banks used to power phones and laptops also have battery capacity measured in milliamps, making it easy to determine the size of the charger needed for a specific device.
How to choose a Power Bank
How portable chargers work
Instead of charging your phone, tablet, or other device from a wall outlet, you charge it from the power stored in the portable charger or power bank, by plugging the charger (or charger cable) into the device that needs power.
Given the short lifespan of many smartphones, the most popular and best portable chargers are USB devices. These are usually on the smaller side and can easily be carried in your pocket or purse and extend the battery life of your phone.
Portable chargers are often equipped with one or more USB ports and can be connected to almost any type of cable used to charge modern smartphones. Standard Micro-USB, USB-C, and Apple Lightning cables ending with a USB Type A are the common connections you'll need to use with a portable charger.
How to use a portable charger
Portable chargers come in incredible variety. This means that there is no hard and fast rule as to how these chargers work or how to charge them. Many of the smaller power banks charge via Micro-USB or USB Type-C connections.
Larger power banks can use DC connectors like those found on laptops and other electronic devices. Portable solar powered chargers are also available on the market.
Power banks charge like other electronic devices with a rechargeable battery. Some may charge faster because of the connector or because a lower capacity battery charges faster.
To charge a device using a portable charger, connect the device to the portable charger and turn on the charger. Start charging the device. Some chargers provide an indicator that shows when charging is complete, some do not.
What else can portable chargers do?
While the most basic portable chargers only offer a USB output to charge a device, other (usually more expensive) chargers offer a number of special features.
Some offer support for fast charging, which allows you to charge your smartphone very quickly. Some include multiple USB ports, so you can put multiple devices on charge at the same time.
Some portable chargers offer more utilities, with three-prong sockets, DC power, and flashlights. Some portable laptop chargers store a lot of energy and are capable of powering the most energy-hungry computers.
Some chargers offer charging for single use only. Disposable portable chargers can be useful in some situations and are useful for tight budgets. Multi-purpose chargers are the best choice for people who often need to recharge their devices when they are away from home.
Further Reading:
Have you lost / broken your laptop charger? Here's what to do
Qualcomm announces the arrival of its 20W wireless fast charging
How to connect the Nintendo Switch to the laptop
Disable "unsupported hardware" message on Windows 7 / 8.1
How to use your smartphone as a Wi-Fi hotspot