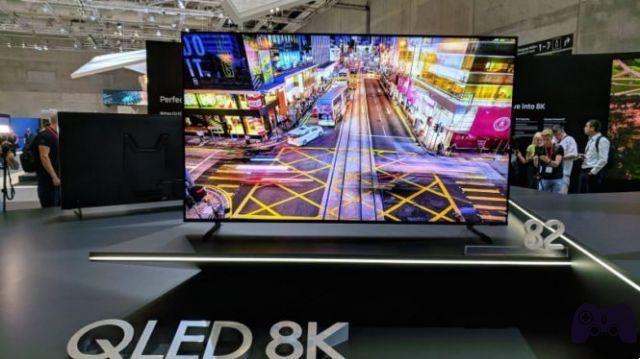 What is an 8K TV and what is it for? HD vs FullHD vs 4K vs 8K: tutte le differenze! Today, it is virtually impossible to walk into a store and buy a TV that is not UHD, a resolution also known as 4K. The times of Full HD TVs have gone down in history. Inescapable proof that the battle for the best image quality is an endless war, the main manufacturers are finalizing the launch of the first 8K models.
The best Android TV and Smart TV Box of 2019 >>
But what exactly does 8K mean? What are the benefits? And what's almost as important: are there any contents with this resolution to take advantage of it? Guidesmartphone will try to answer these and other questions.
HD vs FullHD vs 4K vs 8K: tutte le differenze
The resolution 8K is a relatively new image standard and substantially defined by its resolution. Its name refers to a slightly rounded number of horizontal pixels, which brings the total resolution to 7.680 x 4.320 dots. To get an idea, we have to multiply the resolution of standard 4K UHD (3.840 x 2.160) by four and that of Full HD TVs (1.920 x 1.080) by sixteen.
Given the higher resolution, i 8K TVs allow you to view pixels literally invisible to the human eye from an optimal viewing distance. If a series or movie might look slightly washed out or artificial on one screen UHD, a TV 8K it will display them with impressive clarity. For this reason the screens 8K will be released first for large TVs, which require a large pixel density to preserve image quality.
Given its huge definition, manufacturers like Samsung are promoting their future 8K TVs as the closest experience to enjoying our favorite movies. with the quality of a 33 megapixel photo in motion.
The first 8K TVs they use different technologies (LCD, LCD QLED and OLED), but they all have something in common: the use of the new HDMI 2.1. This "new" HDMI standard is the only one capable of transmitting data with 8K resolution and 60 frames per second with support for effects such as Dynamic HDR. And conveying all of this visual information (plus multi-channel sound and other data) isn't a trivial job to perform.
Buying guide, how to choose an Android TV or Smart TV Box >>
Advantages and benefits of 8K TVs
The first and most obvious advantage of the 8K TVs lies in their very high resolution. The image clarity provided by its 7.680 x 4,320 pixels far surpasses any technology ever released, which implies stunning definition and greater naturalness. The images are much sharper and more believable, with better defined edges and without the slightest trace of pixels.
Now, although the resolution 8K both a (large) number of vertical and horizontal pixels, televisions designed to work with this format will incorporate a number of important advances that will not be available on other models. For example, and as already mentioned, it will make use of the new HDMI 2.1 connector, which provides advanced connectivity features for other devices and support for technologies such as adaptive upgrade, which it will become a real revolution for owners of a modern video game console.
In addition to this, the 8K format will be tangentially linked to other advances such as theDynamic HDR, which significantly improves other techniques by allowing the brightness values ​​of a film to be adjusted not scene by scene, but frame by frame. Sunsets and starry nights will be visible with an icy clarity. It really gives the impression of seeing a real sky instead of a recording.
It is also noteworthy that at least i televisions initially from 8K will be included in the higher range. This means that the first compatible models will benefit from features such as the latest generation smart TV centers, image processing systems that are more advanced than the rest and extremely refined designs, perfectly integrated into any type of environment. Because the TVs will also be surprisingly thin.
HDR, HDR10, HDR10 +, Dolby Vision - what do these TV features mean? >>
Content at 8K: the storm that is coming
Although the 8K format is new, its roots are old. Very old. And they take us to Japan, where the public company NHK began investigating its possibilities in 1995 under the name of Super Hi-Vision. The problem is that until now there was no effective way to distribute the content recorded with this resolution, since a 8K movie It can easily take up more than 200GB.
Nor are there many cameras. Until 2015, there were no well-defined set of techniques and standards to work with this resolution which until then was quite experimental. In this way one might think that we are faced with a situation not without irony, with televisions equipped with the latest scream in image quality and without content to enjoy them.
Well, that's not quite the case. The truth is that while many of the films made at 4K currently have original 8K masters, much of the modern content already available in UHD will also be available in the 8K format. The second part of Guardians of the Galaxy, for example, was produced directly in 8K with special cameras.
On the other hand, a not inconsiderable number of restored films also have an 8K copy. In other words, many of the 4K remastered classics from the original celluloid have 8K digitization waiting to be launched when there are televisions capable of exploiting this resolution. In a way, we could consider that 4K UHD is analogous to yesterday's HD Ready and 8K is equal to Full HD which ended up replacing it.
The differences between LED TV vs. OLED TV >>
The issue of television broadcasting is very complicated. In Italy there are still television operators who do not broadcast in Full HD, and don't think that in the rest of the world things are going much better. Japan is the exception again, and indeed the Tokyo 2020 Games will be broadcast in 8K to the delight of an audience always eager to enjoy the high quality image. But of course, to enjoy this program you will have to live in the land of the rising sun.
The rest of the world will enjoy 8K content thanks to other types of techniques. All TV manufacturers with this type of TV have invested in highly advanced processing systems to update images from 4K to 8K as faithfully as possible, so the UHD content will look great on a native 8K support TV.
Additionally, the 8K format will be digital native. The current Blu-ray discs do not have enough space to store movies which will be around 200GB, so the transmission of the contents will be done mainly through the Internet. Streaming platforms like Netflix and HBO, which already offer 4K series and movies, will end to upgrade their 8K libraries progressively. Others like YouTube currently offer some content through specialized channels.
QLED vs. OLED vs. MicroLED, what is the best technology? >>
Early 8K TVs are (almost) here
Samsung QE75Q7FN 4K for 75 shelves
The Samsung QE75Q7FN is one of the most advanced UHD TVs of the moment. With a size of 75 inches and a high brightness, it is a very attractive option for all users, perfect for sports fans or gamers.
LG OLED55B8PLA 4K to 55 shelves
For fans of the highest image quality. There is no purer black than that of an OLED TV, and LG controls this technology like no other. OLED55B8PLA is a 55-inch television with infinite contrast and an advanced Smart TV platform.
Philips 55PUS7303 / 12 4K 55 shelves
Do you already know the advantages of ambient lighting? If so, you will surely fall in love with the immersion provided by Philips Ambilight technology, which projects colors onto the wall that mimic the scenes on the screen. Your 55PUS7303 / 12 is one of the best.
Turn your TV into a Smart TV step by step >>
Further Reading:
How To Change Screen Resolution On Android Phone
How to change the screen resolution on Huawei and Honor devices
Zoom screen sharing not working, 8 solutions
Windows 11 Snipping Tool Not Working, 7 Solutions
Download Huawei Y9 Prime 2019 Full HD + wallpapers