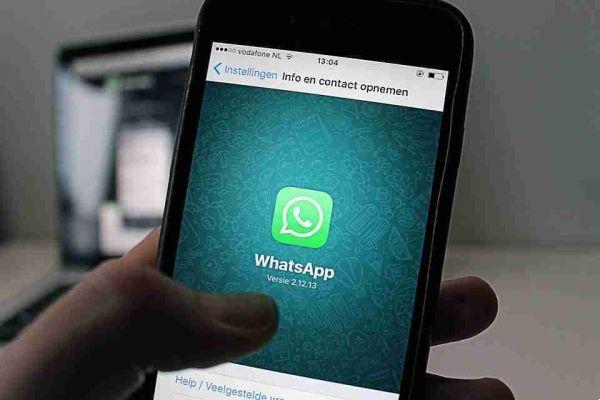 What happens when you uninstall WhatsApp? We will try to answer all your questions about uninstalling WhatsApp.
What happens when you uninstall WhatsApp
It is important to know the difference between uninstalling the WhatsApp app and deleting the WhatsApp account, they are two different things.
Uninstalling the app means that you have simply deleted whatsapp from your phone. After doing this, you temporarily lose access to your account because you will not be able to send and receive messages during that time. Technically, your account is still registered with WhatsApp and, with a simple reinstall, you can start using it again as if nothing had happened.
Conversely, deleting the WhatsApp account will delete all message history, remove from all WhatsApp groups and hide your WhatsApp profile from other people's WhatsApp contacts.
What happens when you uninstall WhatsApp from messages
When you reinstall WhatsApp on the same phone, you will have the option to restore the backup (if created) of your chat history and media files from the cloud: Google Drive for Android and iCloud for iPhone.
So nothing happens to old messages and media, as long as you select the restore option when prompted during the reinstallation process. If you don't click on this setting during the new installation, the WhatsApp app will appear blank with no chat history except the groups you belong to. If so, uninstall it again, then select the restore option.
On Android phones, you can also restore chat history and media from your local backup if you don't remove the WhatsApp folder. The local backup feature isn't available on iPhone, so if you uninstall WhatsApp on iPhone and don't have an iCloud backup, your chats disappear.
If I uninstall Whatsapp, do I lose photos or videos?
Uninstalling WhatsApp from your phone will not delete existing WhatsApp media files such as photos, videos, documents, etc. All will still be accessible on your phone via a file manager, gallery app, and other similar apps.
Can people text me or call me on Whatsapp after uninstalling it?
When you uninstall WhatsApp, people can still text and call you. However, since the app is not installed on your phone, you will not be notified. Only when you reinstall WhatsApp will you get those missed call messages and notifications.
Do I lose access do you have groups if I uninstall Whatsapp?
You will continue to be part of your groups even if you uninstall WhatsApp. Also, if you are a group admin, you will continue to be the admin.
Will my profile picture remain visible?
Yes, depending on your previous privacy settings, your contacts can still see your last profile picture and About. It will not be removed after uninstalling WhatsApp. However, if you delete your WhatsApp account, your profile picture will also be deleted.
Last access
If the last feature was active before uninstalling WhatsApp, your friends would see the time you were last active before uninstalling WhatsApp.
Will I have to set the blocked numbers and settings again?
Both remain unaffected when you uninstall WhatsApp. After reinstalling WhatsApp, you will have the same account and privacy settings. Likewise, previously blocked numbers will continue to appear in the block list.
If I uninstall Whatsapp, do I disappear from the Whatsapp of my contacts or friends?
After uninstalling the app, WhatsApp will not remove you from your friends' chat or contact list. However, deleting the account will have a different effect for your account not detected as an active WhatsApp user. So others won't see you in their WhatsApp contacts.
How to uninstall Whatsapp
If now, knowing what uninstall Whatsapp produces, you want to proceed on your smartphone, here's how:
On Android, open WhatsApp in Play Store and press the Uninstall button. On iPhone, long press the WhatsApp icon on the home screen. Once the icons start shaking, tap the cross icon on WhatsApp.
Delete Whatsapp account
If you decide not to use Whatsapp forever, you can delete your account.
You can delete your account directly from WhatsApp. Deleting your account is an irreversible process, which cannot be undone even if it was done by mistake.
To delete your account on Android:
open WhatsApp
Tap Menu> Settings> Accounts> Delete account
enter your phone number in the full international format, then tap Delete account
To delete your account on iPhone:
open WhatsApp
Tap Settings> Accounts> Delete Account
enter your phone number in the full international format, then tap Delete account
What deleting a Whatsapp account entails
Deleting your account will result in the following:
deleting the account from WhatsApp
deletion from all WhatsApp groups
deleting the chat history from your phone and the WhatsApp backup to Google Drive or iCloud
you will not be able to log back into your account
it may take up to 90 days to delete the data stored in the backup systems - you cannot access your information on WhatsApp during this time
the information that other users have and about you, such as the copy of the messages you sent them, will not be changed
the copy of some materials (for example, log files and the call log) may remain in the Whatsapp database (Facebook company), but is not associated with personal identifiers
for legal reasons (such as managing fraud and other illegal activities), your information may be kept: please refer to the Law and Protection section of the for more information
personal information shared with other Facebook companies will also be deleted