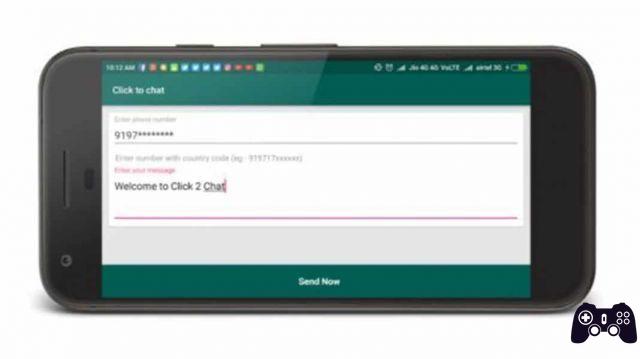 Click2Chat WhatsApp is an app that allows you to send messages without necessarily having to save numbers in your contacts.
In addition, the app allows you to download photos and videos of whatsapp status.
Another function not least is the scheduling of messages. In fact, thanks to this app you can send messages on Whatsapp without saving the number in the phone book and schedule them to be sent at the time you want.
The reasons why you do not want to save the phone number in your address book to send him a message on Whatsapp do not matter. We are interested in telling you that it is possible also send a message to numbers not saved in the smartphone on WhatsApp.
Click2Chat WhatsApp: send messages without saving the number
Click2Chat allows you to send and schedule WhatsApp message to any number without saving them. Now you can also download WhatsApp stories
The app is only available for Android and to get started, of course, open the Play Store and search. Then, install it.
At this point the procedure is very simple and immediate.
Launch Click2Chat WhatsApp
choose the country to which the number you want to send the message refers to.
enter the person's phone number
add the message text and send it
Done, you have sent a message on Whatsapp without having to necessarily save the contact in the phone book.
https://youtu.be/jQN3ZUmPfOE