Vodafone V-Home Mini is the new telephone operator solution designed to introduce even less experienced users to the concept of "smart home". It is in fact a package that includes a smart light bulb and a motion sensor, both belonging to the SmartThings line. In order to make them work correctly, it is necessary to have a Vodafone Station, in the logic of being able to combine them with your home subscription.
Everything is supported by the proprietary V by Vodafone applications and, above all, SmartThings. The latter is developed by Samsung and refers to a wide ecosystem of devices which, among others, also includes those of brands such as Sonos and Ring, thus ranging from appliances of different nature and types. In addition, V-Home Mini also includes a SmartThings Link, which is a USB key needed to install the relevant application on the Vodafone Station.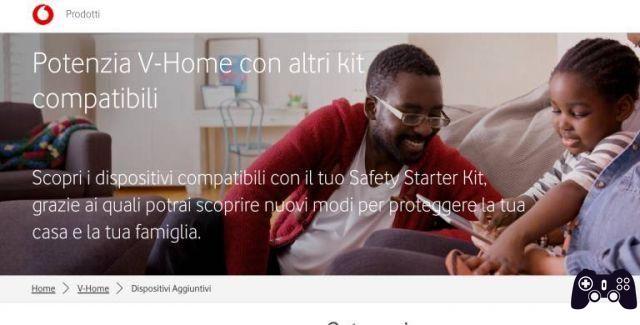 The smart light bulb and the motion sensor they are compatible with both Google Assistant and Alexa, so they can be controlled by voice and within the respective applications of the two voice assistants. Vodafone has also provided assistance 24 hours a day (24 days a week) for the service, as well as having developed a warning system practically identical to that of a classic alarm system.
In fact, if the motion sensor detects an unauthorized movement in the event and the user does not respond to the relevant notification via the application, V-Home Mini will automatically send an SMS and, subsequently, a phone call from the IVR system. If even in these cases there is no answer, calls will be made to your five favorite contacts previously set in the application. In short, a great convenience.
As for the costs, V-Home Mini is offered at € 1,99 per month. However, this is an exclusive figure for those who have subscribed to an offer on the fixed and mobile network of the Giga Family package. For users with other Vodafone subscriptions, the cost rises to € 2,49 per month. In any case, the operator imposes a 48-month contractual obligation and a 50% discount coupon for an additional accessory purchased from the official Vodafone website.