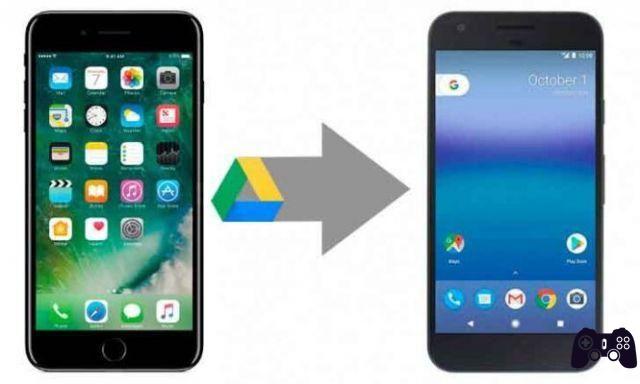 How do I transfer data from my old mobile to the new one I just received or bought? If you don't have a lot of technological knowledge, this is one of the first questions you will ask yourself. And if you do, I'm sure more than once a friend or relative has asked you for help with this.
And today we come to solve this problem precisely, why the process of transferring data from one mobile to another is no longer complicated as it was a few years ago, and device manufacturers or companies behind operating systems are struggling to offer solutions that facilitate migration in hopes of attracting new users.
In today's article we will explain how to switch from your iPhone to Android, but also from Android to iPhone. We will also explain how to make the change within the operating system itself, something much simpler.
And as we always do, we will explain everything in the simplest way possible in so you won't have any problems when you use this guide or send it to a relative you don't want (or don't want) to help in this classic situation.
How to transfer your data from iOS to Android
Google wants to make it easy to use Android and make switching to its operating system as easy as possible for iOS users. So he created a web page where he explains everything quite well.
The only thing you will need is to download the app from Google Drive, Google's cloud service. This application has a system for making a backup copy with all the contents of your old mobile and then being able to take it to the new one. Here you can download Google Drive for iOS.
Once the application is downloaded, enter Google Drive and access the side menu, where you will find the Settings option. Once inside this section, click on the option called Create Backup.
You will go to the screen, where you will see that by default contacts, calendar events and photos and videos are copied, but if you want you can deactivate any of the boxes.
If you intend to copy the photos it is important to know that the copy will be done in Google Photos. Therefore, you need to enter the option to configure the quality you want to upload them to. If you choose the High Quality option you will have unlimited space for the photos, but they will be compressed.
On the other hand, if you choose the Original size option, the photos will be saved in their original size and resolution, but you'll be using the space in Drive, which is 15GB by default.
If you have everything clear, you just need to click Start Backup to start the process. This process can be faster or slower depending on the amount of data and files saved. So I advise you to be patient and to do everything connected to a WiFi so as not to consume too much data.
With the copy already saved in Drive, all that remains is to log in with the same account from your new Android and all your contacts, calendar events and photos will appear in the terminal.
There is a second option you can use which is even simpler, and that is use your Google account on iPhone. Only after configuring it in the account section of your iPhone, will you already associate a lot of vital information in your Google account that you can bring to Android simply by logging in.
If that's the case for you, sign in with the same account to copy your contacts, calendar events, Chrome bookmarks, Google Drive files, Google Keep notes, Gmail emails, and more. In the case of photos and videos, if you use Google Photos, the entire roll of images will also be transferred simply by logging in.
How to transfer your data from Android to iOS
Apple also has its own tool to easily migrate data from Android to your new iPhone, with an almost automatic process that includes migrating contacts, messages, calendars, photos and videos, web bookmarks or message history. The application is called Move to iOS and you can download it from this link. It is important that you know that you will need to have both phones , iPhone e Android, lit to complete the process.
Once the application is installed on your Android, turn on your iPhone and proceed to its initial configuration by choosing the Configure manually option instead of the Quick Start which is available if you are coming from iOS.
After setting up WiFi and Face ID or Touch ID, you will arrive at the App and Data step. In it, choose the option Transfer data from Android to start the process where both devices need to be connected on the same WiFi.
Now go to your Android and open the Move to iOS option. On the first screen, click Continue and, after accepting the terms and conditions, it will ask you to enter a code that will appear on your iPhone when you choose the Transfer data from Android option. Just write this code in the android app and continue.
You will come to a screen where you can choose which content from your old terminal you want to transfer to the iPhone. Among them, you can transfer your email accounts, contacts, photos, messages, calendars and favorites from your browser.
You can also download the apps that exist on iOS and they are free automatically. The size of the content you have cannot be larger than your iPhone's internal storage, so be careful with your SD cards full of photos and videos.
Even easier from Android to Android or from iOS to iOS
The process of transferring data from one device to another is even easier when you switch to a mobile phone with the same operating system as the previous one. And is that both Google and Apple through your personal accounts save all the necessary information so as not to lose it when you make the change.
For example, when you start setting up your new iPhone you just have to choose the Quick Start option to automatically bring everything you had in the old one to your new iPhone, including installing all your previous applications.
Android does the same, as when you sign in with your Google account, you'll have the option to retrieve the backup copies stored in Drive.
However, on android you may have a problem with photos, as you will need to have Google Photos or some other cloud application installed to bring them to your new device. The same happens with internal files, for which you will need to use Google Drive or applications in the cloud.
In any case, whether it's the photos or any other file you downloaded manually, you will always have the possibility to connect your mobile to the computer choosing the data transfer option when Android tells you what to do. You can browse its memory and bring everything to the PC and then transfer it to the new mobile.
Pay attention to the contacts saved on the SIM
The contacts that have been stored on your mobile SIM for a long time are sometimes a problem, as we don't realize they are there and not synced to Google or Apple clouds until it's too late. This can be a problem especially when in addition to the mobile we have to change the SIM.
However, all you need to do is sync them with your iCloud or Google account. To do this, in Apple go to Settings and go to the Contacts option, where you just have to click on the option Import contacts from SIM to leave them all in sync and have no more problems with them.
In Android everything will depend on the contacts application you have installed. A useful tip may be to install the Google Contacts application to confirm that everything syncs correctly. In it, open the options and go to Settings, there click Import and choose the SIM card option to bring contacts from the card to your Google account.
Recover your pre-installed apps
Again, in iOS, restoring applications you had installed on the other device running the same operating system is easy, as you can automatically sync them when you set up a new iPhone for the first time using your iCloud account.
When you use the Android to iOS sync app, you will also pre-install the free apps you have on your Android.
Android also offers a full backup section which includes applications. Its location in the settings depends on the manufacturer's interface, but it's easy to find even just a little bit of research. Thanks to these copies, when you set up your new phone for the first time you will be able to automatically download the applications you had installed.
Transfer your data from a simple mobile to a smartphone
If you still use a "classic" cell phone, the kind that aren't smartphones, you shouldn't even worry about switching to a modern cell phone. Few things change and you can continue to have all your contacts, only now can you add more details like their address or email.
The first thing before making the leap is to make a backup. We will start with photos, videos and music. Although the process varies by phone, it is usually necessary connect the mobile phone to the computer using the USB cable supplied with it.
This is optional for smartphones too, but when you have a "non-smart" phone with no backup apps, you need to use it yes or yes.
It is necessary to connect the mobile phone to the computer, (perhaps you need a specific program or even drivers for the computer to recognize the phone, and which we will find on the manufacturer's page), and from there access the device memory and, locate and copy the files you want to keep.
If for whatever reason you don't have a cable, you might as well import all this data via Bluetooth, although it will be a much slower process as you will have to do it file by file, individually.
After the media files, tap create a copy of the address book. You need to check if the contacts have been saved on the phone or on the SIM card. Normally if you go to the Phone (or Phonebook or Contacts) option and look for Settings, you will find an option called "Memory in use" or something similar, where you can check where your contacts are stored.
If you choose the phone memory, you need to copy them to the SIM. Go to Contacts> Options> Copy Contacts. Choose "from phone to SIM card" and you will make the copy. The way forward in the options may vary depending on the manufacturer. But if the storage space chosen for the contacts is the SIM, you will not have to do anything.
To transfer the contacts to the new smartphone you just have to insert the SIM, although it is advisable to synchronize them later with your Google or Apple account as we told you before so that it is not so complicated next time.
As for multimedia data, just connect your smartphone to your computer and copy the data previously passed via cable to your PC.
Read also: How to block Whatsapp, all methods
Further Reading:
How to transfer contacts from one Android phone to another Android
How to transfer data to a Xiaomi / Redmi / Poco / Mi phone
How to transfer data to Xiaomi Mi 10T
How to transfer data to Xiaomi Mi 11
How to transfer photos, music, videos and data from iPhone to iPhone