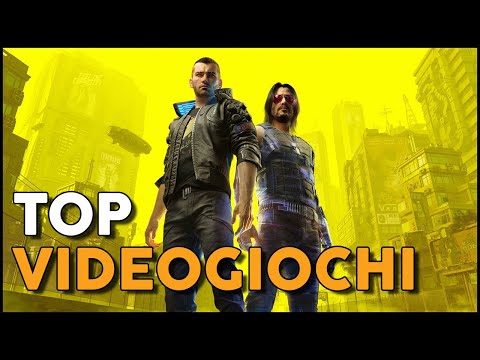 After telling you about the videogame FLOP 2022, also arousing several discussions about a certain cat… Here we are again with a slightly lighter and (hopefully) less controversial piece, but on the other hand this is the beauty of these specials, be able to start a certain type of discussion. The TOP 2022 represent a bit of everything, from video games to certain themes and moments that have been treated during this year.
As always, it is right to make a clarification that sometimes goes into the background but which is important for understanding the special itself: TOP, just like FLOP is not literal and does not necessarily represent something fantastic or otherwise a negative experience. TOP doesn't just mean that we liked a certain theme or game or that it exceeded expectations, but that perhaps it meant something important to the editorial team for a specific reason (which we will explain anyway).
Again I want to emphasize that the TOPs, as well as the FLOPs, were chosen through an internal survey of the entire GameDivision editorial team. Having said that, we can start talking to you about the works (and not only) that surprised us the most in 2022, leaving you the opportunity to comment and have your say!
TOP 2022, our videogame appreciations of the year
Return to Monkey Island
Not the best Monkey Island ever, but if it has been included in the TOP it is not mainly for its qualities, but more for its return to the video game market. The King of point and clicks, developed and directed by Ron Gilbert, not only represents a leap into the past, but potentially the return in style of a genre that now lives almost exclusively on narrative adventures.
Despite this, Return to Monkey Island moves and excites; not surprising, this is true, but it can be said that it is as if we are living a second life and perhaps this is the inevitable new beginning of something greater.
Elden Ring
Voted Game of the Year at The Game Awards, Elden Ring is one of the biggest Action-RPGs ever. The souls-like mechanics applied to an open world work very well, as does the sense of discovery and desire to explore that Hidetaka Miyazaki has managed to impose in his work.
Even today the incredible world of the Interregnum is one of the most beautiful things ever to appear in a video game, capable of surprising and astounding. We are confident that this is just the beginning and we look forward to seeing how this wonderful experience will expand.
God of war ragnarok
God of War Ragnarok is undoubtedly one of the best products of the year: narratively engaging, top-level gameplay and superfine level design. Santa Monica once again proves itself as one of the best development studios in the world.
We don't know how and if the journey of this series will continue, but what is certain is that the Californian team has given us one of the most iconic and wonderful franchises in the history of video games, worthy of returning to this year's TOP and beyond .
pentiment
Although Xbox has not had a level year, Pentiment is certainly one of those pearls that everyone should play at least once, certainly among the TOP 2022. Behind this artistic and narrative work is Josh Sawyer, author of Obsidian who has worked on titles such as Fallout New Vegas, Pillars of Eternity and Icewind Dale, in short, not just any person.
With a person of this level behind it, it is normal that much was expected from this Obsidian IP, fully respected expectations for one of those products that most likely would never have existed without Xbox Game Pass.
If you love good stories and particularly appreciate artistically inspired 2D backdrops, then Pentiment you have to play it, so as to support one of the most talented software houses in the gaming market.
Nintendo's incredible lineup
Nintendo's year has been incredible and for this reason it's correct that it is included in the TOP 2022: lots of video games, unique experiences and an out-of-the-ordinary quality. Beyond the fluctuating Pokémon games (which in any case guaranteed tens of millions of copies sold), including Bayonetta 3, Mario+Rabbids Sparks of Hope, Splatoon 3 and Xenoblade Chronicles 3, enthusiasts of the Kyoto company's products cannot than to be satisfied.
And 2023 doesn't promise much less, a sign that Switch enthusiasts will have something to play.
Tunic
Tunic is one of those titles that reminds you of why you are passionate about video games. A fox armed with a sword and shield who can only bring back nostalgia for the first The Legend of Zelda, surrounded by a phenomenal artistic sector and a well-balanced difficulty.
The idea of ​​introducing an instruction booklet to be completed by looking for pages around, a bit like an old pen and paper game, has made it one of the most brilliant and fun independent products of this 2022.
Immortality
From the mind of Sam Barlow, former author of Her Story and Telling Lies, here is Immortality, another interactive adventure that mixes videogame and reality with the use of an actor in the flesh, intent on impersonating absurd characters and with a decidedly impressive acting quality for the available budget.
It's not an experience for everyone, that's a fact, but it will surprise you to know that Immortality represents one of the best titles of the year, as well as one of the best narrative experiences ever, capable of intriguing and leaving you breathless.
IT WAS
SIFU proved to be an interesting product, capable of offering something new to the fighting game genre and also receiving much acclaim from the press and critics. In addition to being fun and varied, the game is an experience with a decidedly high learning curve, more aimed at those who appreciate difficult titles and able to offer a good dose of challenge.
Xbox Game Pass
It certainly wasn't a super positive year for Xbox, the various postponements and problems with the Activision-Blizzard acquisition brought it into a limbo in which it had to run for cover. In all of this, however, one of the constant tops that we have found in our rankings for several years now is certainly Xbox Game Pass, a subscription that continues to be full of important titles and with support technologies (such as cloud gaming for each game) really useful.
Next year, the subscription will see the arrival of several level games (Starfield, Forza Motorsport, Age of Empires Console Edition, Minecraft Legends, Hollow Knight Silksong…), but also new subscription options, such as the rumored Game Pass Lite and the Family and Friends Pass.
In short, you can no longer do without Xbox Game Pass and if the Activision-Blizzard acquisition were to take place… well, we'll see some good ones.
cyberpunk 2077
We know, Cyberpunk 2077 is not a video game from 2022. However, it is there for all to see that this year Cyberpunk (you can buy it from Amazon) has been reborn, like the Arab Phoenix. CD Projekt RED has treasured the criticisms and feedbacks and has worked hard to support and update the title, which now not only holds a remarkable number of sales, but also positive opinions from users and therefore worthy of being among the TOP 2022.
In reality, the Polish team's game was also appreciated in the first months of its release on PC, but the various bugs found by users and above all the cutting of numerous promised contents inevitably made it one of the most criticized videogame products ever. also due to the terrible old-gen console version.
Cyberpunk 2077 is projected towards the conclusion of the support with the release, in 2023, of the Phantom Liberty expansion, but the franchise will return with a second chapter that in all probability we will see only starting from 2028.