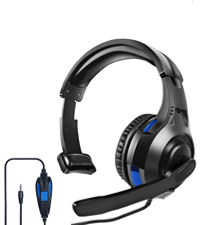 We are on the second day of the autumn Prime Day, and the offers for gaming products are far from finished: there are many items including keyboards, mice and headphones even up to 50% off.
In particular, among the various discounts on Amazon there is the Trust Gaming GXT 488 Forze-B headset, which is currently on offer at € 27,99. Considering that the original price is €49,99, that's a 44% discount which makes the article truly unmissable.
The GXT 488 Forze-B headset is compatibile con PlayStation 4 e PlaySation 5, for which it is officially licensed. In fact, you just need to connect it to the Dualshock 4 or Dualsense controller through the dedicated cable and you can start using it right away, connecting with your friends.
The headphones are designed for maximum comfort, as they feature ear loops soft over-ear cushions that won't bother you even after long gaming sessions. The headphone drivers are 50 mm and will allow you to listen to your favorite games in a clear and powerful way.
The microphone is foldable, so it doesn't bother you when you're not using it, and it has a reinforced headband that makes it strong and durable. In the final part there is a pop filter to make any communication with your friends clear and without disturbing noise. Finally, in the cable there is an integrated remote control to adjust the volume of the headphones and mute the microphone.
Also read: Amazon's best October Prime Day deals
The headset is currently available on Amazon in three colors: black, blue and gray. We just have to send you directly to the Amazon page dedicated to this discount, with an invitation to immediately take advantage of the offer, since we do not know when it will endnor how much is the stock of available products.
Furthermore, before completing your purchase, we strongly suggest that you also subscribe to our three Telegram channels dedicated to offers, with specific channels dedicated to: Offers, Hardware & Tech and Clothing and Sport. Happy shopping!
» View the offer on Amazon «
Follow us and always stay informed on the best offers!
Events » Amazon Prime Day | Black Friday
Offers and Discounts » All offers | Discount Codes
Telegram channels » General Offers | Hardware & Tech | Clothing and Sports
Buying guides » SOS Home & Garden