A few months ago, a series of screenshots appeared on the net that foreshadowed the arrival of the World Cup mode in the new FIFA 23. Now, as we get ever closer to the kick-off of the next soccer world cup in Qatar, EA has made official the arrival of mode dedicated to the world cup within the new football simulation par excellence. Accompanying the announcement there are also a number of details that allow us to better understand what to expect from this new upcoming update.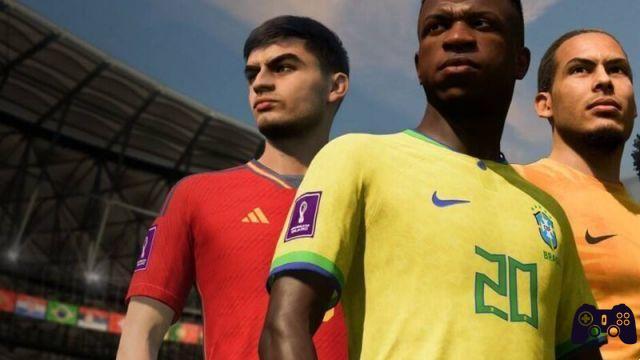 The announcement of the new mode coming to FIFA 23 (you can buy it on Amazon) was released by Electronic Arts in the past few hours. To let us know these world cup-themed news there was both an official press release and a trailer full of cinematics and gameplay. Within this modality, a series of possibilities are proposed to the players, such as the possibility of face the world competition with your favorite national team or compete in quick matches with friends or other online enthusiasts.
With the arrival of this new update, FIFA 23 gets a makeover by presenting an authentic viewing experience respecting all national teams with their own competition kits, all official stadiums, pitchside sponsors and, of course, the presence of the world cup to be raised in the sky. All these elements, along with several other details, are well present in the announcement trailer for this mode.
The update dedicated to the World Cup in Qatar will arrive on FIFA 23 next 9th November and will be free to download for all game owners. Like the main title, this new update will also see the light on the versions of the game already available on the platforms: PlayStation 5, PlayStation 4, Xbox Series X|S, Xbox One and PC. To date, the arrival of the World Cup mode on Nintendo Switch is not mentioned and it is not clear if it will ever arrive on the Nintendo portable console.