Black Friday 2022 ended with the end of Friday 25 November but, as you know, with today, Monday 28, there is still room for some offers thanks to Cyber ​​Monday discounts, a day traditionally reserved for discounts on products technological but which, in recent years, has become a sort of "queue" to the much awaited Black Friday offers.
In short, the offers are present almost everywhere, but since we are talking about technology and "tech" products, we thought you would not want to miss out this excellent offer set up by Gamestop, and a relative Collector's Edition which, not only is available again in its post day one, but is even sold at a discounted price and, therefore, unmissable!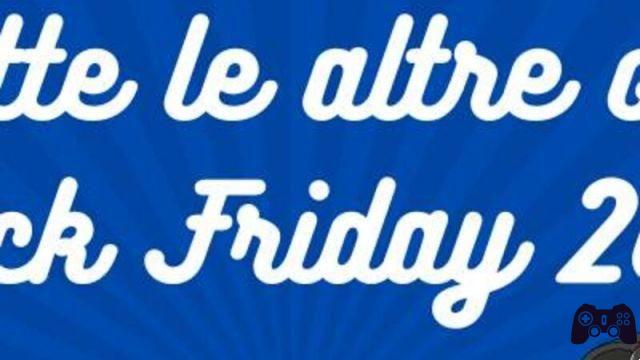 In fact, within its Black Friday 2022 offers, Gamestop is proposing in these hours the Collector's Edition, in the PlayStation 5 edition, of the fun Gotham Knights, title based on 4 of the most popular members of the "Bat-Family", and arrived on the market with a very nice collector's edition, in the center of which there is a statue depicting all 4 protagonists, which will certainly delight of any fan of the world of the Dark Knight!
The price is excellent, especially considering that we are talking not only about a limited product, but of a game that has recently debuted on the market, and that Gamestop offers today with a discount of around 50 euros, thus going from the original €299,98 to €249,97 which, considering everything, sounds very good, especially for collectors!
Beautiful and imposing, this excellent Collector's Edition does not include, however, only the statue of the game, but also several other gadgets, as well as the Gotham Knights game in PS5 edition which, moreover, is included here in its "Deluxe Edition" version which also includes an exclusive DLC. In addition to this, inside the box you will find a certificate of authenticity, which certifies the limitedness of the product, a map of Gotham City, a 16-page media book and some pins, in what is a respectable package, especially considering the size and beauty of the statue!
Set in a Gotham City private from Batman, who died under mysterious circumstances, Gotham Knights will put us in the shoes of 4 of the most famous and famous sidekicks of the Dark Knight, namely Nightwing, Batgirl, Robin and Red Hood, each with a character, but above all a different style and approach to justice, united in the eternal fight against crime in the city, in what is a title that inherits many of the mechanics of the serie Batman Arkham, combining them with a strongly oriented multiplayer game.

A perfect title to play with a partner, characterized by an excellent narrative sector and a splendid immersion in the game world which, although not in continuity with the aforementioned Batman Arkham series (it is neither a sequel nor a prequel, but a game in itself), vi will offer an experience very similar to the one already experienced as the Dark Knight.

Read also: Open world video games | The best of 2022

That said, we just have to send you directly to the Gamestop page dedicated to the offer, so that you can buy this product before it runs out or worse, that the offer runs out altogether.




Furthermore, before completing your purchase, we strongly suggest that you also subscribe to our three Telegram channels dedicated to offers, with specific channels dedicated to: Offers, Hardware & Tech and Clothing and Sport. Happy shopping!



» See the offer on Gamestop «
Follow us and always stay informed on the best offers!
Events » Amazon Prime Day | Black Friday
Offers and Discounts » All offers | Discount Codes
Telegram channels » General Offers | Hardware & Tech | Clothing and Sports
Buying guides » SOS Home & Garden